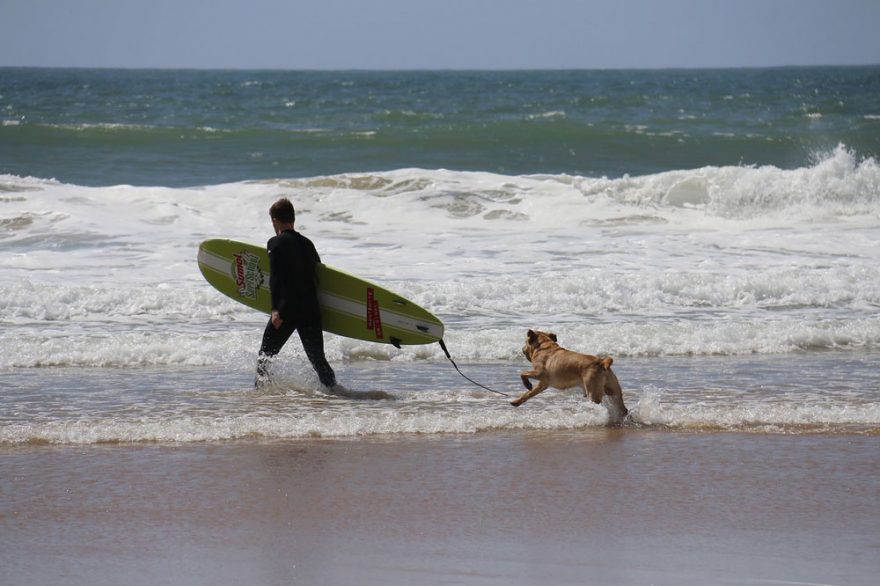 If your dog loves the ocean, then they may just be the perfect candidate for dog surfing. Of course, not all dogs can surf, but there are plenty of adventurous canines out there who have been showing off their skills on the surfboard.
Not only does it provide you and your dog with a great workout and a chance to work on both strength and balance, but it's also a fun bonding experience. If you think dog surfing sounds right for you and your canine best friend, then there are a few things you should know first. We go over a few pointers to get your dog ready for the waves.
It's time to grab your board, get your dog and enjoy an unforgettable ride.
Picking The Right Board

When you're planning to take your dog out onto the waves, only use soft top boards or those that are specially designed for canines. A foam board will provide them with better grip, and if they happened to slip off, the board wouldn't significantly hurt them if they got knocked by it.
Get Your Furry Pal Used To The Board

Before you dive straight in at the deep end, allow your dog to get used to the board. Either start off at home or on the sand and reward them with treats whenever they get onto the board. Your dog needs to build a trust with it, so you need to show them that it's nothing to be scared of. Once they start to associate the board with rewards, they'll be more than eager to hop on it.
Keep Your Dog Afloat

If you don't have a Canine Floatation Device, which is essentially a life jacket for your dog, don't take them out on the water. Even if your pet is a good swimmer, if the waves are high they could potentially get tumbled, and the life jacket will help to keep them afloat. Make sure that the device fits correctly and if the conditions don't look safe, don't risk it.
Salt Water Can Affect Your Dog

When your dog is in saltwater for an extended amount of time, it can cause them to become dehydrated. Don't take your dog out for lengthy periods of time and once they've finished showing you up on the waves, make sure that you give them plenty of cold and refreshing water. Dogs can also sometimes get diarrhea from the salt water and sand, so come prepared in case of any nasty messes.
Practice, Practice and More Practice
Practice makes perfect, so if you want your dog to be a pro surfer like you, you need to have patience and help your dog learn. When you first get your dog on the board in the water, they'll probably try and run up the board which will cause it to nosedive. With determination, your pet will soon learn that it needs to stay in the correct position.
After lots of practice, you could even look at entering your dog into a canine surfing competition. Yep, that's right, a contest that's actually made for dogs to compete against other dogs on surfboards. However, if your pet in not responding well to surfing on the waves, don't force them –  there are many other activities that you can do with your dog.