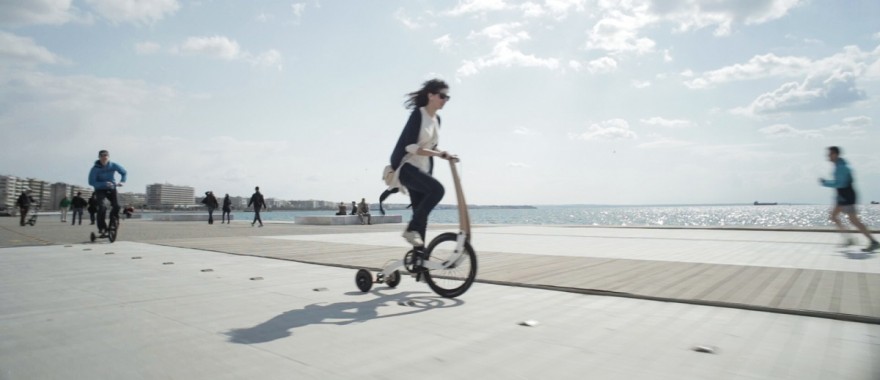 How does a bicycle built from bamboo sound to you? What about a bike that folds up to the size of its wheels? Want to ride something that's a cross between a skateboard and unicycle, sort of?
It's all possible.
A bamboo bicycle became a reality for bamboo bee following a successful  Kickstarter campaign. The versatility of giant woody grass is renowned, used for food, housing, musical instruments, weapons, textiles and more. Turns out its hollow interior sets the perfect tone for a bicycle tube.
Singapore-based Bamboo bee (bamboobee.net) is the brainchild of engineer and adventurer Sunny Chuah. A 12,000 km motorcycle ride in 2009 from India to Russia provided inspiration for him to merge nature into a functional bicycle. He did, and later pedaled some 6,000 km around Central Asia on a bamboo bicycle he made.
At present, the company offers a couple of bicycles, a ladies bike ($699) and a nostalgic bike ($1,449). But in sticking with a do-it-yourself spirit, here is a BIY Bamboo Bike Frame Kit ($179) that professes its creation with little more than simple tools.
And if you do come across some hurdles, the company's website has some videos and forums to help with any potential pitfalls.
Those kits are showing up across the United States. Taking a spin on Bamboo Bee's Facebook page found a rider from Colorado posting his creation and a story about a rider in the famed RAGBRAI event across Iowa riding a bamboo bee bike he built. The frame weights just under three pounds and uses bamboo fenders.
It's small, relatively light at 21 pounds and folds. Those are the hooks for the Helix being billed as the world's best folding. Not only that, its makers claim it folds down to the size of its wheels. The Helix (ridehelix.ca) does do something of a Houdini, collapsing to a respectable 23 inch by 25 inch by 9.5 inches.
With a Kickstarter campaign in its future, the Toronto-company looks to make the 10-speed titanium bike a fit for commuters (fits under your desk), weekend warriors (fits in the car with room to spare) and international travelers (fits in your suitcase).
The bike folds at the rear wheel, front wheel and handle bar and can be folded any way you choose. Don't worry about the pedals getting in the way. The wheels fit between them. Retailing between $1500-$2000 (with special pre-order pricing at the time of this post), the titanium frame "can rival the weight of a high end carbon frame but with a level of durability that is unparalleled," says the website.
The Helix is nearly ready for production.
"We have only a few adjustments left to me," the company reports. "We plan to modify the spec slightly to optimize for weight, performance and reliability and we will be further fine tuning the frame geometry."
Out of Bulgaria, Halfbike (halfbikes.com) by Kolelinia looks something like skating, skiing and cycling all in one. You don't sit. You stand and use your weight to turn. Plus, the thing folds up.
Here's a kicker. The designers, Martin Angelov and Mihail Klenov, took to Kickstarter to raise $50,000 for the 2.0 version of the bike. They exceeded their goal, gathering nearly one million dollars—$973,764—for the three-wheeled Halfbike II.
Angelov and Klenov took the core driving mechanism of a classical bicycle (a wheel connected to a crankset) but redesigned pretty much everything else. The result is a vehicle that trains your balance and reflexes in a new way.
According to the designers, the bike gives you a different perspective to the city. You can use it for commuting, exercise or recreation. Regardless of how or where you're going to ride it, the experience is what really counts. The Halfbike will not simply transport you from A to B. It will distract you for a moment from all your day to day worries allowing you to focus solely on your body and the ride itself. A kind of an urban teleport, if you like, that disconnects you for an instant from whatever is on your mind.
Prices start at $599.