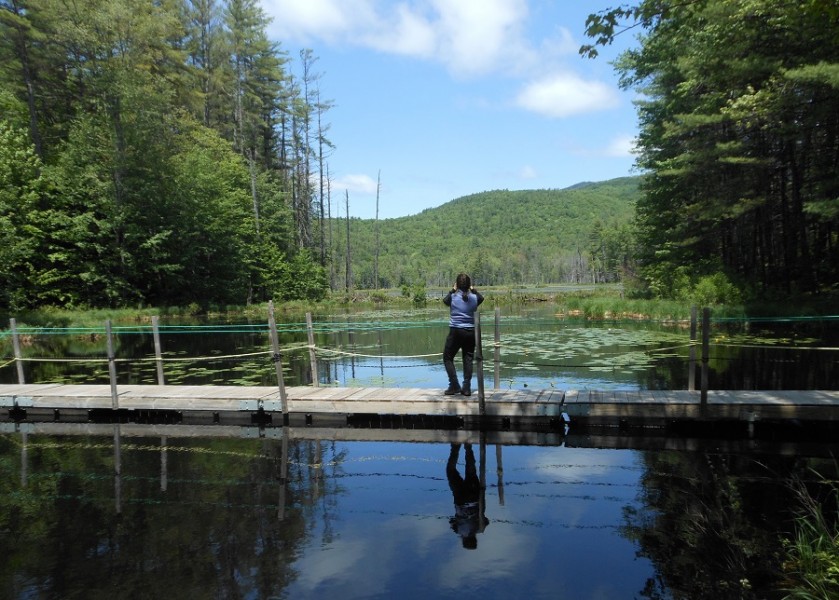 Wet and spongy bogs are the little feeder ski hills of hiking. They're an easy entryway into the world of trekking for the young while also forgiving footpaths for those who've tallied a lifetime of miles.
Teaming with plants and wildlife, bogs are, simply put, places where water amasses and sits.
People sit there too, usually perched on well-placed benches where they can take in the beauty of dancing blue dragonflies, regal red-winged blackbirds in flight and migrating wood ducks paddling about. Spot sunning turtles through the binoculars. Wonder why you've never been invited into one of those exclusive beaver lodges on the water.
Likely, they're also swatting buzzing bugs. Insects love low-oxygen, acidic bogs loaded with tasty plants and fungi. Birds love those insects, so it's win-win by the water.
To navigate the wetlands, boardwalks, some tippy, allow visitors to walk above water for an uplifting experience through the land of lady slippers, northern pitcher plants and more.
Many bogs are also educational showcases, complete with nature center, programs and often numbered-stations on the paths accompanied by a booklet detailing what's happening in front of you.
Northern New England has a vast array of bogs including the under-the-radar Quincy Bog Natural Area in Rumney. The mile-long Joe Kent Trail loop takes walkers along the pond formed some 12,000 years ago and that's seen a recorded 140 species of birds including a bald eagle that spent some time at the bog last fall.
Go over bridges, by bird houses and wood duck boxes, along stone walls and through the ferns and bunchberry flowers. Gaze up at the turbines of the Gorton Wind Farm. Walk under pines, red oaks and by the markings of woodpeckers.
A highlight of the bog managed by the Pemi-Baker Land Trust is a relatively new 96-foot floating bridge. With a view north to Stinson Mountain, the pontoon bridge replaced one that had been built by Boy Scouts as part of an Eagle Scout project. Unfortunately, Tropical Storm Irene gave it a powerful punch in 2011 from which it never recovered. In 2012, a grant was awarded and a new bridge, upstream from the old one, followed.
The 40-acre Eshqua Bog Natural Area on Garvin Hill Road in Hartland, Vt. recently received some TLC. Under the auspices of the Nature Conservancy in Vermont, the bog known for its June blooming orchids underwent a trail and parking area upgrade.
According to communications manager Eve Frankel, the boardwalk was increased from 200 feet to 460 feet. The old one was crumbling and had been there for some 25 years. A fundraising campaign tallied the money to not only include the boardwalk, accessible to all visitors, but also a parking area on level with the boardwalk.
"This really is a gem for naturalists and people into fauna and flora," Frankel said.
It's easy to miss Chickering Bog in East Montpelier and Calais, Vt. but once finding the Lightening Ridge Road trail entrance (near George Road), it's an easy trek to the mile-long boardwalk loop.
Managed by the Nature Conservancy, the bog's been misnamed and is actually a fen (not as acidic as a bog and fed by mineral-rich waters). The story goes that some 13,000 years ago, the bog had its beginnings when the glaciers receded and left a bedrock basin. Slowly, vegetation filled the remaining pond. Over time, the vegetation decomposed and left behind thick layers of peat some 30 feet deep.
Hike through the fir and spruce to the floating boardwalk and the waters home to various orchids and bog buckbean.
Those venturing to Maine this summer might consider the Orono Bog Walk.
University of Maine professor emeritus Ron Davis calls it "a true raised bog."
The 600-acre bog contains a mile-long boardwalk circuit that's seeing some new blood. A joint venture of the University of Maine, city of Bangor and Orono Land Trust, the boardwalk has undergone a second phase of board replacements. With interpretive signs and benches about every 200 feet, the bog's centerpiece, literally, is an open peat moss carpeted center ready to see visitors over the next few months.