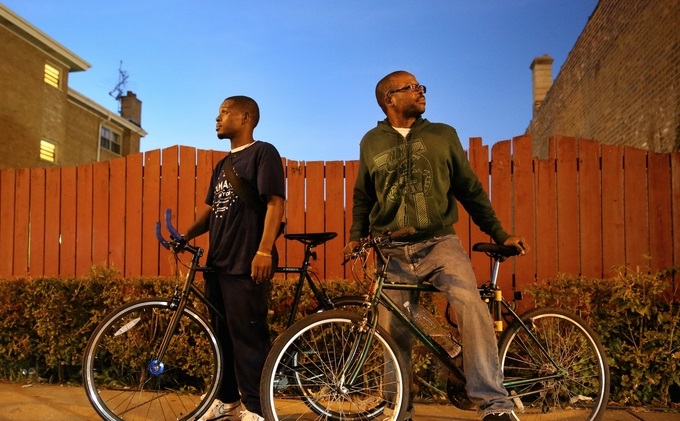 Gun violence, shootings, and a slew of injuries dot headlines every Monday in Chicago. The Chicago Sun-Times tallies up the injuries after every weekend. This year over the 4th of July weekend, at least 17 people were killed.
Eyes immediately turn to the South Side of Chicago, and a side-glance to the West Side isn't uncommon either. The attention these areas receive is hardly ever positive, similar to another Midwest city, just a couple hundred miles to the east.
That other city is Detroit, which happens to be the birthplace of Slow Roll, a weekly bike ride curated by Jason Hall and Mike MacKool that unapologetically showcases both the beauty and destruction of the city.
Since the idea took off in Detroit and has gained more than 4,000 riders each week, the movement has traveled to cities all over the world. It has become a way to transform neighborhoods originally thought of as void of anything worthwhile into vibrant communities. Instead of being a looking glass into these areas, Slow Roll lets people ride right through.
The Chicago ride was started by Oboi Reed and Jamal Julien, who met each other in the 4th grade while growing up in Chatham, a neighborhood on the South Side of Chicago. Reed has a background in community development and affairs, corporate responsibility, nonprofits, and is now finishing his undergraduate degree in economics at Roosevelt University. Julien works as a managing broker of real estate, and is a real estate instructor. When speaking to the duo, it's obvious this ride means a lot to them.
"We want to showcase the community. Out of the people who rode with us, at least half would have never traveled through [certain] communities if it weren't for Slow Roll," Reed said. The community is the one they used to know—the area they grew up in that allowed the two to grow their friendship. Things are different there, now. Reed said it's not as easy for children living there currently to form the kind of friendships he shares with Julien. Creating relationships is a different process when it takes more than just meeting outside to play, and when the community has a negative perception about going outside. "A lot of people in the neighborhood are still afraid," he said.
Just like any city with a seedy reputation, often times the truly dangerous areas are confined to a few blocks. The South and West sides of Chicago are no different, Julien explained, and taking crowds through good areas by bike is the perfect vehicle, or lack of.
"I would say that by us going and viewing neighborhoods from street view as opposed to [a] vehicle, we get to see and hear and feel and smell the heartbeat of the community," said Julien, explaining that it's a great way to showcase entertainment, recreation, restaurants, retailers, and the history of the communities as well.
Reed said it's not just showcasing the community to those who aren't already part of it, it's showing members that their neighborhoods are safe and bikeable and their communities are liveable. "We believe biking is a form of mental and physical fitness," said Reed, mentioning that a healthy community makes it a strong one.
There's also something else going on there; a divide between North and South Side Chicago. The North Side has bike lanes, (relatively) few potholes, and the bike-share program Divvy can be found on many street corners. The South Side is different. There are no bike lanes, potholes make riding even more of a challenge, and Divvy stations are scarce (the most southern station is at E. 58th Street and Ellis Avenue, a far cry from Chatham). This comes from the ideal, which both men disagree with, that communities that bike the most deserve the most bike-friendly resources.
"The North Side is always going to get more resources," Julien said. "What helps us achieve parity, is to give those communities more resources to make it bikeable. The more resources we pour in, the more they become bikeable."
The disparity between the North and South Side is obvious, and well known. One of the main differences is the utilization of transportation. "You can go on North Side and see families riding their bikes together, working parents riding bikes to take kids to school," Reed shared. "Kids grow up with the idea that [biking] is transportation." On the South Side, it's a transition. Drivers aren't as comfortable with bikers on the South Side, making it more dangerous. On the North Side, it's common to be in a car within high-five distance of a biker. The retail spaces in the South and West Sides don't draw as many crowds as well—there are few places that people can bike to and from, safely. The bike culture doesn't exist on the South Side, and Reed and Julien are out to change that.
They pause to make something clear: "We're not limiting our ride to only South and West Side," Julien said. "We will ride all over the city, however we want to make it clear that we're going to ride in communities that don't get a lot of love by bigger rides."
The bigger rides include the Critical Mass Bike Ride, a monthly ride that attracts hundreds of people and leaves from the same place every month, whereas Slow Roll changes the location and route each time.
So far, Chicago Slow Roll has only had one ride, and has the next coming up on October 18, which they've coined, "An Interactive Bicycle Tour of the Historic Pullman and Roseland Neighborhoods," starting at The New Light of the World Ministries at 10807 S. Wentworth Ave., meeting at 9 a.m., and leaving at 10. They will ride again in November, and take a break until winter lets up, when they will come back in spring with hopes of doing a weekly ride instead of monthly.
"We recognize there's violence, and that's one of the reasons we ride," Reed said. "The more people who walk, bike, or run the street, the more we can make our communities safer." Julien and Reed recognize there's work to be done, that there are problems within the communities that shaped them. If a couple dozen riders can at least shift that, they're going to keep riding.
Images courtesy of Slow Roll Chicago/Oboi Reed/Jamal Julien