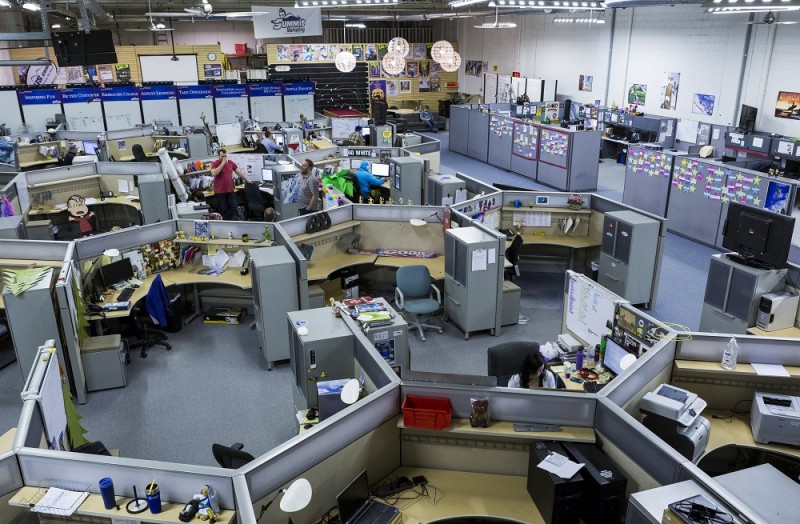 It's hard to believe that Summit Sports began as a small, community-based ski shop more than 20 years ago. Jump ahead to 2014, and the Internet has transformed this once small-town outdoor shop into a booming ski, water, and camping superpower. But Founder and CEO Steve Kopitz will be the first to tell you the company hasn't lost its customer-focused mentality with expansion.
"When we first started the company, we had that one-on-one interaction with customers, so we could gauge what they wanted and needed," he said. "But with everything going online, it can be much harder to keep that personal involvement. We work really hard to make sure that the service you get online is as close as possible to the service you would get in the stores."
Creating Collaboration
Unparalleled customer service may be driving one part of the business, but anyone who visits the corporate office of this retailer will immediately recognize a difference in the work environment as well. Constructed in an old warehouse, the Summit Sports corporate office is a great example of creative and professional environments colliding.
On a visit to the office in Bloomfield Hills, Michigan, the first thing that caught my eye was a large dashboard on one of the walls that displayed what looked like detailed analytics. This multi-screen display is just one of many scattered throughout the office. "We try to be as transparent as possible," Kopitz explained as we walked from section to section looking at the data. At any time throughout the day, employees can easily see how each site is doing, what gear is selling and what isn't, how long it's taking to respond to calls, or even just a basic overview of what each person is working on.
"When we restructured the office a few years ago, we recognized that the departments did not communicate enough," he said. "So we tried to create a system to help all the departments work together and collaborate daily."
To help in this endeavor, every day at 11 a.m. the entire staff assembles for an update at the designated huddle area. "It only lasts for seven minutes," Kopitz told me as I prepared to experience the team huddle, "But this way, we can share good news and bring problems to the group to solve. It has really made a difference in the office environment."
This collaboration expands even further throughout the business, as employees are encouraged to wear many different hats. "Free Fridays" are used specifically for this purpose, with two hours of the day devoted to giving employees the opportunity to explore something new and unrelated to their normal work. "Everyone kind of jumps in and helps wherever it's needed," said Courtney Voorheis, head of customer service. "In the winter, it's pretty common for everyone to help out with customer service because that's our busiest time, so we are all hands on deck."
Spurring Creativity
But unlike the strict corporate offices you may be imagining, it's the whimsical and laid-back environment that lends itself well to this type of work. Pictures of past advertisements pepper the walls, along with signed skis, photos of athletes, and remote destination vacation hot spots. Employee common areas are anything but ordinary, with one including a tiki bar complete with a ski pole-operated keg, and another collaboration station straddling the line between beach and school themed thanks to outdoor loungers and a chalkboard. Other games, happy customer emails, and quirky decorations are scattered throughout, highlighted by a timeline called BOB, or "The Big Ol' Board."
Located on the back wall of the office, this string board details the rise and fall of the company sites. "At one point we were overwhelmed by too many sites, so we closed some and decided to focus more on our few core sites," Kopitz explained as he pointed to multiple RIP icons that litter the board. BOB is a great representation of a company that is not afraid to change with the times.
A few years ago, Summit Sports established core values that have become its driving force. Inspire Fun, Be the Customer, Embrace Change, Innovate Through Collaboration, and Protect the World We Play In are just a few of the values that help the company morph with time.
Staying True to the Community
Skis.com is by far the company's biggest offering, though it also operates seven other sites. With a robust search engine called Ski-o-pedia, product reviews complete with videos from multiple testers, visual scales for quick and easy product evaluation, and a number of other resources available to users, Summit has worked hard to make the sites stand out. "We are interested in long-term customers, which is why we try to do as much as possible to make the online buying experience easy and convenient," Kopitz said. "Customers can create custom packages and get discounts for ordering multiple items. We also have a Guaranteed Fit Program where you can buy three pairs of, let's say, ski boots, and try them out. Then you can ship back the ones you don't want within two weeks free of charge."
Innovative ideas, such as the Guaranteed Fit Program, come from the minds of a staff that is entrenched in the industry. "All of the corporate employees are hired in from the stores," Kopitz explained. "So not only do they know skiing or snowboarding, they know the gear. They know what the consumer wants and they are passionate about it. They can provide a better experience for our customers because they aren't guys who just go skiing and buy a new pair every few years—they have tried millions of ski boots on customers and know what's best for each type of consumer."
Jess Kopitz, the current public relations liason for Summit Sports, talked candidly about her own education in the stores, "We would constantly have debates like how to determine the best way to fit a ski boot," she said with a laugh. You can find a video tutorial of just that on Skis.com.
Though they may have moved mostly into the online space, Summit has not forgotten its roots. Similar to its online philosophy, the four physical stores the company still operates are an experience in themselves. Hans Erni, the manager of the Don Thomas Sporthaus store in Birmingham, Michigan, spends his time not only maintaining the store, but cultivating relationships with some of the ski industry's top dogs. He sponsors a variety of skiers, many of whom have competed in major skiing events, as well as the Olympics. He smiled as he showed me a Sochi race bib, given to him by one of his competitors.
Being so keyed in to the ski industry helps Erni put on unique community events as well. Last week, for example, the retailer set up a man-made hill and trick slope in its parking lot for a Rail Jam event. "It won't be crazy for you to see people in jackets and snow pants walking the streets of Birmingham with skis over their shoulder," Hans joked. The location will also host a variety of movie screenings and men's and women's nights.
Making an Impact
As important as it is to grow, what sets this business apart is its focus on preserving the nature that makes it all possible. "Our value Protect the World We Play In is one area we have really been focusing on lately," said Steve Kopitz. It starts at home, with the corporate office being fully equipped with automatic LED lights, as well as re-purposed decorations and recycled flooring. The stores use bamboo flooring, as well as recycled concrete and carpeting. Don Thomas Sportshaus even has a tree growing inside of it. "We are very aware of the impact we have on our environment. After all, you can't ski without snow!" Kopitz said. This year the company also launched its first company-wide campaign to raise funds for Leave No Trace, the Clean Water Fund, and American Trails.
All of these elements may be what is keeping this Michigan-based organization successful. "We are always looking to expand and grow and that is what you have to do now-a-days, especially with how quickly everything changes online. And even little changes can make a big difference," said Steve Kopitz. "The key is to keep our customers at the forefront, which is why we allow anything you buy to get sent back within a year, and we give our customer service reps so much free reign. Anything to make the customers happy."
To learn more about Summit Sports, check out the website.
Images courtesy of Summit Sports