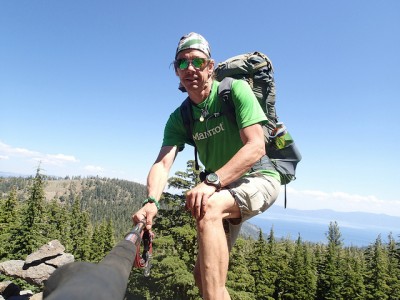 Trevor Thomas was lost. It was the second to last day of his month-long hike through the Tahoe Rim Trail, and he came to a fork in the path.
The fork, according to his directions and hard markers, was supposed to split into two trails. Instead, it split into five. To any seasoned hiker, this would be only a mere hiccup in the grand adventure, but for Thomas, it was a major setback. He is a seasoned hiker, but he is also blind.
"I had to get down and feel the trail with my hands and feet," Thomas said. He knew the trail he was following was the oldest, and therefore would be the most worn down. He wandered through every trail, feeling around and hoping for an indication that he was indeed, on the correct path.
"For hours I was saying 'I have no idea where I am,' in a place with hundreds of thousands of square acres," he said. It's challenges like these that draw Thomas to the activity, though. The walls to overcome and the boundaries to push are what keep him exploring new trails.
Raised in Washington, D.C., Thomas made several moves before settling in Charlotte, North Carolina. Always an adrenaline junkie, Thomas began skiing at a young age, and since then he has tried his hand at mountain biking, skydiving, and racing Porsches. He considered hiking to be tame, and it wasn't until after he lost his sight that he became interested in long-distance hiking.
In 2005, Thomas was diagnosed with atypical central serous chorioretinopathy, which caused him to lose his sight over the course of eight months. It was hard to take in, and he didn't want to accept the fact that he was losing his ability to see, even though every day it got worse. "You think it's a bad dream and everything is going to be fine," he said. Thomas waited until the bitter end to cope with the loss, and was lucky to find inspiration at the right time.
That inspiration came from motivational speaker and hiker Erik Weihenmayer, the only blind person to ever climb Mount Everest. A friend took Thomas to see Weihenmayer do a talk, +and they found they had very similar stories.
"He basically said I'm not different, don't listen to people who are going to tell you you can't do this or that, just do it. You may fail but you'll also succeed," Thomas said. From there he decided to start hiking. This led him into a gear store where he learned about long-distance hiking—walking thousands of miles. Naturally, the challenge appealed to him.
Thomas decided this would be how he'd get his life back. He began learning everything he could about long-distance hiking, as well as the additional challenges that come along with the activity when you're blind. Standing there in the gear store, he convinced himself he could do it.
"I figured a great portion of my life was defined by high-risk activities—this sounded like high risk," he said. "If I could figure it out, survive, and overcome all the odds, then I would get my life back." Realistically, it wasn't until he became the first blind person to hike the Appalachian Trail that he realized he could actually do it. He looked at every day like his last out there, meticulously staying on the trail and using echolocation to maneuver around.
It wasn't until the president of the World Access for the Blind, Daniel Kish got a hold of Thomas that he realized he had been using echolocation. He explained it as building a sound library, and from knowing what so many sounds mean. Like a sighted person can tell the difference between color, he can then draw a conclusion from that sound and tell where things are around him, like a bat with sonar. Just by tapping a rock with his hiking poles, he can tell the difference between rocks.
Echolocation is one of the main resources Thomas uses while on the trail to tell what's directly in front of him—but to tell where he's going takes a lot more work than just listening. To stay on track, he uses his iPhone, where he gets emails that lay out all of the planning for his trip. He uses what he calls hard markers, a point that he can tell where he's at like a stream or a sign, which he uses the grooved letters to tell what it says. Before he leaves for a hike, the planning process is extensive.
"For every mile that I'm on trail, we spend nearly an hour making sure the directions are adequate enough for me to safely navigate a trail," he said. He prefers to hike alone though, only with the company of his guide dog, Tennille.
In addition to extensive planning before a trip, Thomas can't use just any gear. He's sponsored by Big Agnes currently, as he has to have a tent that he can easily set up and take down. This is the case for all the gear he uses. Some packs don't work if there are too many pockets, and he can't easily tell the difference between them. His camp stove has to be exactly right as well. It's a tedious and intense game he plays, but he's managed to come out—literally—on top each time, with his pup by his side.
In addition to Big Agnes, Thomas is sponsored by Leki for trekking poles, Marmot, Ahnu Footwear, Revo Sunglasses, Katadyne for water filters, Optimust for camp stoves, Natural High for food, CLIF Bar, Camelbak for water bottles and bladders, Granite Gear for packs, ExOfficio for clothing, Feetures for socks, and Buff. Tennille is sponsored by Ruffwear, Taste of the Wild, In Clover for supplements, Buff, and Drool Fuel by Varsity Pets—it's like doggie Gatorade.
When he's not hiking, he's working with Team FarSight, a group he founded that pairs students at Perkins School for the Blind in Massachusetts, and boy scouts in Manchester, Massachusetts. Through the program, the pair will work with each other on backcountry skills, while the boy scouts learn from the blind children and vice versa. Thomas would like to eventually bring the program to a national level, and founded it with the intention of showing how capable the blind are, as well as to extinguish preconceived notions about the abilities of the visually impaired.
He's also trying to raise money for Guide Dogs for the Blind, a program he said is near and dear to his heart. "I just want to give back to what's given me so much," he said about Tennille.
When people ask him if he would take his sight back if he could, his answer is no. Six years ago, he might have given a different answer. Now, he's comfortable with who he is. "It's given me a platform and a cause," he said. "I really didn't have any of that before I went blind."
Images courtesy of Trevor Thomas