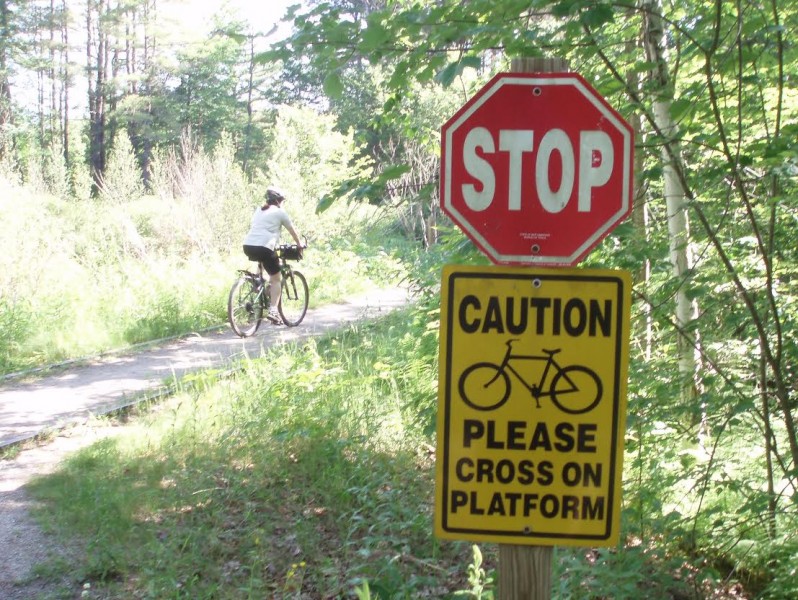 Sometimes common sense goes on vacation and leaves without telling anyone.
Unfortunately, you can't get any frequent flier mileage for it, but you can gain some understanding about being human.
Living in a ski town, I see a lot of brains on summer (and winter) breaks. They're sitting in traffic, trying to figure out how to find that hotel, attraction, or restaurant. Traffic signals and speed limits appear as suggestions to them.
They seem to get lost in a roundabout and just go round and round as if in their own private criterium.
Spasmodically, the behavior extends to places of fun, like rail trails.
Those trails are a microcosm of various vacation mongers as walkers, runners, joggers, pet walkers, cyclists, skateboarders, in-line skaters, roller skiers, and others—all of whom congregate on a glorious strip of pavement void of motor vehicles.
The idea is to escape, get healthy, and have some fun. But it's not always easy because of, well, people.
So in the spirit of cooperation and ambassadorship—I'm often on a rail trail as a cyclist and walker— I've culled some common sense rail trail courtesies from various sources because common sense sometimes takes a holiday.
Be aware of others: It's easy to forget there are other people on the planet when you're on the rail trail. They walk their dogs. Earbuds pulse with sound and stories. Many users find themselves in their own "zone" and become so focused they are unaware of others. So…
Be courteous and considerate: Walkers, runners, cyclists, skateboarders, roller skiers, and others all use the trail. They are of various ages and skill sets, traveling at various speeds. Having patience and a smile go a long way.
Stay to the right, pass to the left: Just like when you're driving a car.
Keep pets and yourself under control: Whether with a leash or verbal commands, well-trained pets are appreciated. Thanks to the pet owners who shorten the leash or make their pets stay by the side of the trail while allowing for safe passage. And thanks to cyclists who slow down when passing people out with their pets. Lastly, thanks to the pet owners who pick up after their pets—wish more did that.
When passing, warn others: This one is often easier said than done. Certainly there are bicyclists with bells on their rigs and a quick jingle or two will alert others that you're behind them. So those doing the passing should call out some sort of warning starting with something like "behind you" and followed by "passing on your left." A nice "thank you" and/or wave afterwards goes a long way … from both those who pass and those who have been passed.
Stay single file: Yeah, right. Not going to happen much whether you're on a bicycle or walking with the wife. But figured I'd try. At least give it a shot while passing others if you're in a group.
Be cognizant of kids: Nice to see them out on the trail instead of looking at a screen. They travel much slower and are easily distracted.
When stopped, pull over to the right: This allows others to pass. Remember, there are several benches along the way to sit and pass time too.
Travel at a sensible speed: There are times you can put down the throttle, but not around others, especially those not on a bicycle.
Ride in control: Know you're going to be stopping and yielding to others along the way.
Don't text while in motion: It's just dumb and rude. Really.
So, be nice, travel on the right, and remember there are other people on the planet.
Image by Marty Basch