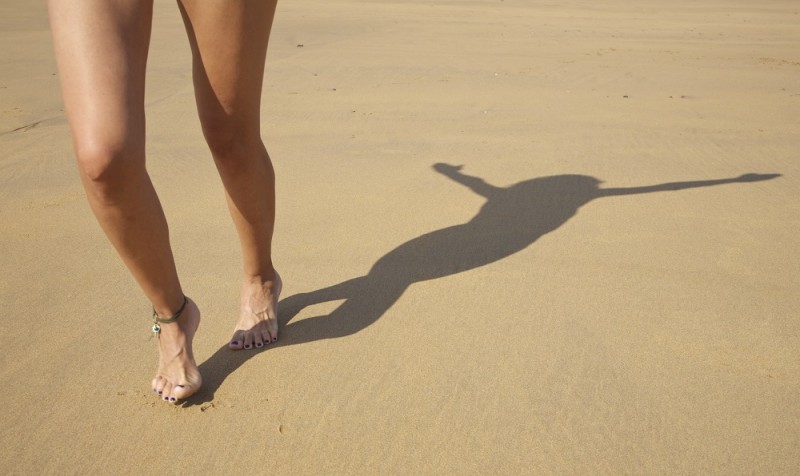 As summer heats up, runners across the nation are cashing in on the newest trend, and stripping down.
As evidence continues to pile up about the perils of obstacle racing, many runners are seeking out races that are a little less risky. What has resulted is a popularity spike in nude running. Though it's not a new concept, the races have been small and hidden for years, limited to the select community that wasn't afraid to bare it all. Now, in an effort to move toward healthy ideas of body image and self discovery, this underground race circuit is gaining popularity. This year, about 30 races are being offered nationwide, and that doesn't take into account the growing number offered overseas where the popularity of bare-bodied running has long been practiced.
"There's no question there's a bucket-list mentality to this," Pete Williams explained in an interview with Runner's World. Williams' Caliente Bare Dare 5K, held in Florida, is one of the most popular nude races in the country. This year's edition, held during the first week of May, attracted a record 312 runners from 25 states. Though it was a hot day, runners put on an impressive display, with a new men's course record of 15:49 and the first-place female competitor crossing the finish line at 19:40.
Though some races have been held for years, with Washington's Bare Buns Fun Run celebrating its 30th anniversary this past May, others are just getting started. "It was interesting to talk to the people who had never done it before. They had a blast. They never put their clothes back on," said Mudd, Sweat, and Boobs organizer Rich Gilbreath.
To protect the privacy of racers, most races are conducted in nudist colonies or on other private grounds, away from the prying eyes of the media. But the popularity of stripping down for the San Francisco's publicly-run Bay to Breakers 12K shows nude racing secrecy may be a thing of the past.
Even as fascination develops, the idea of sporting nothing but running shoes (and hopefully some high SPF sunscreen) in front of a large group of strangers may not be something you're eager to try. Though it may be shocking, racers who have stepped out of their comfort zones to give it a try all seem to give resoundingly positive endorsements.
Jessica Sebor, the editor of Women's Running Magazine, first stripped down in 2012 for that year's edition of the Bare Dare. "I know it's going to take more than one Sunday morning to cure my self consciousness, but running the Bare Dare did teach me this: If you don't challenge yourself, you will never have the chance to be crowned a champion," Sebor wrote in her column. That year, she won the inaugural National Championship of Nude Running.
This year's Bare Dare winner echoed Sebor's sentiments, sharing her belief that it was her decision to shed her clothes, but the whole experience ultimately allowed her to overcome insecurities she had struggled with her entire life. "We're OK with our bodies until some day and some point in time we learn that we shouldn't be," she blogged. "I was crazy nervous…But once I got to the start and there was about 300 other folks all doing the same thing, I felt surprisingly OK. Nobody was perfect, but nobody was acting like they were either…For a few hours I felt like my body was no better or worse than anyone else's. It's a good feeling. If you've never done it, and you know you're thinking about it, I highly recommend it."
"We were born naked. Our bodies were designed to be naked," Whitney Lasseter told Runner's World. "…when we're doing an activity like that, it's not about our bodies. It's our minds we have to tell to shut up."
Check out the video below to learn more:
We are committed to finding, researching, and recommending the best products. We earn commissions from purchases you make using the retail links in our product reviews. Learn more about how this works.
Video courtesy of Obstacle Fit/YouTube. Image by quintanilla/iStock