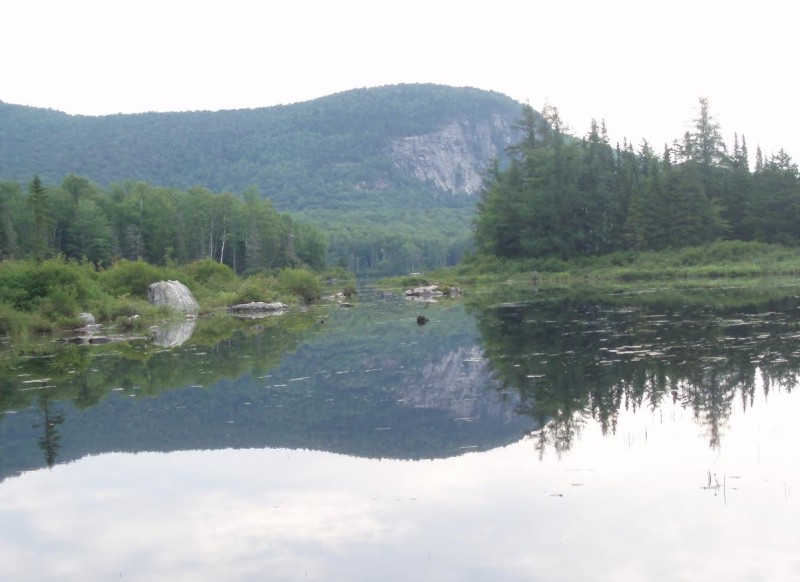 We had no idea what was ahead. The day started normally, rolling out on the trail from our trailside tent. But soon enough we were at a junction—Raspberry Junction.
Clearly others had been there before us. Black bear scat and flattened bushes were proof of the four-legged variety.
So after we pedaled, we picked. And later we paddled.
Central Vermont's Montpelier and Wells River Rail Trail was the pathway. Part of the 75-mile long Cross Vermont Trail, the former railway that connected mills, logging operations, and passengers with the Boston and Maine Railroads now serves as a corridor through dense Groton State Forest and passes by a string of Vermont state parks.
The rail line brought summer visitors looking to play along the shores of Lake Groton, east of Montpelier, and was operational until 1956. Visitors are still playing in that lake and others, paddling, pedaling, fishing, and hiking within view.
Groton State Forest is home to upwards of 17 miles of hiking trails and about 20 miles of gravel roads. The forest also contains state parks with swimming, boating, and camping like New Discovery State Park, Stillwater State Park, and Ricker Pond State Park.
Ricker Pond State Park, set on the western shore of the small pond with a few hidden camps and a small dam at its southern end, was base camp.
A dirt road through the park is actually part of the rail trail, which runs about 14 miles from Groton to Plainfield.
Campers tend to prefer sites on water's edge, but our site was right off the trail and a short walk to hot showers, making it prime real estate for rail trail riders. Rolling out early before the rain forecasted for late afternoon, the trail was well signed and passed under a canopy of trees with muted views of Ricker Pond and Lake Groton. Also a snowmobile corridor, there were plentiful junction signs, wooden bridges, and stop signs placed near intersections with area roads.
The schizophrenic trail changed surfaces throughout the ride with dirt, gravel, mud, and sandy stretches. The first five miles or so were largely uphill, going by large glacial erratics, streams, and raspberry bushes ready for the picking. On the harder side of easy, it was about six miles into the spin that the canopy retracted and the trail burst out into the open by a couple of back road hilliside farms with commanding views of the cliffs on 1,958-foot Owl's Head Mountain. The vantage point improves later down the trail nearing Marshfield Pond where we saw a large beaver dam and still heron.
A side path led to a wooden bridge and gate for the money shot of Owl's Head. The popular hike is about three miles roundtrip in length.
The mountain and pond views were the best vantage points of the ride and it wouldn't have been a bad decision to turn around there, making it about a 16-mile roundtrip spin. But onward we pressed, rolling by a logging operation and up under a thick tunnel of pines with limited valley vistas.
We came upon Raspberry Junction, an intersection of gravel roads and gates, vowing to stop for some picking on the return. The trail, after plunging down in the mud to a wooden bridge, seemingly dead-ended in a gated mowed field within earshot of the Winooski River.
Foot exploration around one of the locked gates led by a gravel pit and a paved road where a gentleman out running explained a trail continues for about two miles to Plainfield Village and petered out there.
We decided to head back to the junction and pick some of those bushes clean. The bushes were conveniently located by the trail with the ripe berries—destined to become Raspberry Junction Jam—easily coming off the vine and into plastic bags. Even I couldn't come up with an excuse not to pick the berries for a good 45 minutes before we pedaled back to do some paddling in Ricker Pond.
Images by Marty Basch