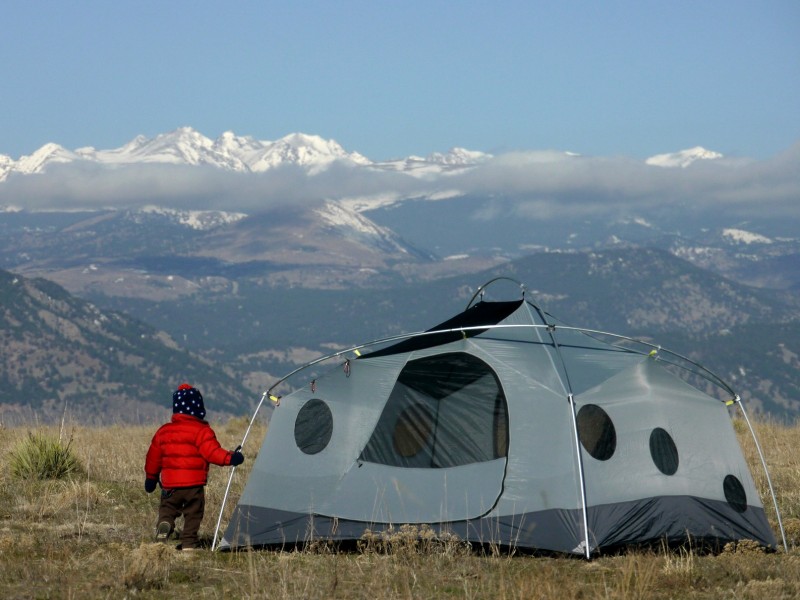 Two hundred and forty five.
That's how many tents Mike Cecot-Scherer has designed during his almost 30 years working in the outdoor industry. An avid outdoorsman living in Colorado, he has designed gear for companies such as The North Face, Mountain Hardwear, Ticla, and Black Diamond, just to name a few.
Cecot-Scherer's career began in retail while attending college for physics at the University of California, Berkeley where he picked up a job working at a small company called Mountain Traders. A few years later, he moved to Marmot, which he described as "being in the thick of it," in regard to outdoor gear.
"In those days, the way sales were made was by being very attentive to the customer's needs," he said, noting the array of products available in today's market makes the sales process much more reliant upon customer research. "We all became experts."
It was with his knowledge of gear, specifically tents, that he began to notice design flaws in even the most well-made products from top-of-the-line companies. "There was this one tent and it just drove me crazy," he recalled. "So I finally went to the lead designer at Sierra Designs and said 'You know this tent needs to be changed. I know this tent needs to be changed. Why don't you hire me to change it?' And the designer's schedule was very busy at the time, so he agreed."
Cecot-Scherer's experience in backpacking and climbing coupled with his love of design led him to this first gig at Sierra Designs, where he ended up working for three seasons. "It's a rich field," he said. "As a designer, there's always a new problem to fix."
From Sierra Designs, he moved to Kelty, where he worked as the sole designer for 16 years. If you've ever slept in a Kelty tent, there's a good possibility it was designed by him. In addition to tents, he was creating packs and sleeping bags along the way as well.
But there came a time when he began to desire the freedom that came along with a freelance career. "It was just time," he said. "If you find yourself as a designer knowing exactly what the answer will be when you try to bring up something that's new, then it's probably time to find some other place."
He mentioned this not specifically about his company, but the outdoor industry as a whole. Change is not only difficult, it's dangerous. Drastically changing traditional products or throwing new gear into a line can not only confuse customers, but may not go over well because those who would actually enjoy the new products are not an existing portion of the consumer base.
And through his freelance career, his resume grew—massively. But as with his previous full-time design jobs, Cecot-Scherer still had to abide by the market's sales data, and he was creating a lot of the same kind of products as before. His goal was never to make products that solely made him happy and he knew would never actually be successful in the market, but rather to create gear people didn't know they needed.
"I've sort of been toying with the idea of Kickstarter experiments for quite a while," he said. This week, he launched his first campaign for a tent line he created and is promoting it through his company, TheTentLab.
The tents are called RugRats, created for families with small children in mind. It was his own family who provided inspiration, specifically his young son who made it clear he'd rather use their past tents as play places rather than sleeping areas. "You couldn't get any sleep next to him. He was a little terror all night, thrashing and kicking," Cecot-Scherer said. "We were sleep-deprived parents and we really needed help. That led to thinking about a whole bunch of convenient features from pouches to easy ways to anchor the tent."
The description of the campaign on Kickstarter is beyond detailed, with the designer sharing every aspect of the process. "They're freestanding and there's a three-person and a four-person size. I designed them as I personally would want them and how I would recommend them to others—a mix of completely new ideas, minimalist design, and longtime-user must-haves," he wrote.
With a lofty goal of $190,000, the campaign raised more than $4,000 on day one. It will remain open for fundraising until September 15. "It's going to be very interesting," he said, communicating that he didn't want to create any expectations for it. 
The RugRats include almost vertical walls with a number of round windows at different heights, perfect for children of all ages to peek through. While the point is to allow children to explore the outdoors, sometimes the tent must be made into a temporary kid jail when the adults are cooking or cleaning up camp. In this regard, the tent is ideal—tons of room, lightweight, and UV resistant.
But in the end, Cecot-Scherer said there's one thing he's learned from his years in the tent-designing business, and it's that no product is perfect for everyone, even if it claims to be. However, in his mind, this tent is pretty close to perfect for those looking to accommodate children, especially for the price. The three-person tent is $600 with the four-person running for $665. This is a fraction of what these tents would be available for in traditional retail, with estimates at $920-$1,230 and $1,045-$1,395, respectively. "These are ultimate tents and by becoming a backer, you get them for barely over cost," he wrote.
"Each person will have very different, specific ideas about what [features outdoor gear should have]. There really truly isn't one best product for everyone," he said. "It depends on different times of day and different days on the same trip. You get to a place where it's not really about better or worse at all, it's about tradeoffs. It's kind of liberating as a designer to not get too worked up about some of these features. Just don't worry. There are so many ways to have a nice trip."
For more information or to donate, check out the Kickstarter campaign.
Images courtesy of Mike Cecot-Scherer