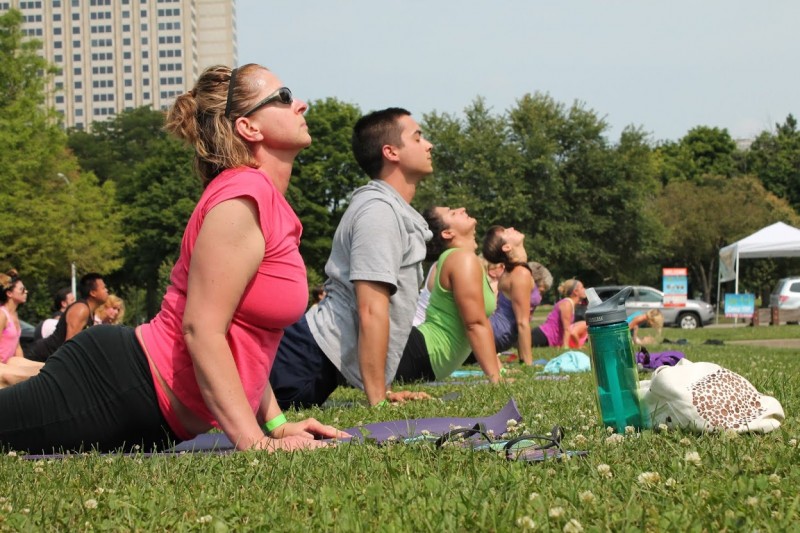 Yoga mats began to unroll at about 10 a.m. in the Greening of Detroit Park in downtown Detroit on the morning of Sunday, July 20. Students wandered in and began getting themselves comfortable and ready for Yoga Rocks the Park.
The company and the idea began, as many things yoga-related do, in Denver, Colorado with about 30 yogis. Since its inception, it has expanded to become a community of about 25,000 students and teachers.
Yoga Rocks the Park is a network of community yoga classes and each class is taught by a different yoga instructor who is local to each city, with the instructor often changing week to week. Classes are $15 in most cities.
Perhaps the most distinctive part of the series is its outdoor focus. All classes are held outside, an element that quickly and drastically changes the feel of a yoga class from confined in walls to open in the breeze.
As well as featuring and connecting local yoga instructors and yogis alike, the classes are always accompanied by local musicians, who also change week to week. Local vendors get in on the event too. In Detroit there were three vendors, one selling etched glass bottles, another selling an array of scented soaps and lotions, and the last selling cards among other small items.
For an idea that started small and grew big—quickly—it's maintained local flavor through its expansion.
Amber Jade of Ypsilanti was an attendee of the Denver classes when she lived in Colorado. Once she moved back to Michigan, she saw the opportunity to bring the event to her home state, and with that she began to plan events throughout Metro Detroit.
"I want to see Detroit rebound and the community to unite," Jade said.
Right now, the classes hang around 30-40 people attending—a big swing from the 300 that have been in attendance in cities like Minneapolis.
On July 20, the Detroit event was only on its second round. There were many newcomers, including Melissa Weber, a yoga instructor at Namaste Yoga and Everyday Yoga in Metro Detroit.
She found out about the event from a friend of a friend. Already being linked into the yoga network, it was easier for her to learn about the program. She came to the class with no expectations—something that yoga has taught her. "I'm open to whatever comes," Weber said. "Everything is a gift."
She was glad to have an event that drew people into the city, and said it was an eye opening experience for people to see how big the yoga community really is. "It's much more than just this area," she continued.
Yoga Rocks the Park is certainly covering all the grounds it can, too. Classes will be held downtown Detroit, Royal Oak, and Ann Arbor.
Camp Yoga Rocks the Park is also offered for children, targeting kids between three and 10 years old, which is held while the main class is in session. In Detroit, though, there wasn't much need for it. Only one wildly blonde little girl was in attendance. Organizers entertained her with hula-hoops when she wasn't climbing atop her mother's back.
The event was sponsored by two nonprofits, Yoga by Design Foundation and Greening of Detroit. The Yoga by Design Foundation funds programs in under-served areas, providing access to yoga for as many people as it can. Greening of Detroit assists neighborhood groups to improve the ecosystem.
Through Greening of Detroit, Yoga Rocks the Park has become a steward of the small park.
Outside of Michigan, the company spreads from Boston, Massachusetts to Portland, Oregon. For now, it can be found in 18 cities and 13 states, with the opportunity to expand even more. Expansion has been consistent since the birth of Yoga Rocks the Park. With the popularity of yoga growing, the company is right alongside to provide more opportunities and cities for it to spread to.
The class is 75 minutes long and is suited for anyone with any skill level, but on this particular day, the combination of midday sun and humidity made the practice more challenging.
Sweat dripped onto our mats as we went through sun salutations and onto different flows. The instructor, Stephanie Selvaggio, was calm and motivating, providing clear instructions. She offered different options for poses, and after going through a sequence a few times, allowed the class to take it on and lead their own flow for a few minutes.
Instead of directing yogis toward one side of a yoga studio, she used visual cues in the city—a small difference that can be only found in outdoor yoga.
"Instead of putting footprints on the ceiling, put them on the clouds," Selvaggio said during the end of the practice while yogis lay on their backs, feet to the sky. "When people connect with nature, they connect with themselves." It seemed this was a theme she incorporated into the class.
Selvaggio got involved with Yoga Rocks the Park through Jade, as the two have both worked as vegan vendors. Instead of vending the event, Selvaggio taught it.
Emily Rogers DJ'd the entire class a few feet behind Selvaggio, playing down-tempo electronic music and taking cues on when to turn it up a little louder. Rogers continued to play after the class was over, and attendees were encouraged to dance and hang around.
For Denver, 40 people doing yoga in a park downtown is nothing to think twice about. In Detroit, it means double takes—a lot of them. There were a handful of nearby walkers asking what was going on, slowing down to observe, and even stopping their cars in the middle of the road to take photos.
Founder and CEO Erik Vienneau said Yoga Rocks the Park is a movement to bring a sense of peace and joy to communities—peace and joy aren't exactly on the forefront of many minds when Detroit is mentioned. Bringing Yoga Rocks the Park to Detroit is a step in bringing communities to the city, out of the suburbs, and outside, at least for a few hours.
Images by Chelsea Hohn