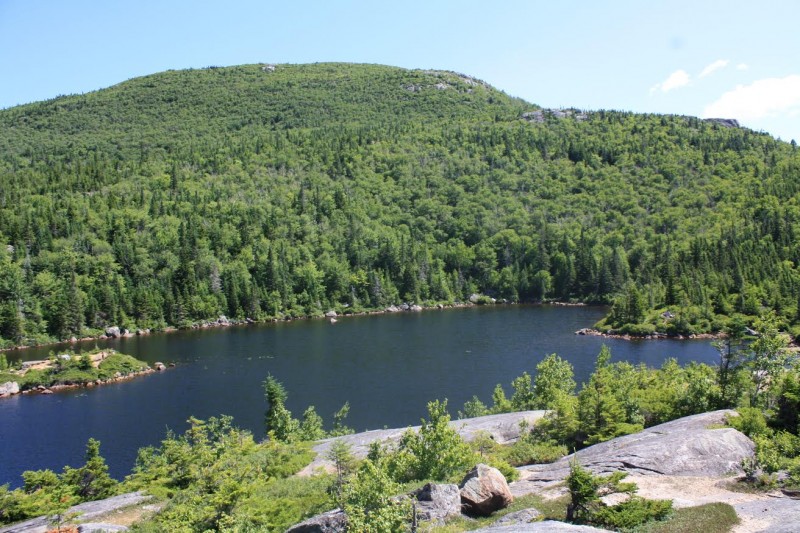 Editor's Note: 50 Best Hikes in New England (Countryman Press) is a new book written by ActionHub.com columnist Marty Basch. Over the next few months we'll be occasionally posting abridged versions of some of those hikes.
Western Maine's rocky Tumbledown Mountain should not be ignored. It seems to stand taller than its 3,090 feet and from its trio of peaks—East, West and North—the landscape ripples with mountains from the lesser known Tumbledown Range all the way back to New Hampshire's White Mountains.
Though its rounded hulking humps attract hikers, the much-loved high elevation Tumbledown Pond is of itself an excellent destination. With a host of wide ledges to soak up the sun, an island in the middle and an awe-inspiring 700-foot or so cliff over its shores, the pond is sheer alpine beauty.
But it's also a prime picnic spot in summer, so plan accordingly.
North of Rumford and Mexico, the trailhead is sandwiched by a couple of fairly close summer hot spots. To the east is Mount Blue State Park in Weld, featuring its campground and stunning Webb Lake. To the west in Byron is Coos Canyon, an often overlooked yet spectacular gorge. Treasure seekers are drawn to it to pan for gold in the Swift River.
Fascinating Tumbledown Mountain is part of a range than includes 2,962-foot Blueberry Mountain, 3,568-foot Jackson Mountain, and 3,470-foot Little Jackson Mountain. Tumbledown gets the most attention and has several trails to its summit. It is also the subject of some tender love and care over the years because of continuing conservation efforts. In 2002, it was announced that more than 11,600 acres including the top of Tumbledown Mountain was now protected as part of a team effort by the Maine Department of Conservation, Trust for Public Land and Tumbledown Conservation Alliance. Some 30,000 acres of forests, alpine vistas, and hiking trails in the Tumbledown-Mount Blue State Park area are now protected.
There are several trails up Tumbledown—rock climbers frequent the mountain for its granite slabs and buttresses—and none of them are easy. The Parker Ridge Trail, the oldest pathway up the mountain, follows an open ridge with outstanding views while the difficult Loop Trail (it doesn't make a loop) climbs steeply to the col or saddle between the peaks.
The 1.5-mile-long, blue-blazed Brook Trail is the most direct route to the pond. Though it initially follows a relatively wide former logging with a forgiving grade along a brook that flows down from the pond, the footing at times is like hiking on marbles. Smoother lines are found on both sides of the trail that crosses the brook and also some culverts with well-placed stones to navigate.
After about a mile, the trail enters deeper into the woods on welcome and well-trodden dirt as it begins to climb steeply along huge boulders that appear to have tumbled down from the mountain. The trail generally follows alongside the brook and also crosses it. The trail goes along sweeping, hairpin curve around the boulders. There are also many down branches to dissuade hikers from venturing onto old sections of the trail that have been rerouted.
The boulders, and many roots, may prove challenging to some hikers. Scramble with caution, looking for hand and foot holds. They are there.
After scrambling up, over and around the boulders, the shores of the stunning pond are soon reached.
Heed the blue paint on the rocky ledges and look for the word "Brook" that acts as a trail sign in the splendid alpine environment. Explore the ledges with its sandy splotches and low-lying bushes, and find a spot to relax.
The nine-acre pond is about 20 feet deep at its deepest. There are a couple of small springs that enter its shores while its outlet Tumbledown Brook, says a Maine Department of Inland Fisheries and Wildlife survey from 1998, flows south into West Brook and on to Webb Lake. Fly-fishing hikers might want to try their luck angling for stocked brook trout.
The return trip to the trailhead along the Brook Trail involves traveling over those roots and big rocks again. There's no shame in doing a little butt-sliding to make it back safely.
Image by Marty Basch