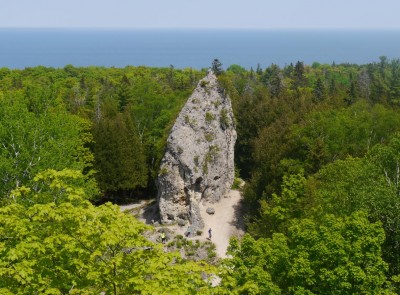 Feeling the need for an island vacation? Mackinac Island, just off the east coast of Michigan's Upper Peninsula, is a great recreational getaway. A mecca for kayaking, biking, hiking, golfing, and simply basking in the sunshine, Mackinac is a trip you and your family will remember for years to come. In fact, many families and couples return annually.
Of course, a treat as luxurious as an island vacation can also be a pricy endeavor, so I visited this past June with the mission of finding out how to make it an affordable trip for couples and families. Here's some advice that will give you the full Mackinac Island experience without sacrificing quality or your wallet.
Ferry Transportation
From what I've learned, the Arnold Line has the best prices for kids and adults. Bikes are only $8 to ship and dogs, strollers, and wagons are free. The Shepler Ferry is a close second in price.
Spending the Night
Finding a Value Hotel: Since public campgrounds do not exist on Mackinac Island, you'll have to find a roof over your head. To guarantee the best rates, visit during the "shoulder seasons." One shoulder is May to early June. The other is late September through October. These dates offer the lowest rates because there are typically less visitors.
If you must go in July and August, there is still hope. Check out the accommodations directory to find the lodging that is right for you and the number of people in your group. Make sure to check out the value packages each property offers; those will give you some nice discounts.
Camping: Still prefer to camp? This option will keep more loot in your wallet and give you more time on the open sea. St. Ignace and Mackinac City (the two ports with ferry service to the island) offer campground options in a tent, your RV, or a rustic little cottage.
You will have to take the ferry back and forth each day, but in the peak season, ferries run consistently from 7 a.m. to 11 p.m., so you won't miss a moment on the island. And, believe it or not, taking the ferry twice a day and camping will most likely cost less than staying in a hotel on the island. Most ferries offer multi-day deals so you can come and go as you please throughout your stay.
Bring a Cooler: Pre-pack a cooler with your favorite sandwiches, dips, veggies, drinks, and snacks. This will be ideal for a picnic lunch and/or dinner on the beach. The ferries offer checked luggage (including coolers) for no extra charge.
Of course, if you didn't book a hotel on the island, you'll be lugging around a cooler wherever you go. To remedy this, consider Great Turtle Park or a spot on the beach for a place to set up "base camp" for the day. Now, you can only pack so much in a cooler, but know that if you run out of ice chest goodies, you have options.
Doud's Market: This market, located downtown, offers fair prices on deli items, hot pizza by the slice, groceries, beer, and a great wine selection. I walked out of there with lunch for under $5 on my trip. The aisles are clean, the shelves are well-stocked, and the staff is friendly and helpful.
Downtown Deals: If you're going to find a meal for a deal, stick to the downtown area. Read the signs or listen for people shouting out their doorstep, and you'll often find lunch specials.
Adventuring and Entertaining Yourself
Outdoor Adventures: Tip number one here is, if you have a bicycle, bring it with you. Pedaling around the island is the most inexpensive, the quickest, and the most enjoyable way to get around. And the ferries charge less than $10 to transport a bike. This is a steal compared to renting on the island, but if you must rent, get the daily rate. You will maximize your efficiency and cover more ground than if you walk everywhere—and there's a lot to see.
And a lot to see for free, mind you. Peruse the island and find some of these points of interest: Arch Rock, Sugar Loaf Rock, Devil's Kitchen, Skull Cave, Point Lookout, Fort Holmes, Fort Mackinac, and the cemeteries, just to name a few. Also check out Great Turtle Park; it has courts for volleyball, basketball, soccer, baseball, disc golf, a playground, and a pavilion.
Other exciting adventures include biking around the island, hiking the beautiful nature trails, laying on the beach, and visiting the historic sites. There is really something for everyone at a price you can all agree on.
Indoor Activities: This category is a little slim. It includes shopping. Feel free to browse all the shops because looking is free. But if someone needs a trinket or souvenir, I'd recommend The Birches and The Big Store. They have the best values. Also, May's Fudge has a sweet deal on fudge: buy one pound, get a half pound free!
Any vacation can be made just a bit more affordable by research and planning. Hopefully this eliminates some of the legwork for your Mackinac Island trip. Now you can spend more of your hard-earned dollars on more important things—like gear for your next adventure.
Images by Amanda Wais