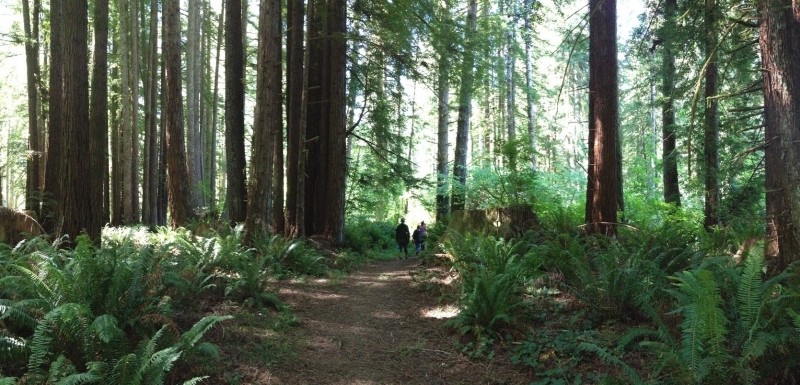 Note: "I've never been able to stay in one place for too long. I decided to put the real world on hold and take a road trip to find things to love in the United States. My travels begin in Mount Pleasant, Michigan and will take me to the west coast and back. In about three weeks, the three of us will be stopping in Chicago, Illinois, Denver, Colorado, Moab, Utah, Redwood National Forest, Newport, Oregon, Yellowstone National Park, Badlands National Park and then back to the mitten state. These are the trials, tribulations, and travels of what happens there and in between."
A few of the trees that tower over the ferns and grasses of Redwood National Park have been dated at 2,000 years old. Respectfully, they were born when this planet was born.
The tallest tree in the forest, Hyperion, stands at a whopping 379.1 feet tall, making it the world's tallest tree. Its location makes it possibly the world's most mysterious as well, and it remains undisclosed so as to avoid any damage to its ecosystem.
You don't need to see Hyperion to understand the immensity that inhabits the forest. The trunks are as big as a small studio apartment, and seeing the tops is usually a thwarted effort.
Luckily, the trees offer several opportunities to get inside, walk under, climb up, and even drive through. Simply being around them is enough to understand the power these trees pack, and there are ample trails and ways to do this throughout the park, which spans over 131,983 acres.
We planned two nights in the forest, and the first campground we stayed at was Elk Prairie campground in the Prairie Creek Redwoods State Park. We were greeted by a herd of elk. None of us had ever seen any, and they were massive, moving slow, and eating the surrounding grasses. They were clearly unbothered by the small group of humans scurrying around to take pictures. This wasn't the last we saw of them, either.
The Elk Prairie campground itself was much more modern than we had been used to, considering how we had been camping for the past week. This campground had showers, flushing toilets, and running water, all of which amazed us. It's definitely luxury camping, and good for those who plan on staying for more than a few nights or those who have kids. The sites are fairly close together, but all provide a fire pit and picnic table.
Some sites are closer to the field where the elk happily roam, but we were glad to get a spot that was in the forest. Furry moss hangs from tree branches and a vibrant hue of green covers everything in sight. It looked like a scene out of a movie.
We set up camp and hurried to the beach to watch the sunset, which is only a pothole-filled 20 minutes away. In a Jeep, the road would have been an attraction in itself, but in our small and slightly fragile car, it was a little less enjoyable.
I was impressed by how much room we had wherever we went. Whereas in Arches National Park all the trails were packed and it was frustrating to get around, in the redwoods almost all the trails were barren.
We did the Hope Creek Loop Trail, which was off the Newton B. Drury Scenic Parkway, right across from the Ossagon trailhead and close to many others.
The trail was a four-mile loop with some nice inclines that made it a bit more challenging, but doable. The path is lined with old-growth redwoods, many of which were burnt through but still living. The large, hollowed out trees served as a nice break to wander through and gawk at.
After we finished the hike we moved onto our next stop just a few miles north up 101: Mill Creek campground in the Del Norte Coast Redwoods State Park.
This campground was closer to Crescent City, where the park's headquarters are and typically the city people associate the redwoods with. Crescent City is a little town that seems to be stuck in the '90s, as most of northern California is. Nonetheless, it provided us with lunch and a few quirky shops.
Mill Creek had some of the best campsites I've ever seen. Ours in particular was wonderful. We parked our car in a lower "garage" and to the left was a ramp leading up to our "loft/campsite." By then we were getting a little desperate for civilization.
Many of the campsites had similar situations where the parking was closer to the road and the campsite was up a small trail, tucked away in the foliage. Water spouts were abundant and the bathrooms were clean. The park workers were extremely friendly as well, giving great suggestions and obviously loving their jobs.
Almost everyone we came in contact with in northern California was extremely happy and friendly, it was almost like the Midwest of the west.
The wildlife was just as friendly as the people, too. We were greeted by a swarm of chipmunks and birds, and a particularly fuzzy guest.
The park systems are pretty serious about bears. Every surface they can stick a poster to reads the slogan, "A fed bear is a dead bear." Those who feed the bears are also out of luck, leaving any small fragment of food renders a $120 fine.
The rangers aren't shy about letting campers know either. As soon as we pulled into our campsite, a ranger equipped with a paintball gun strolled over to us and let us know that there was a bear in the area. He was only 25 pounds, and usually, "He just hangs out by the road and does bear stuff."
We still aren't sure what "bear stuff" is, but we have a good idea that it's mostly a lot of sniffing and rustling around. The little guy clambered over to the woods near our campsite and hung out between two trees, looking at us and hoping for a bite to eat.
After realizing that he definitely could not come home with us, we knew we had to make some noise to make him realize this was not a place to get food.
After our close encounter, we were on guard and always looking out for wildlife on our hikes.
In the campground there are six hikes available without even leaving the park. The loops ranged from 3.7 miles to .7 miles, and we chose to do a shorter one that was only a mile.
The Trestle Loop is a fairly easy hike that was a good morning jaunt, and the path was littered with banana slugs. There were a couple encounters with a creek and few bridges, and the trail spit us out at a different side of the campground.
Whereas Moab, Utah is a mountain biker's dream, the redwoods are a hiker's paradise. There are enough difficult trails for the seasoned hiker and plenty of simple trails for those who just want to take it easy and surround themselves with trees.
Images by Chelsea Hohn