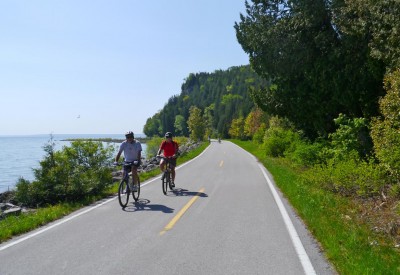 If you plan on heading to Mackinac Island, just off the east coast of Michigan's Upper Peninsula, bring your bike. For an outdoor lover, it's the best way to get around the island. Plus, it costs less than $10 to transport your two-wheeler round-trip via the ferries.
If you are unable to take your own two wheels, The Bike Barn and Mackinac Wheels are the two locally-owned bike rental and repair shops on the island. The staff is friendly and knowledgeable and they want to see you pedaling around the island safely and blissfully. To help with that, they have bikes for kids, adults, couples, as well as bike trailers for the wee ones.
So what kind of bike should you ride on Mackinac Island? I took my single-speed Schwinn Cruiser. Chosen for its comfortable seat and fenders, it was a great ride for the paved roads. However, I could have used a set of gears for climbing those hills.
To venture onto the actual bike trails, you'll want a mountain bike with more aggressive tire tread and gears.
Another key part to riding on Mackinac Island is to accessorize. Take the following items for maximum enjoyment:
Tire fenders to keep the horse apples off your clothing
A bike lock, so you can bring your bike back home
A headlamp or riding light if you are going anywhere at night
A basket if you plan to shop and take your goods with you
If you have all that, then you're set.
Circumnavigation
Since the island has a circumference of only 8.2 miles, you shouldn't have to worry about getting lost, stranded, or starving. But it's always wise to take a map and bring some water when you venture somewhere new.
The outer loop (also deemed Lake Shore Road/M-185) is a must-do on the island. It's quite a treat to ride this relatively flat, paved road with Lake Huron at your side the whole way. And on this ride, you can stop and visit beaches, parks, trails, and attractions.  My personal favorite was Arch Rock near Mile 1. I climbed the stairs from the outer loop, and it was worth every step and bead of sweat.
This perimeter loop is family friendly (no cars anywhere on the island), and once you exit the bustling downtown area, it's pretty much you, the fresh lake air, and other grinning tourists on bicycles. Taking only about one-and-a-half hours to complete at a leisurely pace, this trek should be on every biker's bucket list.
Riding the Interior
While staying on the pavement throughout the interior of the island, you can pedal at least 10 more miles with elevation. The highest point on the island is only 315 feet from lake level, so it's still not too strenuous. You should check out the peak view at Fort Holmes on your travels.
These smooth roads will take you all over the island. Some other interior places of interest include: Sugar Loaf Rock, Skull Cave, Fort Mackinac, British Landing Road, Great Turtle Park, and the world-renowned Grand Hotel. Check out the local map to see what else might trip your trigger.
Along the streets, you'll also see stunning flora. Some of the wildflowers there are larger than anywhere else I have ever seen. The heads on the trilliums were the size of my fist!
The history on the island runs deep too. From its unique geological structures to its military history to its designation as a historic landmark and its preservation as a state park, you will find out why this is such a magical place as you cycle through the region.
And you can access all of that from the streets.
Please note that horse-drawn carriages and pedestrians are the other main sources of traffic on these roads. Though you will probably pedal faster than them all, make sure you are respectful and attentive on your rides.
Hitting the Trails
Ready to get off the pavement? Enjoy the two-mile loop on the southeastern part of Mackinac made especially for bikes. The scenery is amazing, and you'll point your nose to the sky as you glide past Sugar Loaf Rock. This route also leads right past Arch Rock, if you prefer not to climb all those stairs like I did.
So whether your goal is stepping back in time, basking in the wilderness, or simply just pedaling your bike, you will savor a different kind of adventure when you experience Mackinac Island from your saddle.
Images by Amanda Wais