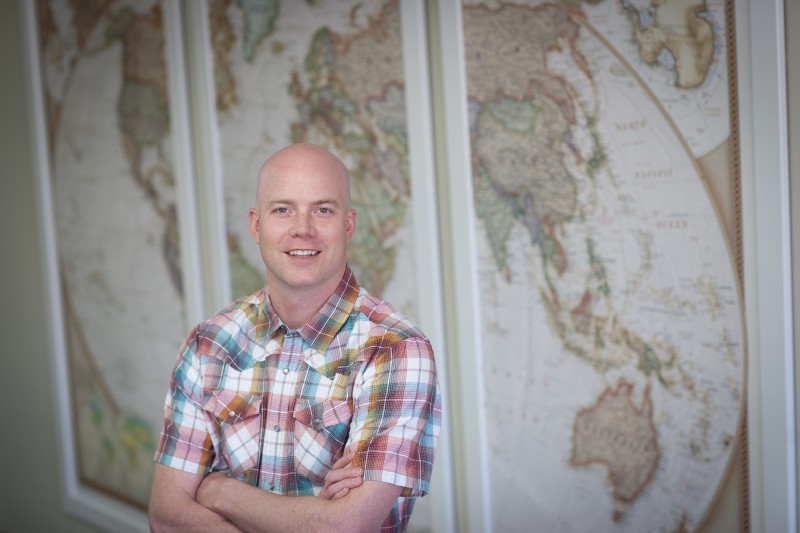 It was immediately following their wedding in 2001 when Davis Smith and his wife, Asialene decided they needed an adventure. The newlyweds came across an unpaid internship in Lima, Peru, accepting the positions without much hesitation. When the internship was finally coming to a close, the pair decided to visit Machu Picchu before returning home. They flew into Cusco, which was the city nearest to their destination. The first place people usually go when visiting the city is the main plaza, so that's what they did.
"Right when you walk into the main plaza, there's street children everywhere," Smith said. "They're always looking to approach you and sell you finger puppets or jewelry or postcards or to shine your shoes." It was there that they met Edgar.
Although Smith was wearing just a pair of tennis shoes at the time, a young boy approached him and insisted they must be shined. Edgar stuck out to them. The couple returned later that day with extra food for him, which he proceeded to share with all of his friends. It was on their last night in Cusco when the couple came across Edgar again. He was sitting with another child, and it was clear he had been crying. Surprised to see him out so late at such a young age, the two asked him what was wrong. Edgar replied that someone had stolen his shoeshine kit and he was terrified to go home without it in fear of the repercussions.
"It was just a heartbreaking thing to see this poor little kid going through this experience," Smith said.
The two gave Edgar what money they had, which seemed to calm his emotions a bit. The following day, as they were preparing to leave by bus, they saw Edgar one last time. He had used the money the couple had given him to buy a large bag of candy, which he was then selling to customers on the street, piece by piece. Edgar ran alongside the bus, waving his goodbyes to the couple as it slowly drove out of town.
Upon returning home, Smith knew he wanted to incorporate helping underprivileged kids somehow into his future career, because of how powerful his experience meeting Edgar had been. "I was four years old when my family moved to Latin America," Smith said. "I grew up seeing poverty most Americans don't know exists. And then I met Edgar. When you see that, you can't help but try to find a way to contribute."
But it wasn't until years later that Smith came up with a plan.
Making the business a reality
"In the middle of last year is when it all started to come together," he said. "I was living in Brazil at the time running a business I had started. I began thinking seriously about leaving my company and doing something that would really help people. After a few days of starting to think about this, I woke up in the middle of the night and just started writing. All of the sudden, I realized I had been awake for 48 hours and had come up with an entire business plan and the slogan, 'Gear for Good.'"
The idea was to start an outdoor gear company that not only supplied high-end backpacking-style gear to consumers, but also provided a lot of help to people in need. He left his job and moved to the States last November, specifically to Silicon Valley, to start fundraising. A team began to form and investors started to get on board. In April, Cotopaxi officially launched.
When someone buys a piece of gear from the company, a specific humanitarian cause is tied to it. The causes differ based on the product but, for example, if you purchase a Cotopaxi+India water bottle, you can give clean water to a person in India for six months through charity:water, one of Cotopaxi's partners. When you buy a Cusco pack, you help to educate a child in Peru for one week.
Cotopaxi ended up surpassing its sales goals for the first month in a mere three days. Smith said an event called Cotopaxi Questival is to thank. The Questival was organized as a means to get the Cotopaxi name buzzing—as no one had ever heard of it before. The 24-hour outdoor adventure race attracted thousands of participants who were competing to win one of three humanitarian trips.
"Every team had a list of different challenges—climb a mountain, kayak, go on a hike, and others were quirky, like 'take a selfie with a llama.' We ended up having an incredible response," Smith said. "To document each task, they had to take a photo of it with them wearing the backpack. Everything was uploaded to social media, and we ended up having a reach of 10 million through all the posts."
And within a very short period of time, thanks to the creative marketing idea, people knew the brand.
The design at Cotopaxi is done by people who have previously worked for companies like Marmot, Dakine, Nike, Columbia, Black Diamond, and Gregory. In addition to the creativity that comes from old pros in the outdoor industry, there are a number of entrepreneurs on board who have had little experience with the outdoor community. In addition to Smith, who serves as founder and CEO, Cotopaxi is led by COO Stephan Jacob, Director of Design C.J. Whittaker, Director of Apparel Cheri Sanguinetti, Creative Director Sam Ricks, and CFO Jordan Allred. Smith said it's putting these two groups of people together to brainstorm that really separates the brand from others in the industry, allowing them to successfully weave together high-end outdoor gear as well as a social mission.
Smith thought it was important to start small. Cotopaxi currently offers a limited amount of gear, but plans to expand this fall with more lifestyle and technical packs, as well as apparel. Just like he wants the line of products to grow slowly and with great attention to detail, the same goes for the employees.
"Number one is helping people understand what this brand means and how we want to impact the world, but it's also about building the teams," he explained. "Making sure we have the best people in the industry, that's not something that happens quickly. I'm a big believer in building strong relationships and making sure someone is the right fit. It's a process, it takes time, and we're very careful. I'd rather spend a few months with someone, inviting them to spend time with our team first."
Finding Edgar. Again. 
Despite the success of the company, Smith couldn't help but feel that something was missing. It was Edgar.
Wanting to find the young man who had first inspired Cotopaxi in 2001, Smith recently set off for Peru. It was the first time he had visited the country since that trip with his wife, and he knew he would most likely come home without having found the man he was looking for.
"I knew he was nine at the time and I knew his first name. I didn't even know if he was from Cusco—a lot of kids from rural villages travel to the city to beg or work, and then go back home after a few months. I thought it was going to be next to impossible to find him," Smith recalled.
He traveled back to the center of the city, where he and his wife had first met Edgar. Smith brought with him an old photo of the child, and he began showing it to every person he passed in hopes that someone would recognize the young face and could provide information about where he was now.
"After a while, a few people started saying, 'Yeah, I know who that is.' One man used to shoeshine with him and asked me if I wanted to know [Edgar's] phone number, which he knew by memory. Amazingly, Edgar still worked [in the main plaza], but now selling paintings," Smith continued. "I called him and set up a time to meet the next day."
The following day, Smith made his way to the main plaza, where they had arranged to meet—the same location where they had first crossed paths years prior. "I was looking around trying to find him, and all of the sudden, we made eye contact—I knew it was him," Smith recalled.
They walked toward one another, smiled, and made introductions. He proceeded to pull out the photograph, and Edgar nodded in agreement that it was him. Smith began to explain the story. "You were nine, and there was this night that your shoeshine kit was stolen," he told Edgar, who seemed to have started to recall the memory. Edgar told Smith he remembered the night, and asked if Smith was the one who gave him money to get by. Smith responded that he was.
Edgar led Smith to his home—a small adobe with dirt floors. Over the years, he saved up enough money to take a year-long English class, which made communication between the two much easier. "He lives a very simple life, but he's a great young man and an extremely hard worker," Smith said. "He was orphaned a few years after I met him, and he actually took me to the shelter where he used to sleep."
Smith immediately recognized the needs of the shelter, and Cotopaxi has started to assist in supporting it as part of its social mission. Edgar, who was amazed to find out he was the inspiration for the large-scale project, is still selling his paintings in Cusco. But now, he's doing it while carrying Cotopaxi gear.
For more information, visit the Cotopaxi website and follow the brand on Facebook, Twitter, and Instagram.
Images courtesy Cotopaxi