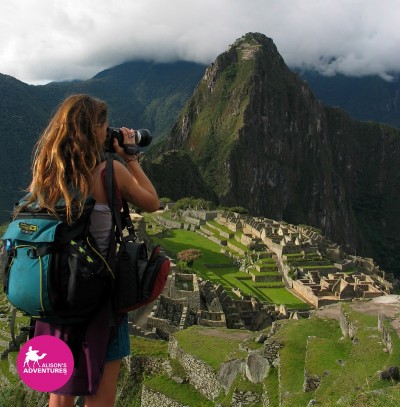 Alison Teal is not someone who can be easily summarized. Though some call her "Tarzan Child" or "the female Indiana Jones," after talking with this vivacious adventurer, I couldn't help but feel that such labels didn't do her justice.
Teal was born into a family of explorers. Her mom was a famed yoga instructor who trekked across the globe with her world-renowned, adventure-photographer husband. "They had always been crazy adventurers, and when I was born they just figured, 'Why stop now?' So I basically grew up in a six-by-six tent as we traveled around looking for the next great yoga location," she said with a laugh.
At just two months old, Teal and her family climbed to the top of Ausangate, which is a mountain located in the Andes of Peru. Thus began the unusual upbringing that would shape the rest of Teal's life.
"The world was my classroom, and the people I met along the way were my textbooks," she explained. "There is nothing like this kind of education. It fuels and creates your brain in a different way; it makes learning part of your being. There is a big, wide world out there and there are a lot of things that will blow your mind. To experience them and not just read about them in a book, it's an unmatched experience."
Eventually, her family decided to create a home base on the Big Island of Hawaii. There, they built a sustainable home completely by hand named Hale Kai (ocean house). Her father worked to ensure the grass shack was completely self-sustaining, using a solar electric system and all-natural building products. "Hawaii was our refuge, our retreat," Teal said. "It wasn't the U.S. and it wasn't traveling, it was somewhere in between."
There, Teal developed a love of surfing, a passion that remains a constant focus throughout her nomadic lifestyle. No matter where she travels, her surfboard always makes the journey as well. "A pink surfboard and a smile open any door," Teal joked.
"Surfing is my meditation, my –ish. As cliché as it sounds, I think life can be related to surfing," she said. "You might fall and you might not, you might get stuck under the water in a barrel roll and discover something new you weren't expecting. Either way, you would never have had the experience if you didn't take that ride."
This belief has prompted Teal to dive head first into every challenge, including an appearance on Discovery Channel's Naked and Afraid. The premise of the reality TV series is stranding a man and a woman in a remote location without food or supplies for 21 days, therefore forcing them to use all their knowledge to survive off the land. "It was a pretty wild experience," Teal said. "My parents were my biggest teachers, but my whole village came together to help me prepare." Teal earned the highest survival rating on the show, and became a poster child for survival and human strength.
Eventually, she realized that her love of adventure was matched by a love of storytelling. Hoping to gain some knowledge in the area, Teal attended USC film school, graduating summa cum laude in 2008. "Even though I had spent most of my life trekking around the world looking for the best lighting, and thought I was sick of it, it also inspired me. I kind of took the torch from my dad and his love of photography," she said.
Her thesis film, Rita, explored her first experience with conventional schooling. "I was home-schooled and I loved Disney movies, so [when I was young] my biggest dream was to go to school with the yellow school bus and the lunch box, you know, the whole thing," Teal explained. "My parents took me to a Sherpa school and I had my first normal school experience. It wasn't what I expected." The film won international acclaim and was featured at numerous film festivals, including Telluride.
After the success of her first film, Teal realized she had many more stories to tell. She decided to start her journey by returning to some of the places she had loved as a child. "I wanted to document all the cultures that I grew up in, all the little nooks and crannies that never get mentioned, and tell their stories," she said.
"The people were so welcoming, and they has so much to say, but they wanted to tell ME their stories, not my camera. I figured out 'I need to be a part of this.'" So, with the help of her photographer and "partner-in-crime," Sarah Lee, as well as other friends and family, Teal stepped out from behind the camera and began documenting her travels in a series appropriately named Alison's Adventures.
"There is no rhyme or reason to where we go, sometimes we have an adventure shoot, or it's just an incredible surf location," Teal said. "It all just kind of flows. We just go and that's the magic of it.
"I have become skilled at figuring things out on the fly," she continued. "There is no way to call ahead or cast before we get there, we just go on an adventure and hope and pray and search, and a wild character always pops out of nowhere and becomes the subject [of the video]."
Teal's initial goal in her films is to capture ancient cultures and to keep their traditions alive through sharing them with the world. "There is so much wisdom we can gain," Teal said. "There are just so many ways to live a life."
She also promotes sustainable living, seeking to protect the lands and oceans she holds dear. This desire has led her to work with a number of different eco-friendly companies, such as the experts at Sustainable Surf. "I want to ensure that the earth is around for future generations," she said. "I don't know about you, but when I walk into a forest or along a beach, I feel happy and fulfilled. I don't feel that way walking around a city with all its artificial surroundings. I just hope our whole world doesn't become that."
With such diverse experiences, the future seems bright for Teal, who even talked about returning to the island she was marooned on for Naked and Afraid.
"People always ask me, 'How do you live that way?', and I think the best answer is one baby step at a time," she said. "If you want to live your dream, just do it. You just have to start."
To learn more about Alison's Adventures, visit her website or her YouTube Channel. You can also follow her on Facebook, Twitter and Instagram.
Images courtesy Sarah Lee and David Blehert