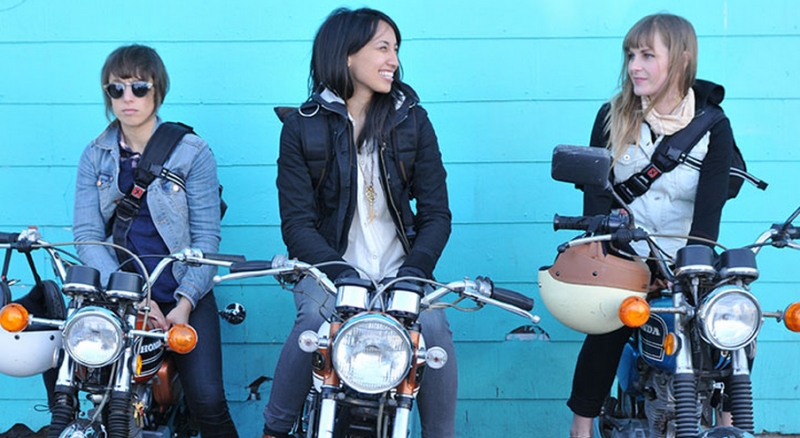 A sense of fearlessness and a little bit of an outlaw mentality—that's how Steve McCallion describes the foundation Chrome Industries was built on. McCallion, who serves as president of the almost 20-year-old company, is one who fully embodies the technical bag, shoe, and apparel line, all of which is bombproof and made for living and riding in the city.
"It was really about not being able to find gear for riding bikes that was designed to withstand the elements the way it should," he said of the initial concept of the brand. "It was forged out of the idea that we couldn't find anything that was durable enough, whether it was in the city or out on mountain bikes."
McCallion said at the time of Chrome's inception, similar companies were relying solely upon the influence of cycling in their creation of bags, shoes, and apparel made for lifestyle biking. Chrome looked to the culture of skateboarding to help develop its edge. With many of the traditional products still offered to this day, the brand has stuck to its original look of mostly black bags built to withstand anything and everything.
It was this setting of the company's core DNA early on that has allowed a natural progression into areas such as shoes, but without being overwhelming. "At the beginning, it was just bags and apparel. About six or seven years ago, we added footwear," he said. "All of our products deliver on urban utility, solutions that are adaptable and versatile, and products that basically allow you to live in the city in kind of a compelling way."
As for the most popular items, he said the original buckle bags are some of the bestsellers. "That bag was a defining moment for the brand," he recalled. "We wanted a functional solution that was really durable, but we didn't have money for [creating] a custom buckle. We got the idea to cut seatbelt buckles out of cars from salvage yards." And the look has lasted.
He said it was providing customers with a look that was not only extremely technical, but looked sharp enough to wear off the bike as well. "[The apparel] has technical features but it doesn't look like you just came down from the mountains. You don't want to walk into a meeting or into the bar with your friends wearing [what is obviously workout] gear. Now you have an option," McCallion said. "Everything is vented and moisture wicking.
"The challenge is that a broader category is emerging in the urban outdoors, and people are going and exploring the outdoors closer to home," he said. "That epic trip, it's out there, but people are also doing stuff closer to home. Most people don't see anything when they drive through their cities, they don't really know it. We like the city and we like to inspire people to pay attention to it."
In the near future, Chrome will be expanding its products into the motorcycle realm. In addition, a line of camera bags will also be released. Also new for Chrome is the inclusion of forged rubber sneakers, which McCallion said he's extremely excited about.
"[They're] made the way volcanized sneakers were made 70 years ago on machines salvaged from Slovakia," he said. "They're made one at a time by hand. The rubber is fused directly to the upper. We're doing a series of pop-up factories in each city [San Francisco, New York City, Chicago, Portland, and Seattle]. We'll set up the machine that's used to make forged rubber and will be moving it around, doing demos."
As for the apparel line, McCallion said a number of new pieces will be introduced, specifically several colors that will assist in spicing up the brand. He said the success of Chrome Industries was reliant upon the purpose of the company remaining crystal clear over the years.
"I think when you start something you can never imagine what it can be down the [road]," he said. "You just focus on doing it well and, organically, good things happen."
Images courtesy Chrome Industries