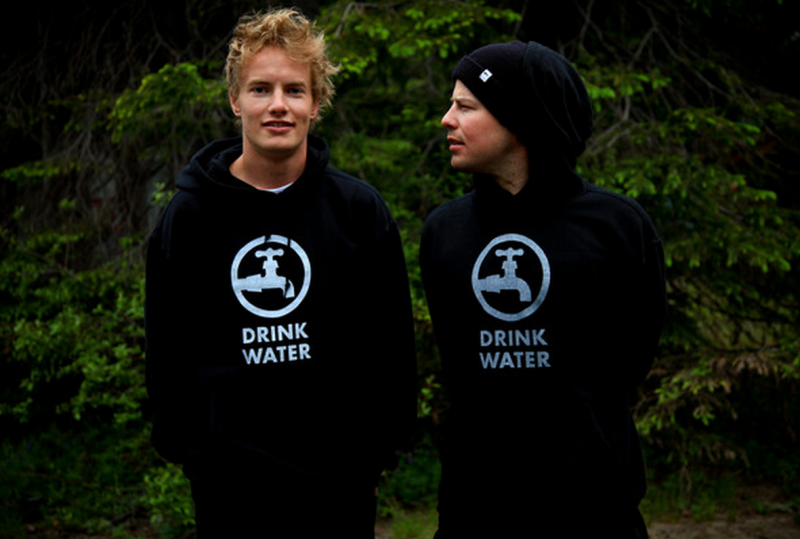 It was during the winter of 2011 when snowboarders Austin Smith and Bryan Fox began writing the words "drink water" on their snowboards. In this small act of sharing their opinions, they made it clear they were tired of energy drink companies ruling the action sports arena.
"We watched the snowboard industry, and other similar industries, be bought up by energy drink brands peddling their products to kids. Oddly enough, nobody was really opposing them. We figured, as professional snowboarders with an opinion on the matter, we should try to use whatever influence we have, to protest. And for the best protest is to promote something we do actually support," a post on the website from Austin and Bryan reads.
Austin said the point of the project was simply to provide action sports with a bit of balance.
"Things have become so overrun by energy drinks and there wasn't an alternative," he explained to ActionHub.
After several months of riding with "drink water" written on their boards, the duo began to expand the message to apparel. They employed the help of Aaron Draplin from Draplin Design Co. to create a logo, which was then put on clothing thanks to a screen printer donated by Austin's friend, Tonino. While it began with only a few hoodies that were given away to friends, the Drink Water campaign has now grown into something larger.
Since the campaign's inception, Austin and Bryan have added two more people to the business side—Bryan's brother, Stephen Fox, as well as a friend from snowboard camp, Aidan Payson. In addition to the team of four, there are a number of supporters who have their portraits included on the website.
Together, the team partners with events such as The Arctic Challenge, video projects, and hosts the Rat Race contest, among other involvements.
"But a large part of the success has come from the support of the Drink Water community, the shredder kids, parents, school officials, health advocates, anyone that slaps a sticker around town or wears a hoodie," Austin said. "We have even got a handful of emails from people who work at energy drink [companies] supporting the idea."
Austin said the goal is not to sell water, but rather to promote drinking it from the tap.
"And if you're going outside, which we tend to do, fill up a bottle and take it with you," the website post from Austin and Bryan reads. "As we continue to say 'drink water,' we recognize that nearly a billion people on Earth lack access to clean drinking water. That's why, for every Drink Water product purchased, 10 percent of profits are donated to water.org, a nonprofit working on this solvable global crisis.
"Our goal is to spread this message; the simple idea that has become a movement of people questioning what's being sold to them."
For more information or to purchase apparel, visit the Drink Water website.
Image by Liam Gallagher/Drink Water