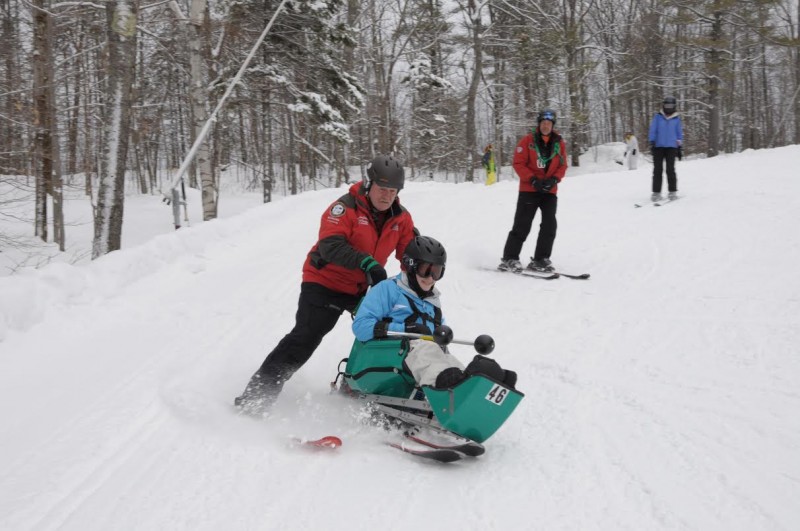 John Pelletier believes he's a better skier now than before falling out of a tree stand while deer hunting in 2004—an accident that left him with a spinal cord injury, reliant upon a wheelchair for transportation.
Now, the former attorney from Westport, Massachusetts cruises Sunday River's slopes in a mono-ski every week through Maine Adaptive Sports and Recreation in Newry, Maine.
But to ski with his family, he had to travel from a dark place and learn to live again. As a skier before the accident, he came upon the adaptive skiing program about six years ago.
"Skiing really saved my life," said Pelletier, 54. "It's just put me on a whole other level. I don't consider myself incomplete. I feel I can do anything."
He does: hand-cycle, tennis, hunt, fish, and ski.
In doing so, he's had the assistance of dedicated volunteers.
"They are some of the best friends I've ever had in my life, like family," he said. "They are helping you out for free on their own time."
Across the slopes, skiers and snowboarders with disabilities from amputates to those living with multiple sclerosis take to the slopes with an assortment of equipment from sit-skis to outriggers arranged through a number of nonprofit disabled sports organizations.
With them are volunteers who through instruction, guidance, and caring forge an uncommon bond on the slopes.
Tom Kersey, 60, volunteered at New England Handicapped Sports Association at Mount Sunapee, New Hampshire for 14 years before becoming its executive director and said he remembers a time when volunteers skied with goggles smeared with vaseline to simulate vision loss.
He sees three types of volunteers: those passionate about their sport, some with a link to a disability, and others wanting to give back. His job is to figure out where each one fits in.
In exchange for lift access, they must commit to 24 days and pay $45 for a background check.
"You can't buy the feeling you get from volunteering and the participant can't buy the instructor's care. They are exchanging a feeling that money can't buy," he said.
He finds them largely through word of mouth.
"These people go back to work skipping in on Monday after giving 16 hours of their personal time while their co-workers are dragging in," he said. "The co-workers want to have that same feeling."
For more than half of his 37 years, Belmont, Massachusetts Healthcare Administrator Scott Regenstein has been an adaptive skiing volunteer. While at upstate New York Greek Peak as a 15-year-old growing up in Ithaca, Regenstein bumped into some three-track skiing—one ski with a pair of hand-held outriggers—instructors. The teen thought it was cool and asked about it. He was encouraged to join the program.
Since then, he's taught at Vail and Mount Snow, and became a PSIA Level 3 instructor in alpine and adaptive skiing. For the past eight years he has traveled to central Vermont's Pico to teach the volunteer instructors at Vermont Adaptive Ski and Sports.
"Being 15, it looked cool, fun," he said. "There was free training and I love skiing. At this point being in the working world, I like to think I help people in my day job, but I really learn a lot from the participants. I learn more from them than they do from me."
Some 500 volunteers help the organization facilitate its mission to provide diverse year-round sports outings to more than 2,000 people with all types of disabilities. In winter, volunteers must commit to five days.
Mindset, caring, positive attitude, good judgment, maturity, and patience make good volunteers. With a mantra of safety, fun, and learning, novice volunteers don't need to be skiing experts. They need to ski safely down a tough beginner trail.
Volunteers are trained on land and snow, getting up to speed on equipment and teaching styles for visual, auditory, and kinesthetic learning.
They initially assist and shadow the lead instructors as an extra set of hands and eyes. On the slopes, they're a buffer to curious skiers.
"This puts my own bad days in perspective," Regenstein said. "When these folks have bad days, they are immobile or in a hospital or can't ski for a year. When I have a bad day, it's because someone says something to me at the office I didn't like."
Image courtesy of New England Handicapped Sports Association