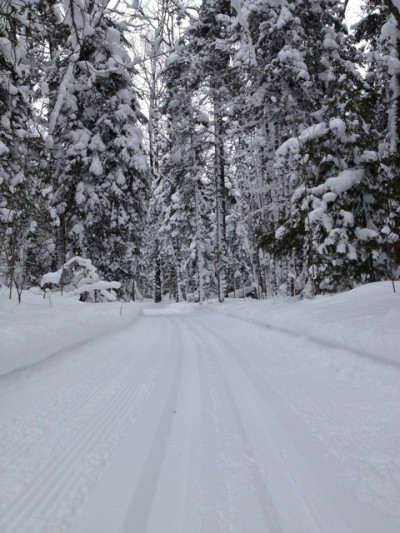 Michigan's Upper Peninsula not only prides itself on snow-laden ski resorts, it uses its big snow reputation to create a mecca for winter sports. If you and yours prefer to switch up your muscle groups on any day of your stay, the U.P. resorts provide a mix of terrain to cross-country ski, snowshoe, snow tube, snow bike, and play inside.
If you need a break from the cold, enjoy shopping, arcades, and spas. Find the fringes you're looking for right here in the Midwest—in pure Michigan.
Cross-country skiing
Perhaps the most popular of the extra-curricular activities, cross-country ski trails create a presence on the property of four hills, and not far from the others. The Porkies (Porcupine Mountain State Park) trailheads 26 miles of groomed trails operated by the park. Ski Brule is home to about 14 miles of trails. There are 12 miles of trails that navigate through Big Powderhorn. Mount Bohemia grooms about eight miles of trails with future expansion in the works.
But this sport doesn't stop at the resorts. Since the UP. is home to more trees than people, the countryside is vast and often procured for trails to explore. The Bessemer/Ironwood area (where Big Powderhorn, Blackjack, and Indianhead Resorts are located) is home to nearly 62 miles of Nordic skiing through ever-changing wilderness. For more information about trails in this area, check out the Explore Western U.P. website. For 81 miles of cross-country bliss in the Keweenaw region (where Mont Ripley and Mount Bohemia are located), visit the Keweenaw Trails website. While you're in the Marquette area, lose yourself in more than 93 miles on different trail systems in the area.
Snowshoe
Strap those oval frames on, and you can explore almost anywhere in the deep snow. Blackjack, Indianhead, the Porkies, Ski Brule, and Marquette Mountain each offer snowshoeing trails on-site, usually at no additional cost for trail usage.
In Houghton, next to Mont Ripley, Michigan Tech offers a plethora of trails, as does the rest of the Keweenaw Peninsula. As a general rule, where there are ski trails, there are snowshoe trails—and sometimes more of the latter because they don't need to be groomed by large equipment.
If you're up for an adventure of a lifetime, head to public property on Lake Superior's coast. You can explore ice caves, menacing waves, and rugged shoreline. There is never a dull moment on these treks, but always be alert, as the Big Lake is not forgiving.
Snow bike
With mountain biking opportunities a prominent resource of the Upper Peninsula, the enthusiasts of this sport have made it possible to pedal all year long. Featuring low pressure tires up to five inches wide, these "fat bikes" traverse ice, groomed trails, and snow-filled descents.
Just south of Mont Ripley, at the Michigan Tech trails, snow bikes can ride up to 17 miles on firmly-groomed trails through a variety of elevations and scenery. Check the website for maps, pass information, and other statistics. Marquette Mountain is surrounded by the Noquemanon Trail Network, which offers more than 50 miles of groomed terrain for burly bikes. Plus, it flaunts 21 miles of purpose-built snow bike trails along creeks, over jumps, through man-made obstacles, and overlooking majestic Lake Superior. Details about riding their trails are available here.
Gravity-fed
Ski Brule offers two snow tubing parks: one that tows you up and one that lets you tow yourself. Check the website for the tubing schedule and pricing. Another spot to tube is Mount Zion, a part of Gogebic Community College in Ironwood. This 300-vertical-foot recreation area features three tubing runs with a lift and other winter activities.
Indoor fun
Need to warm up a bit? Take a dip into the swimming pool at Pine Mountain and Indianhead's Health and Recreation Club. Not only do you get a chance to swim, you can take a sauna, sit in the Jacuzzi or play racquetball—all indoors. Both of these places host a professional massage therapist on site as well.
Ski Brule offers an indoor play area just for the little ones. At Blackjack, children can pounce on the Rave Sports Bongo, a huge bungee trampoline. Arcades are a hit as well; check the game rooms out at Blackjack, Indianhead, and Pine Mountain.
Shopping
Take a slice of your experience home with you by patronizing the shops on site at Big Powderhorn, Blackjack, Indianhead, Ski Brule, Pine Mountain, and Marquette Mountain. Each shop has gear to keep you trendy and warm.
If you venture out of the resorts themselves, cruise the strip of the surrounding towns to find other thrifty opportunities unique to the area. "Mom-and-pop" shops define the region with local personality and hometown prices.
Need some gear?
Maybe you want to try one of the activities mentioned above, but you don't have the right equipment. Rest assured, all the resorts that offer other activities have equipment for you to rent. But be warned: you might get addicted and want to buy your own gear. Hopefully that means you'll be back again and again in Michigan's U.P.
Editor's note: This article was produced in partnership with Pure Michigan.
Images by Amanda Wais