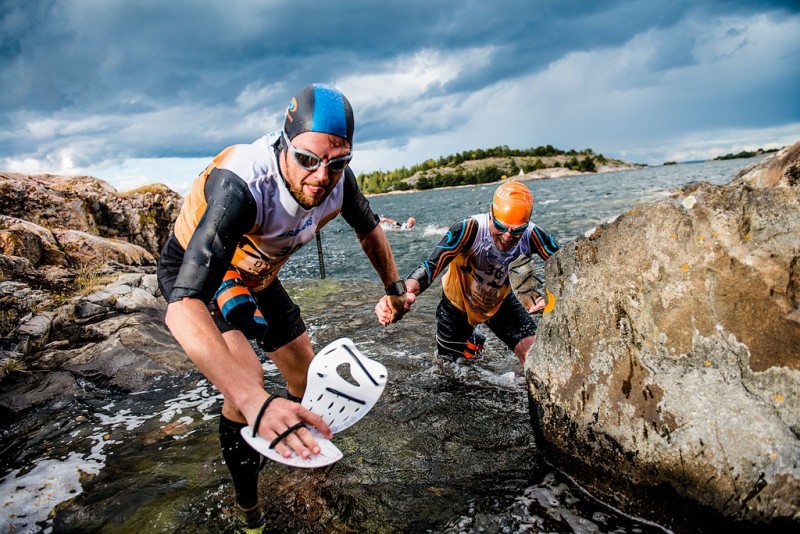 Runners and swimmers don't classically mix. Most of the time, you are loyal to one or the other. But what if you combined the two to create an all-encompassing extreme sport experience? The new sport of swimrunning, which has emerged from Sweden with great popularity, challenges athletes to conquer both in one race.
"The mix of running and swimming is what makes the sport so attractive," said Michael Lemmel, race director of ÖTILLÖ, The Swimrun World Championship. "You are on a journey together with your partner or group, and it's interesting every time. It brings us back to a time when we traveled over water and land using our physical and mental skills."
The birth of swimrun racing, and more specifically, the ÖTILLÖ race, is humble and somewhat surreal. Two employees at a Swedish hotel and bar, UTO VARDSHUS, drunkenly challenged each other to a running and swimming competition. The team that made it back to UTO VARDSHUS from Sandhamn would enjoy a free night of drinks on the losing team's tab. But after a grueling day of running and swimming, the teams arrived at the hotel to find it booked, making them unable to complete the race. The competitors vowed to return the next year for a rematch, and thus emerged what is now known as ÖTILLÖ.
The event gained merit when the owner of UTO VARDSHUS contacted Michael Lemmel, who gladly seized the opportunity to get involved. Previously an adventure racing enthusiast, Lemmel and his business partner Mats, saw the chance to create a whole new race experience for the masses.
"We loved hard team racing and the atmosphere it creates. It humbles you to suffer," Lemmel said. "ÖTILLÖ is fantastic because it brings out the caveman/cavewoman in all of us—you are dependent on your physical and mental skills, you are dependent on another human being and you have to dig into your soul. It is a very emotional experience no matter if you race to win or if you race to finish."
After doing some research and mapping out a course, Michael and Mats launched the very first ÖTILLÖ in September 2005. The race hosted only 11 teams, and only two actually completed the full course. Because of the uniqueness of the race, what would seem to some as a failed first attempt was actually the perfect launch pad for ÖTILLÖ.
"We wanted to create [a race] where the focus was the experience of the racer. It is something that we hold onto very strongly," Lemmel said. "If the racer comes home from ÖTILLÖ and says it was one of the best race experiences of their lives, then we can continue to grow."
That is exactly what happened. Word about Sweden's newest extreme sport spread like wildlife.
Since then, swimrun racing has gained huge popularity in Scandinavia and is beginning to see international recognition. Races attract Navy seals, military teams, world class triatholoners, runners, and swimmers. The original 11 teams grew to 114 in 2013, with 99 crossing the finish line.
In its ninth year, ÖTILLÖ is expected to expand its qualifier race series so it can maintain the 120 team limit for the ÖTILLÖ World Championship.
"When we started ÖTILLÖ, we had hopes to create a spectacular race with 100 teams chasing for the title […] but seeing the growth in Scandinavia over the last three years, we are convinced that swimrun racing will grow massively on an international level," Lemmel said.
"I believe swimrun racing has a bright future in the US," he continued. "We are looking for a venue to set up by 2015 hopefully."
ÖTILLÖ is still growing rapidly. This past year, Gordo Byrn became the first American to win the race along with his partner Jonas Colting.
Those competitors who are selected to compete in the ÖTILLÖ World Championship can be sure they will be tested in every way possible. In teams of two, participants are asked to tackle trail runs, scramble across cliffs, and battle bushes and other wildlife. And that's just the running section. Add to that battling the cold and choppy conditions of open water for the swimming sections, and everyone is sure to push themselves to the limits.
In order to prepare for these extreme conditions, in the last few years rigorous training programs have been developed to prepare athletes for the event.
"In the beginning, no one trained for swimrun racing," Lemmel recalled. "Now they do a lot of training—running in their wetsuits and swimming in their shoes. They do race-specific training—practicing towing techniques on land and in the water."
So what keeps people coming back?
Lemmel said he believes the severity of the sport paired with the camaraderie is ÖTILLÖ's biggest asset.
"The atmosphere is very warm as you race in pairs, sharing pain, success, and exhilaration," he said. "Everyone involved has suffered and dug deep to manage, and this makes for quite a humble group."
Images and video courtesy of Michael Lemmel