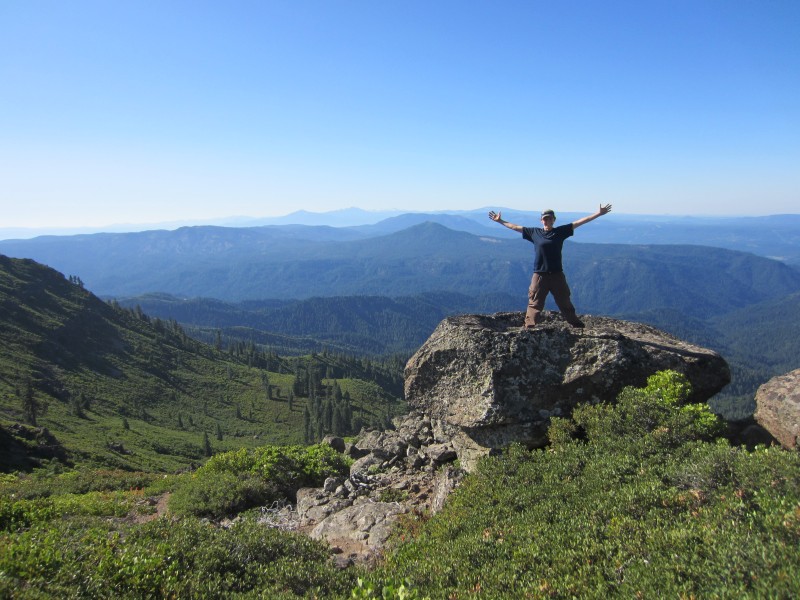 When Erin Saver moved to Portland, she had years of marathoning under her belt and knew that in order to make new friends and be involved in the community, she needed to be proactive.
She joined meetup.com, a website dedicated to bringing people with similar interests in the same area together. From there, she signed up to be part of a hiking group.
It was on a backpacking trip with this group that Saver began to talk to one of the other members about hiking the Pacific Crest Trail.
"At that time, she had done a little on the Appalachian Trail, which I was so amazed by," Saver recalled. "She said that we should do the PCT together, and although it didn't work out, she ended up being the one who planted the seed in my mind."
Saver said she had never thought of hiking the PCT, and even more than that, would have never considered hiking it alone. But that's what she did—then again on the Continental Divide Trail, which she completed earlier this fall. With plans to embark on the Appalachian Trail in March, Saver is well on her way to becoming a Triple Crowner—a hiker who has completed all three long trails.
It was other female hikers who blogged about their journeys who inspired her to blog about her expedition as well. After about 200 miles on the Pacific Crest Trail back in 2011, she learned that her writing had attracted a fair amount of attention, inadvertently placing an added stress on her shoulders.
"The blog hit really big, and the combination of being on the trail for the first time and having a large following created a stress for me," she said.
In addition to the feeling of needing to perfect the blog and keep it current, Saver said food consumption on the trail also became an issue.
As someone who deals with stress by forgetting to eat, she said this habit began to cause problems for her health, considering she needed to consume a certain number of calories to have enough energy to hike miles upon miles.
Giving credit to everything learned on the PCT, she said hiking the CDT this year was much easier, especially when it came to weather and food.
"I worked a lot on my mental abilities and how they attached to food later on," she said. "It was a big hurdle for me."
In regard to the blog, she turned overwhelming stress into something positive.
"What ended up happening was that I had a meltdown. I thought that I couldn't take it all on," she said. "But it was that feedback of people telling me that I was giving them the hike they never had or couldn't go on. With the blog, it was like they were walking with me."
It was that feeling of having her audience along for the hike that helped establish her nickname, Erin "Wired" Saver, as well as the name of her blog, Walking With Wired. A contributing factor to the nickname "Wired," aside from being constantly connected, is Saver's personality that is characterized by high energy and little need for sleep.
In addition to the readers who provided positive encouragement, she said it was also the other hikers on the trail, and the community she became part of, that made the entire hike worth it.
Although her current adventurous lifestyle is a source of inspiration to others, Saver said it wasn't until she moved to Portland that she began to stray away from the socially-ingrained structure of having a nine-to-five career. She explained that when she lived in the midwest, it was almost looked down upon to create your own schedule. She worked as an inner-city teacher in Chicago before making her move, and said a lot of guilt came along with leaving the full-time job. Because she moved from teaching full-time to working as a substitute teacher so she could take months off to hike, she felt she wasn't doing enough.
But at a certain point, she said, "You have to ask yourself if you're living to work or working to live."
Once she moved to Portland, Saver said the guilt of not giving back in some way seemed to be in contrast to her doing things for herself.
"I felt like it was a very selfish thing to do," she said of her first solo hike. "I'd never done anything independently like that—it was always in a group. It felt wrong. The first time I realized I wasn't living for myself and that it would be okay to do something on my own, I still felt that I wanted to share it with my family and friends."
With the blog, she said she felt as if the void that became apparent after she stopped teaching full-time had been filled.
"I just wanted to share it," she explained.
The hikes led to her blogs, which in turn led to Saver being asked to give presentations about her experiences once she returned.
When she showed up to her first presentation, she said it was unknown how many people would actually show up to hear her speak. About 300 people attended, which was way more than she had assumed would come.
"When I hiked the PCT, it was a high snow year and I was a fresh hiker, so I was a person people could relate to," she said. Because of this, Saver said a lot of the people in attendance had the mentality of, "If she can do this, I can do this."
"I wanted to lift the veil," she said about giving speeches to inform people that hiking these expansive trails is not as dangerous as it's made out to be, and to help decrease the fear mongering that goes along with it. 
As for the future, in addition to her planned AT hike scheduled for March, Saver said she has her sights set on the Pacific Northwest Trail, Vermont's Long Trail, the Great Divide Trail, and the Te Araroa in New Zealand. She is even considering adding on a shorter hike that would continue from the AT, noting that after she finished the CDT, she felt like her body could do more.
As for encouraging others to explore, even when they feel it seems out of reach, she said the feeling of hiking is unmatched.
"On the PCT, I felt like I was in the right place at the right moment for such an extended period of time. Typically that feeling only comes when you've done something like scored a goal—something that is short lived," she said. "With hiking—it's this amazing energy that washes over you, over every tip of your body. You're feeling a rush of joy."
For more information about Saver, check out her website.
Images courtesy of Erin Saver.