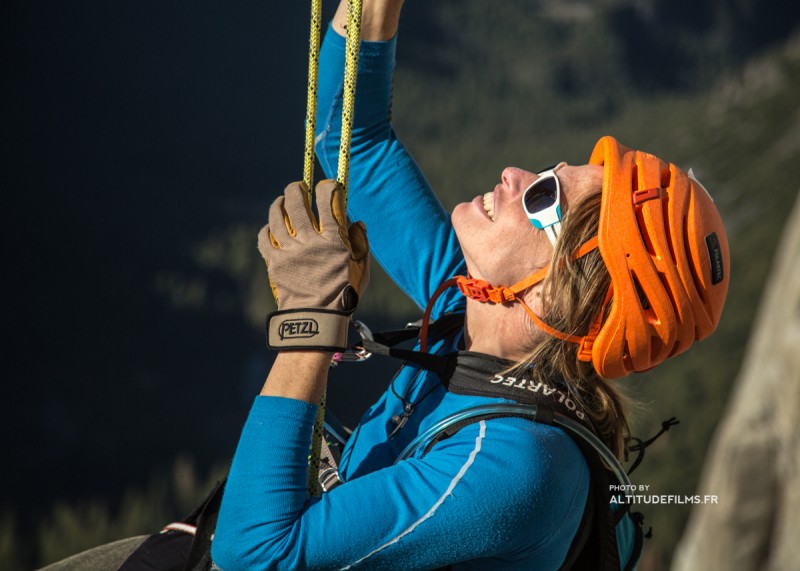 Vanessa François arrived at California's Yosemite National Park several weeks ago after a year and a half of preparation, ready to climb El Capitan. What she encountered upon reaching the park was not an easy beginning to the finitely-planned expedition, but rather a government shutdown that had closed Yosemite.
For 41-year-old François, who has been climbing for more than 15 years and traveled to the states from Chamonix, France specifically to climb El Cap, the news was devastating. Given the amount of money along with the extensive planning that went into hopefully making the climb a reality, François and her team were determined to find a way to make it work.
"We had been planning this, but when we arrived on Monday and we heard there was a shutdown, we didn't know what to do," she said. "We went to the park and saw that it was possible to get through, and not dangerous, so we still wanted to do it. It was a lot of work [planning] and a lot of money spent."
But her story goes far beyond simply figuring out a way to climb during the shutdown.
On April 29, 2010, François was climbing a route on the south face of Aiguille du Midi—a mountain in the Mont Blanc massif in the French Alps—when she was struck from above by a large chunk of ice.
"…a huge snow cube fell onto my back," she recalled. "I felt immediately that [my legs] loosened. I didn't black out."
The incident left François without the use of her legs.
On top of adjusting to a new life as a paraplegic, she made plans to climb again. François said she was first inspired to climb El Cap by conversations she had with friends and other climbers mere months after her accident. She was able to help form a team of climbers who both had the time to train and had hopes to one day climb the giant wall as well.
François said to prepare for the trip, she climbed indoors twice a week, cycled or nordic skied twice a week, as well as completed a trip in Verdon with the team where they did a two-day ascent.
Check out the video below of François and the team training last fall for El Cap.
She said aside from the training, the difficulty was simply deciding whether or not to actually go through with the El Cap trip. She knew much of the work would be reliant upon the strength of her climbing partners, as they would be the ones carrying her at several points.
But despite her fears as well as the government shutdown's temporary closure of the park, the team—comprised of two-time world climbing champion Liv Sansoz, French military high mountain team member Marion Poitevin, and climber Fabien Dugit—was successful in climbing the Zodiac route of El Cap, reaching the summit on October 12.
To put François' upper body strength into perspective, the five-day, four-night climb, with descent beginning on the sixth day, required her to perform more than 4,000 pull-ups.
As for why she keeps climbing, regardless of the challenges along the way, she said, "I like sports [like this] because of the beauty and the power it gives."
As for the future, she said she does not have any high-profile climbs planned as of yet, but rather focused on taking some time to relax in California following the El Cap expedition.
"Not only did Vanessa overcome her physical disability on the wall and deal with the challenges of travel and expenses following a year and a half of training and planning, she unexpectedly had to plead with park rangers just to get into the park," Allon Cohne, Polartec Global Director of Marketing, said in a news release. "We're very happy she has realized her dream despite the government shutdown."