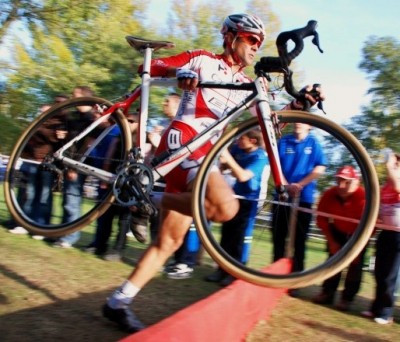 Grassy fields. Mud. Sand. Chilly streams. Heart-pounding steeps. Annoying barricades. Snow. Running with a bicycle on your back.
That may sound like an adventure race, and in a sense, it is.
It's cyclocross—a European-hatched bicycle discipline with origins tied to allowing road cycling riders the chance to preserve their fitness level through the shortening days of fall and into impending winter on a course of cold, ooze, and pain.
Frenchman Daniel Gousseau is credited with inventing cyclocross that took riders across farms and dubious terrain. France had the first national championships in 1902.
Cyclocross tends to help fill the racing calendar for adrenaline junkies this time of year, starting in fall and often going into December, depending on the location.
In a mix of bicycling and running, riders navigate an array of terrain—weather be damned—across dirt roads, pavement, and more following a mass start on a loop course. Along the way are hurdles where riders must dismount, carry, or shoulder their bike, and run. Races tend to be less than an hour.
Dylan McNicholas is a cyclocross enthusiast and national champion. The Stratham, New Hampshire dad started competing about five years ago. He also rides motorcycles and became intrigued with the similarities between motocross and cyclocross.
"Aggressive starts, varying off road terrain, bike handling skills, etc.," he wrote during an email interview last season about why he fell for the sport. "Other attractions were the short, more intense format in contrast to road racing, as well as the crowds and atmosphere of the cyclocross scene. It's just a lot of fun."
Cyclocross forces riders to push hard and make quick decisions in ever-changing conditions. There's little room for error and those decisions can cost time and energy.
"Try to choose good lines and commit to them," he advised. "It's important to get some laps in pre-race to find some lines and dial in tire pressures. Sand and mud require high output of effort to ride through."
What's it like running with your bike and hopping over those barriers?
"It can be slightly tricky to learn," he wrote. "Again, this is where a good skills clinic will pay dividends in learning the proper technique. The act should be a smooth, fluid series of motions."
As the sport has evolved, so has the gear. Most any bicycle will work for cyclocross but manufacturers have started to make 'cross-specific bicycles. They have knobby tires and tend to resemble road bikes more than mountain bikes. Plus, there tends to be a greater width around the brakes to handle things like mud and such.
"A cyclocross bike is ideal in that it will fit a wider, larger tire. Often times, older road frames will fit larger tires as well," McNicholas wrote. "Mountain bikes are also acceptable in most categories other than elite, I believe."
Keep in mind cyclocross is a mucky endeavor, so if you're thinking of trying it, it's probably not a good idea to start with your expensive bike.
A vital skill is getting on and off the bike. McNicholas recommends taking a clinic.
"Contact your local racing organization or resource websites such as bikereg.com to find local races in your area," he said.
Then there's that weather—rain, cold, and snow.
"It's a lot of fun actually," he said. "The varying and changing conditions can be difficult. It's important to stay as warm as possible before the start and try to make good clothing and equipment selections based on the weather and temperatures."
That way you can ride on even as the snow starts to fly.