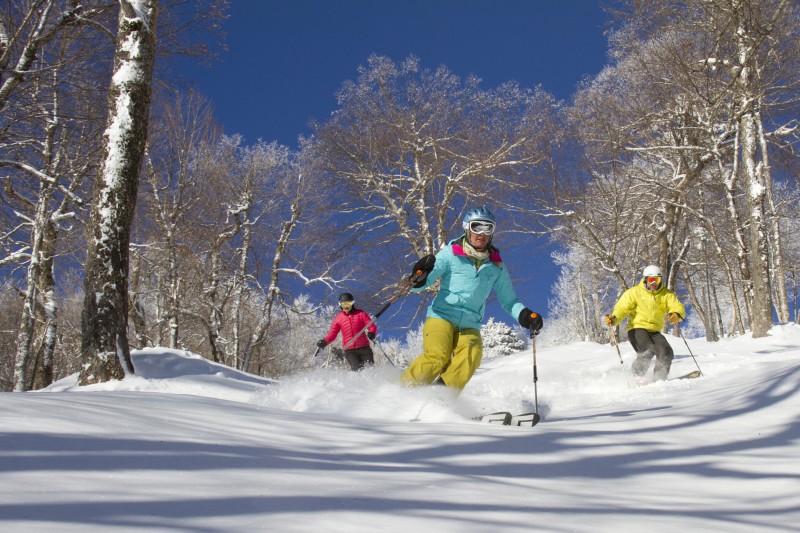 Bargains abound as ski swap season is underway across ski country.
Deal seekers can find good value in used ski and snowboard equipment, and essential accessories from gloves to helmets.
It's all things alpine and often nordic at resort base lodges, ski shows, and even schools. The season begins in early autumn, tends to spike in November, and carries on into December.
The swap is often used as a way to raise money for various organizations while providing opportunity for skiers and snowboarders to make some money by getting rid of gear they once held dear.
Whether you're a buyer or a seller, have a plan. But find another way to part with those ancient straight skis. No one wants them anymore.
Mariel Meringolo is the Okemo Ski Swap and Sale organizer for the November 22-24 exchange taking place at the Ludlow, Vermont ski area main base lodge. She is also the head of school at Okemo Mountain School, a ski academy that benefits from the sale.
She has some pointers for ski swap shoppers:
Know what you are looking for when you go to the ski swap. Do you need new skis or boots or just some accessories?
Be sure to check out the used gear—this is where many of the best deals are found, especially for skis.
Don't forget to check out the outerwear and clothing—many swaps have a great inventory of new and used outerwear at great prices.
Shop early—hit the swap on its first day open to find the best gear at the best prices.
Don't forget to check out miscellaneous accessories at ski swap—you can find anything from snowshoes to ski bags to bindings.
For more than 20 years, Sundown Mountain's ski patrol has hosted the ski and snowboard swap. Midwestern skiers and snowboarders go to the Dubuque, Iowa ski area for a chance at scoring some great deals in the South Lodge, which is scheduled for November 10.
According to general manager Mark Dietz, proceeds from the swap help the patrol pay its annual National Ski Patrol dues and purchase items deemed necessary. The swap is held on the same day as an open house, enticing skiers to save $100 on their season pass while also serving up gift shop and tuning shop discounts along with food tastings and live music.
Dietz suggests arriving early for the 9 a.m. start since the greatest section is found first thing in the morning, though some late risers are still bringing in gear to sell at 10 a.m.
If you are selling your gear, be practical.
"As for selling, ask a realistic price," Dietz advised. "Let's say you have a $500 set of skis that you used for two seasons. I would sell for $99. That way I have a better chance of not having to take them back home."
Another option is for sellers to take a quick run through the swap to see the prices on similar gear, he recommended.
"Lastly, clean up the equipment. Put a nice coat of wax on," he said via email. "Just like selling your house—curb appeal."
The Pats Peak Ski Team hosts the Ski and Snowboard Swap at the Henniker, New Hampshire ski area on November 3. Though it starts at 11 a.m., there's usually a line, noted Marketing Director Lori Rowell.
Not only is there the consignment sale in the Valley Lodge, but a sale from local ski shops with new equipment in the main lodge is also held.
She suggests bringing a list so you can check things off as you find them and also so you know the sizes you'll need.
"Eat a good breakfast so you can make quick decisions," Rowell said.
Then get swapping.