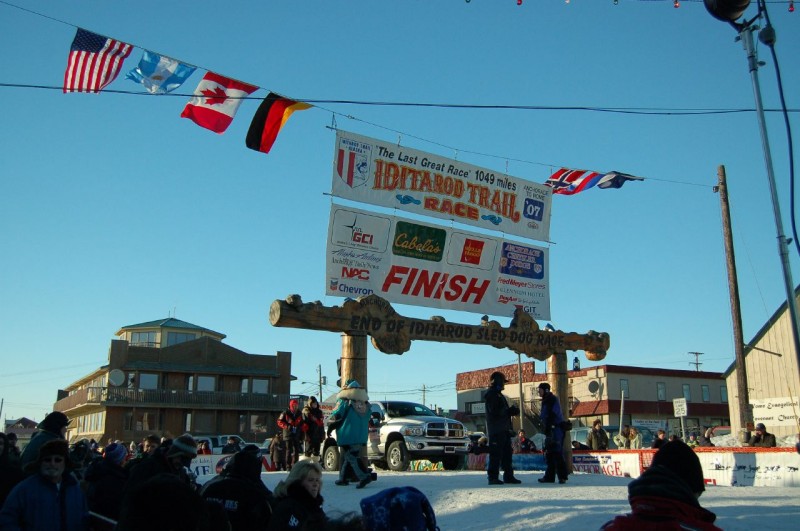 Five months ago, Andy Sterns was lying in a hospital bed faced with the possibility of never being able to compete in the Alaskan expeditions he had grown to love, let alone walk. Sterns slipped into a week-long coma at Alaska Regional Hospital in Anchorage where he was taken after breaking both of his legs in a climbing accident on Mount Osborn.
The accident occurred when he and his friend, Ian McRae, were climbing the northeast face of the mountain, which is located about 40 miles north of Nome. A rock fell on the rope that linked the two climbers, triggering a small avalanche that made Sterns fall into a narrow passage. He ended up breaking the fibula and tibia bones in his legs.
It was then that McRae lowered Sterns down the mountain, which took him eight hours, and then continued to carry him until the pair reached rescuers. He was flown to the hospital, and according to an article published in the Daily News-Miner, does not remember anything past being admitted.
When he woke up from the coma, he remained in the hospital for more than a month, giving him plenty of time to think over his future with the outdoors. This wasn't the first time the 47-year-old had been in a life-threatening accident, as he suffered from a severe spinal injury while participating as a cross-country skier at Middlebury College in Vermont. He was left with a fused spinal cord, which made it difficult for him to lift his feet, so he has relied on "shuffling" since then. But it clearly wasn't enough to slow him down.
The second accident left Sterns to not only have to deal with the healing of both legs, but he also had to undergo speech and physical therapy. He and his mother, Judi, stayed with friends in Anchorage while he was in therapy, until Sterns had improved enough to move back to Fairbanks and continue rehabilitation. Since he has returned, he said he has received immense support from his community.
"I feel really lucky to have as many friends as I do," Sterns said in the article, mentioning he still cannot drive because of the medication he's on. "People have been offering me rides to go grocery shopping, but a lot of times I'll just go on my bike."
Sterns' neighbor Ed Plumb told a story about when he had 10 cords of wood delivered to his house a few months ago. According to Plumb, Sterns insisted on stacking the wood for him because it would assist in his rehabilitation. A friend of both Plumb and Sterns said, "If you don't let him stack it, he'll stack it and then unstack it for you."
Sterns has recovered well and is not letting the results of the accident slow him down in any way. As an avid participant in endurance running, skiing, and biking events in Alaska, he was eager to get back in the swing of things. He recently completed the Equinox Marathon Relay. Although it took him longer to complete the 8.6-mile relay leg up Easter Dome than it took marathon winner Dave McKay to run the entire 26.2 miles, Sterns finished it.
In addition to getting back into endurance events, Sterns is also teaching a beginning mountaineering class at the University of Alaska Fairbanks Student Recreation Center.
"I feel pretty good, all things considered," Sterns said in the article. "I still have a ways to go, but I feel like I'm getting there."
Image from BanyanTree on the Wikimedia Commons