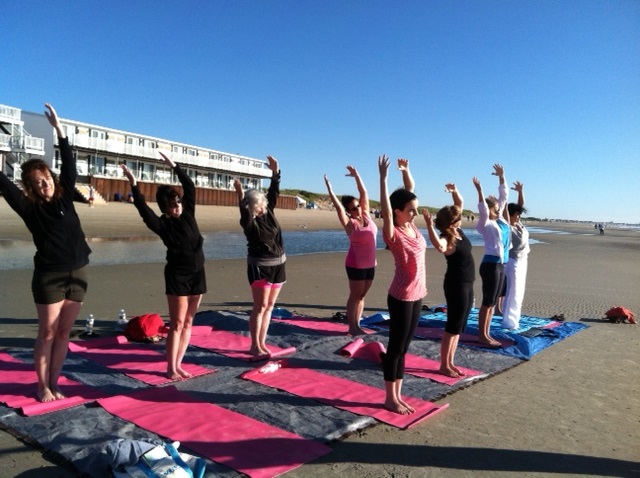 I was in ninth grade the first time I attended a yoga class. I remember walking a few blocks from my house on a relatively warm spring day, meandering around an old community building until I found its entrance. It was the lack of being able to find the front door that made me second-guess my hasty decision to dial the number on the "call us to sign up" flier—telling the woman on the other line my name and that I would be at the following day's class. When I found it, the door was propped open with a pile of heavy books. Calm music was playing as the yoga instructor arranged the room with perfectly lined-up mats and accompanying bolsters. She was a petite blonde woman whose muscle definition was visible from across the room. She began to walk toward me with a big smile on her face, impeccable posture evident, with an outstretched hand that was welcoming me to the class.
I remember thinking that not only did I want to have that sort of muscle from doing yoga consistently, but as I got to know her through that first class, I also wanted to embrace a similar mindset—a mindset centered around positivity. Although the class size was small and it almost seemed as though not many people in my town were interested in signing up for a yoga class, I remained a dedicated student. There were four or five others in the class that I attended twice a week after school. As the weather became even warmer, she began to transition our class outdoors to the neighboring, well-manicured lawn of my town's Opera House. After the class, I realized I felt like I had done a completely different style of yoga than what had been taught inside. No longer was I paying attention to the clicking of the fan or the mild musty smell the room exuded. I was listening to the breeze and the river flowing a few yards away. It was then that I understood the benefits of outdoor yoga.
But that left me wondering—can outdoor yoga produce more benefits than class attendees simply saying, "Well, it was nice to get outside?"
Apparently many yoga instructors think so.
Jennifer Walker's first time trying outdoor yoga was back in 1999 in New York City. As she recalled her first experience with the healing exercise at a Crunch Gym, she said it was something that had her enamored from the start, calling it a "life-changing class."
"I had never been coordinated, and for whatever reason, it spoke to me," she said. "I started doing it three to four times a week, eventually opening up my own place in New York City."
It was a quick turnaround for Walker from when she took her first class to the opening of her own studio two years later, who also fit in her training to be a yoga instructor in 2002.
She said one of the most important things for people to keep in mind about yoga is that it's not just an exercise regimen.
"People say that they get a 'runner's high' or that sense of fabulousness after training for an event. I feel yoga gives you even more than that," Walker said. "I believe in it."
Walker moved her classes outdoors two years ago with the creation of another branch of her studio.
"I moved up to Maine and started taking my yoga outdoors," she said. "When you're not on a solid wood surface, you end up using different parts of your body—on sand, on grass, on paddleboards.
"It gives you a sense of the grander in life," she said of interacting with nature while doing yoga. "You have to be in the here and now or you'll end up falling down or injuring yourself. You really have to be present when you're outdoors."
Angela Jackson, a yoga instructor from Oakville, Ontario, Canada, agreed with Walker's sentiment.
"When I practice yoga outdoors, there is this amazing energy. I feel more connected to the earth, the sky, the birds, the animals, and to myself," she said. "We spend so much time indoors seated in chairs and cut off from our natural state. Yoga outdoors just feels great."
According to an article posted on Yoga Journal, the instructor must get students to embrace the elements of the outdoors rather than battle them.
"It can help to remind them that a breeze can deepen your breathing, the warm sun can deepen poses by making muscles more pliable, and a ladybug can invite you to focus on something small and still," it stated.
Indoor yoga is a great place to start, Jackson mentioned, noting that it also gives people a place to practice year round, given the cold temperatures that set in where she lives in Canada. The stability of the floor inside is the perfect place to learn new poses and get your body adjusted before moving outside. Walker also said this is an issue to consider in Maine, so she tries to utilize the outdoors as much as possible while the weather is permitting.
What makes the classes offered by Walker unique are the specific yoga styles she focuses on, from beach yoga to aqua yoga to SUP (stand up paddleboard) yoga. The craze of SUP fitness was one that especially intrigued Walker. She said she took her first class about a year ago through L.L.Bean.
"We were out in the bay, anchored down, and we started doing different yoga poses. I was hooked," she said. "You have to be okay with falling in the water and learning to let go, which is one of the things yoga teaches you. You can be so free and experimental in the water. It just changes the way you use your body, use your breath, and changes the way you see the world around you."
In addition to the relationship with nature that is established through practicing yoga outside, other physical challenges are provided that are not part of an indoor yoga class.
Walker said the main difference is that the surface outside is generally not as solid as the floor of a yoga studio.
"Outside, you end up engaging your core much more to stabilize your whole body," she said. "You can try to grip your feet to the ground, but you'll find that you can't maintain that for very long. So, the first difference is the stability, and the second is that you'll become more flexible."
Her advice to beginners for not just outdoor yoga, but yoga in general, is to try it at least three times before establishing an opinion. She said it takes at least this long for your brain and body to start adapting to new movements. She said the first time, the body won't know what to do, the second time it will be extremely sore, and the third time is when it begins to gain a sense of normalcy. Give it three times and you'll become an addict, she said—but it's a pretty good addiction to have.
Jackson said 2003 was when she began to take her hobby of yoga more seriously.
"After many years as a competitive rugby player, I was looking for something to keep me fit and help heal past injuries," she said. "I was living and working in Costa Rica and at the time did not speak Spanish, however, the entire yoga class was taught in Spanish."
She said she encourages people to try out a variety of yoga styles with different teachers until they find something that works for them.
"I urge beginners to have patience when starting out," she said. "It took me almost five years of trying out different styles and to find a teacher that spoke to me. It's not a 'one size fits all' endeavor. It will enrich your life in countless ways, but you must be patient."
Jackson said after her children were born, she made the decision to leave her corporate job in 2010 and begin teaching yoga.
"I try [to] practice yoga and/or meditation three times a week. I either practice at a local studio or on my own at home," she said.  When I am home my practice is often in my backyard, or if I am traveling, I head to a beach."
Although yoga is both a workout and way of life one must be dedicated to, Walker explained well the mindset one develops: "Once you realize the benefits, then the work of yoga—it becomes much less like eating your vegetables and more like eating dessert."
When we age, our bodies begin to naturally break down, whether that involves hip problems, knee replacements, or a decrease in balance. Yoga can help with these issues, and even more so, can decrease stress.
"Most people when they're stressed, they start breathing quickly," Walker said. "Yoga can help you be really mindful. Don't sweat the small stuff. It's all about how you choose to live your life."
Image courtesy of Jennifer Walker