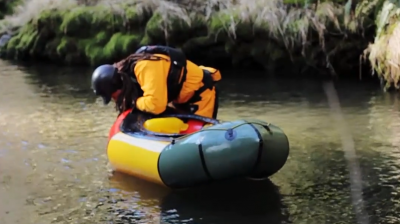 Packrafts are small inflatable boats that are designed to be used in technical whitewater rafting. In contrast with traditional whitewater rafting, where typically a larger inflatable boat is used and guided by a professional down a river, these smaller options allow for individuals to get even more of a thrilling experience by facing the challenges presented by rapids on their own.
Although packrafts easily enable solo adventures, it is recommended as a safety measure to go along with a friend, especially if upper-class rapids are expected on a trip. A raft's durability is one of the most important features people should invest time in researching, because once on the water, a cheaply-made boat will prove itself ill-equipped to handle the elements. Although some of the best boats can cost more than $1,000, the increased attention to detail will be appreciated on the river.
Most packrafts weigh less than 10 pounds and can be easily transported through rugged environments. As for the paddle, most resemble kayak paddles, but ones that can be broken down into two to five separate pieces, again, with simple transportation in mind.
"A packraft, easily carried while you walk, run, bike, hike, ski, drive, or even fly, encourages amphibious travel. Packrafts can be simple fun for little kids on local lakes or necessary tools for burly adventurers doing first descents on international epics," stated the description of the outdoor sport on the American Packrafting Association website. "Packrafts can be used to get into and out of otherwise hard to reach hunting, fishing, and climbing areas, or they can be used for 'sport-boating,' paddled alongside kayaks and other whitewater craft on rapid-filled runs."
Alpacka Raft is by far the most recommended brand for those looking to purchase a packraft.
Alaska is known as the birthplace for these boats because they were frequently used there for long-distance travel across untracked areas of the wilderness. However, they was used several years prior in 1952 when Dick Griffith used a packraft to descend Copper Canyon's Urique River in Chihuahua, Mexico. He was the one who brought it to Alaska for the Alaska Mountain Wilderness Classic adventure race in 1982.
Watch the video tutorial below if it's your first time going packrafting for advice on how to best inflate your boat, secure your gear, and launch into the water.
Image is a screenshot from video by Media Feliz on Vimeo