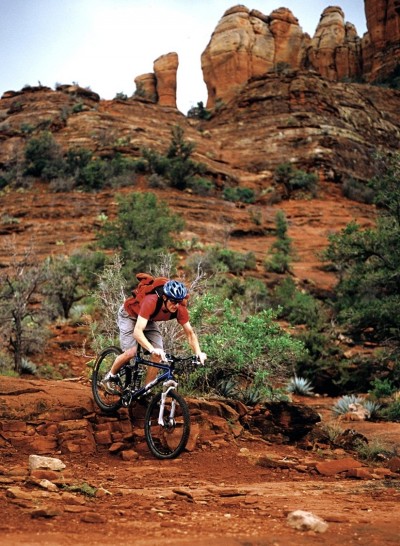 Many people choose to mountain bike on trails that are within proximity to their home, but wanting to explore new trails that are farther from home is a great excuse to plan a mini-vacation. Check out our recommendations for five great mountain biking locations in the U.S., as well as an extended list published by the International Mountain Biking Association.
Big Bend Ranch State Park (Presidio, Texas)
This includes a 35-mile gravel road and additional trails, with riding options for those of all skill levels. While the Llano Loop is great for families, the Oso Loop and Horse Trap Trail are more challenging and include rugged, less-maintained trails. The state park is the largest in Texas, reaching 311,000 acres.
Death Valley National Park (California and Nevada)
There are more than 785 miles of road to explore in this national park that spans through California and Nevada. Because the area has a drastic change in elevation, from -282 feet, which is the lowest in North America, to more than 11,000 feet at Telescope Peak, it creates a diverse ride. Because of specific dangers, mountain biking in some areas of Death Valley is prohibited, so make sure to check out this list that better explains where to mountain bike for certain terrains.
Edge Loop (Fruita, Colorado)
This trail is known as one of the best in the country, attracting many experienced mountain bikers. It is classified as an intermediate trail and has 32 miles to explore. This ride begins at the 18 Road Book Cliffs Recreation Area and takes riders up into the Book Cliffs, which includes a waterfall portage. On IMBA's list of Epic Mountain Bike Trails, an experienced rider called this a big trip and recommended it be ridden clockwise.
Ellicottville Epic (Ellicottville, New York)
This IMBA-certified Epic Trail located about an hour south of Buffalo houses some of the best mountain bike trails in the East Coast. According to the IMBA description, "This is singletrack designed by bikers for bikers (although it is great for hiking too). For example, some of these trails are used for the annual 6 Hours of Power and the Roots Rocks and Ridges MTB races. It is also designed to be sustainable without lots of maintenance: it has [been] built in dry areas [with] plenty of effective drainage designed in."
Rock Lake (Cable, Wisconsin)
This trail is characterized by hilly terrain, but is still considered a moderately technical option. However, there is a fair amount of climbing, so riders should make sure they are comfortable with the uphill challenge. There are two places where riders are able to end the ride prior to its completion, so finding a shorter path is doable. The description of the trail states that the three-mile Hildebrand Lake Loop is the most technical.
Check out the full list of IMBA Epic Mountain Bike Trails.
Image from Tom Johnson on the Wikimedia Commons