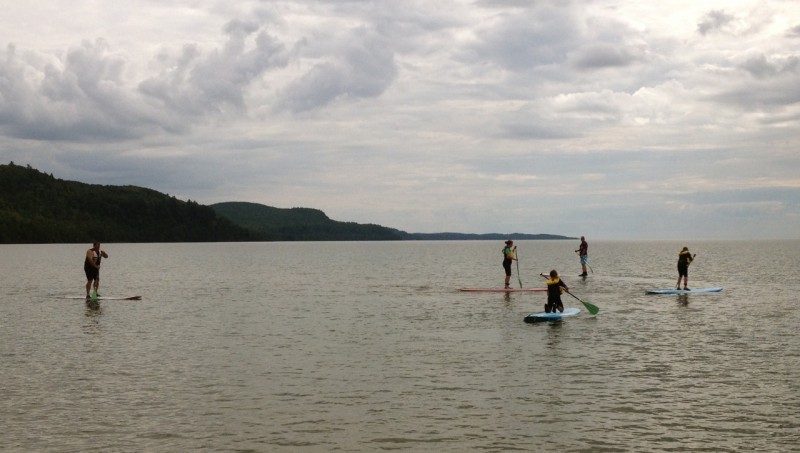 Ah, paddleboarding. To be able to surf in the absence of waves. To propel yourself through the water without an actual boat. You can feel free, and be in control all at the same time.
Though the earliest paddleboarders were documented in the 1700s, the sport has exponentially gained popularity in recent years. With the opportunity to score a great core workout and a full tan out on the water, it's no wonder paddleboarding has grown so rapidly.
Stand up paddleboarding requires a strong sense of balance and solid core strength. You are really working nearly every muscle in your body as you propel yourself through the water. Whether or not you think you have the brawn, Mount Bohemia Adventure Resort in the Upper Peninsula of Michigan can put your skills to the test. At their all-inclusive resort, you can strap on a Surftech Laird paddleboard (the best in the industry), put on a wet suit, grab a paddle, and drift the open seas.
Mount Bohemia's guides will give you a lesson at Bete Grise Beach on a calm day, so you can coast the rollers of Lake Superior. The scenery is incredible out there. Bare Bluff and Keweenaw Point line the shores to your left, and Bete Grise Beach extends to Point Isabelle to your right. In front of you is Lake Superior to infinity. It's kind of like sailing on the ocean—without the worry of sharks.
But if that seems like too much for a beginner, your guide will drop you off in Lac La Belle, a more placid inland lake. There you can feel at ease as the green foliage and elegant shoreline await in sight for a landing. Stroke through broad waters or maneuver through the old Mendota Ship Canal connecting to Gitche Gumee. This channel is sheltered from the wind and full of surprises.
The guides at Bohemia Resort love to paddleboard too. They are great teachers, great paddlers, and fun to be around in general. Even if you don't look so graceful, you're sure to have a few laughs.
The family in the picture above went paddleboarding for their first time in Bete Grise with Chris, one of Bohemia's famous guides. He showed them what to do even before they launched into the water. The two young girls shipped out fearlessly, stood right up, and paddled with grins and ease. Even mom could do it! Dad spent a little more time in the water, but that's what the wetsuits are for.
If you are new to the sport, and want to prepare your body and mind for the challenge, go online and check out some paddleboarding workouts to train your muscles ahead of time. You can get ahead of the game with a few tips from paddleboard professionals. Then you won't be the one constantly falling off your board, but the one racing your friends and family to the next beach.
Got the hang of it? You're sure to build strength and gain balance—all while basking in the vistas of the Keweenaw. You can even try it in the kneeling position for a while to gain confidence closer to the water. If you get tired, you can just lie down on your board, and soak up some rays. Imagine that for a moment: lying on your board in the middle of the lake with the sun warming your skin. No worries on your mind as you float along with the waves.
Okay, now open your eyes, so you don't fall asleep, and miss dinner!
Just remember, you're on vacation. At Mount Bohemia Adventure Resort, it's all about the experience. So don't be afraid to try something new! If you're going to challenge yourself physically, it may as well be in one of the most serene places on this earth.
Besides, some paddleboard rentals cost up to $35 per hour, but at Bohemia, you get to paddle as long as you can, eat three meals, get out on other adventures of your choice and sleep in their hillside lodging for only $95 per day! That is a great deal—but to get a West Coast experience in clean freshwater lakes without the crowds is closer to priceless. Bohemia Resort hopes you and your friends and family consider them for your next adventure getaway.
Image by Amanda Wais