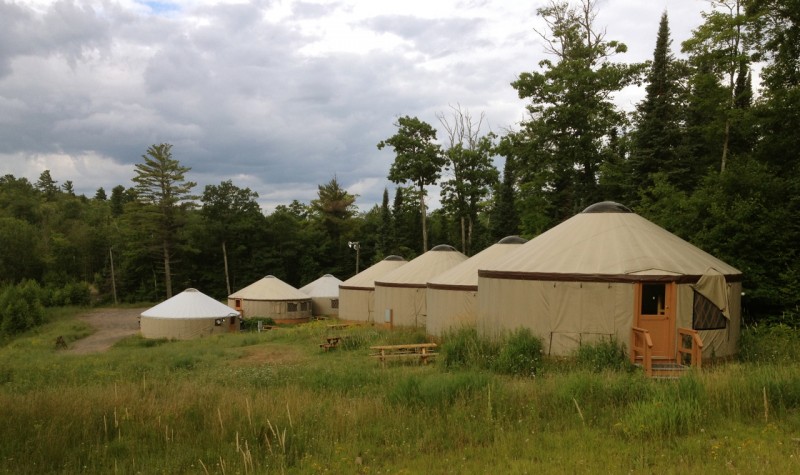 Tucked between Lake Superior and a rugged mountainside, your ultimate adventure getaway awaits.
Offering mountain bike rentals, paddleboard adventures, kayak tours, nature hikes, hillside lodging, and three meals a day, Mount Bohemia resort is the answer to your vacation question, "Where should we go this summer?"–or the next.
You don't have to drive to the Rockies to get some elevation. You don't have to fly to the ocean to gaze into the sparkling blue horizon. And you don't have to go to Alaska to escape the heat. Midwesterners are lucky. You've got it all right here. And along the south shore of the Keweenaw in Michigan's Upper Peninsula, Mount Bohemia will turn your dream vacation into reality.
Each day of your stay, you pick your adventures, and Mount Bohemia provides your gear, maps, and personal tour guide. These are the activities they currently offer.
Kayaking
In a sturdy and stable Wilderness Systems kayak, you can peruse the scenic shores of Lac La Belle and its connecting rivers. If you are an advanced paddler, your guide will take you out into Lake Superior to beautiful Bete Grise beach or on a day paddle out to Montreal Falls and back. The sites on your journey are truly breathtaking.
Stand up paddleboarding
Whether you're a pro or just curious, you'll get outfitted with the best in the industry on a Surftech Laird paddleboard, with paddle included. Practice your skills on the calm waters of Lac La Belle, or test your abilities on the waves of Lake Superior.
Hiking
With 900 vertical feet of mountain behind your lodge, you can work your backside and immerse yourself in the wilderness. Choose your own loops as you climb Mount Bohemia proper on their well-marked trail system. Don't want to work that hard? Flat hiking options are available as well.
Biking
Choose one of their bikes and tackle the mountain if you dare. What goes up, must come down! Take a spin through some old logging roads. Pedal down to the historic Smith Fisheries site. Coast down to Bete Gris beach and catch some rays. Or sail along a nearly traffic-free road along Lake Superior's shore.
Fishing
Set yourself up in a fishing kayak and cast a few lines out on Lac La Belle. Poles and lures are provided, but no guarantees on reeling in "the big one!" A fishing license is required and available nearby.
Even if you're a star athlete, all those fresh air activities are sure to make you tired and hungry. Well, Bohemia has you covered there too!
A hot breakfast is served each morning in the North Pole bar. While you sip coffee and eat pancakes, you just might make some new friends to join you on your day's escapade. Make sure to fill out a form to choose your lunch before you leave the main yurt. Your guides will have lunch ready for you out on the water or when you come back from your morning tour.
Before the day closes, join your new Bohemia family for dinner including an appetizer, main course, and dessert! If you're not quite ready for bed after that, they serve wine and local beer on draft. You may as well take the time to relax because tomorrow is going to be another big day.
When your head is ready to hit the pillow, you can rest in your choice of a cabin or a yurt. The cabins sleep up to four people and include a bathroom with a shower. No kitchen necessary when all your meals are provided! The yurts sleep up to 10 people. They also include a bathroom and shower.
For cooking and socializing purposes, a commons cabin is centrally located for all guests to use as well. This unit has two bathrooms, a TV, a fireplace, a cooking stove, a microwave, and some squishy couches to kick back on. The commons building is available for use during waking hours for you to feel at home, especially if you're tired out from all your activities.
You can come to Mount Bohemia, spend the day discovering wonders of the Keweenaw with all your equipment provided, eat three meals a day, make new friends, and have a place to rest your head for only $95 a day. Who else offers a deal like that?
And besides offering a great value, Bohemia's staff is always interested in your feedback. How can they make your experience more enjoyable? What other activities would you like to see? Since they are the only resort in the area with an amazing package deal like this, they want to make sure it's right for you.
So far it seems they are getting it right. "Ten out of 10," one guest declared. "We'll be back next year."
Images by Amanda Wais