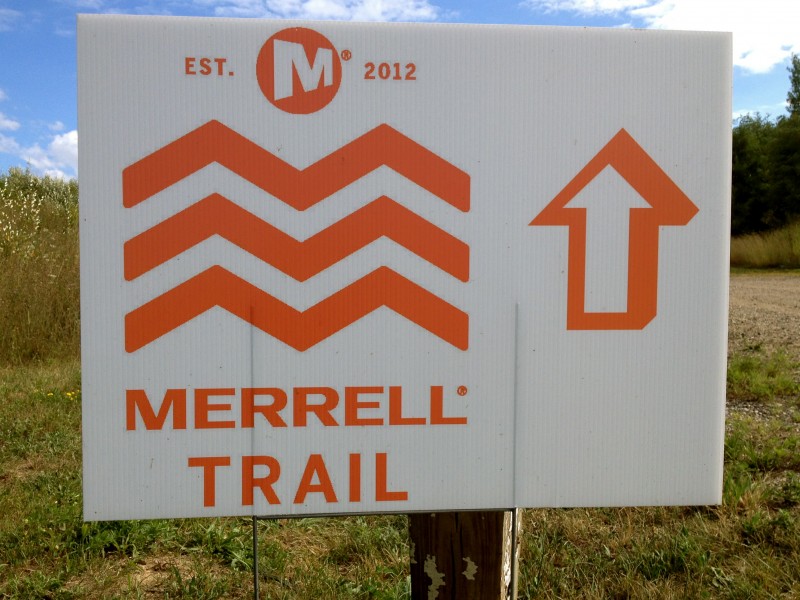 Trail building is an art form, and luckily for mountain bikers of the Midwest, western Michigan has been graced with the talents of some highly skilled trail artists.
In the summer of 2012, serious work began on what would become known as the Merrell Trail–a multiuse mountain biking, hiking, and snowshoeing trail located in Rockford, Michigan, about 15 miles northeast of Grand Rapids. The trail was built in collaboration with Spectrum Trail Designs, a Midwest company specializing in singletrack construction, and members of the West Michigan Mountain Biking Alliance (WMMBA). The trail also received support and funding from Rockford-based footwear manufacturer Wolverine Worldwide Inc.–home to popular hiking boot brands such as Merrell and Patagonia Footwear. By early autumn 2012, six miles of fresh, carefully-crafted singletrack had been carved into an old Michigan hardwood forest, and the Merrell Trail was ready to ride.
Members of the trail construction crew estimated that about 3,400 hours of volunteer man hours went into the trail from start to finish. Whether the estimate is high or low doesn't matter. Bottom line: the work shows. Unlike so many other trails that wind through the generally predictable terrain of the Midwest, the Merrell Trail contains variety.
There are boulders to skirt, technical rock gardens to rumble through, and tight, narrow bridges to climb. There are log rides, gut-wrenching drops, and sand pits that are wisely placed and maintained so that any level of rider can enjoy and challenge themselves during the course of a relatively brief loop. And as an added bonus in the variety department, the trail changes direction every other day so that even after you've mastered the climbs, downhills, and berms of one route, the reverse still has yet to be tamed–another wise decision on the part of the trail's designers. The real treat of the Merrell Trail, however, can be summed up in one word: flow.
When mountain biking in the Midwest, you can generally expect to spend a lot of time pedaling–mostly where it's flat or slightly hilly. This is where the Merrell Trail breaks the norm. There are a number of sections where pedaling becomes dispensable, your momentum carrying you from berm to berm as if it were a cross-country pump track. This may not be so exciting to mountain bikers or BMX riders in other parts of the country, but to a Midwesterner who seeks speed, the rhythm and timing of the Merrell trail are something rare and precious; flow isn't something that happens naturally, and it's even harder to come by in our neck of the woods. You just can't get that kind of experience on an MTB trail without an experienced, dedicated construction crew. So what did the folks in Rockford do this year to make the Trail better? They added more of the same.
Earlier this month, trail workers added a 1.76-mile loop to the trail's back end, offering even more flowy, high-speed downhills, and corners, along with a few sand sections. True to form, the new loop is still going through some fine-tuning, but riders are already singing its praises. Perhaps the new section is a favorable indicator of what remains to come in and around the Merrell Trail, which according to the trail's website, includes a BMX park, soccer fields, and a baseball diamond.
Far too often, trail builders get overlooked, whether in the realm of mountain biking, hiking, or winter sports. Outdoor trails require careful planning, construction, maintenance, and a keen understanding of how to use the surrounding natural landscape to the trail's advantage. Regardless of whether or not credit is given where credit is truly do, most outdoor athletes know how to appreciate a well-designed trail when they meet one. The Merrell Trail will undoubtedly be a much appreciated trail for years to come.
Images by Jeff Waraniak