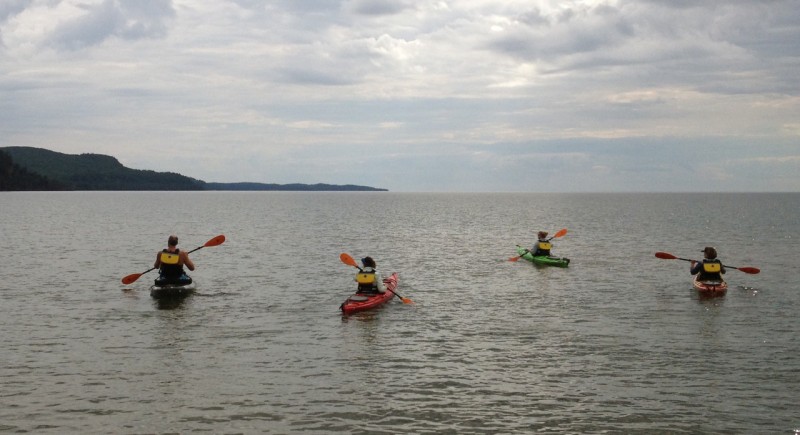 If you're seeking some action on the water this summer, consider exploring the splendor of Lake Superior on a guided kayak tour from Mount Bohemia resort. Within minutes from Bohemia's base camp, you can drive to a majestic spot on what the locals call "The Big Lake" or dip in the calmer waters of Lac La Belle.
Whether you are a novice or advanced paddler, Bohemia's well-trained guides will get you out on an unforgettable cruise. Check out their current destination options.
Montreal Falls
Experienced kayakers, seize the day and paddle to Montreal Falls! Taking up to seven hours to complete, this 12-mile out-and-back journey is unparalleled in the Keweenaw Peninsula. While skirting the shores of Lake Superior, you can duck under a rock arch, pass a sea stack, marvel at the high cliffs of Bare Bluff, and float past history at the old Smith Fisheries building. And you'll see all that before you even get to the mouth of the Montreal River!
Once you get to Montreal Falls, feel free to beach your boat, eat your lunch provided by your guide, and explore the area. This spot is especially stunning during the spring melt or after heavy summer rains when the waterfalls are really rushing. Make sure to bring your camera on this trek–there'll be a lot of memories you'll want to capture and save.
Bete Grise beach
If Lake Superior is agreeable, you can paddle around Bete Grise beach. With its seeming infinity, you just might feel like you're paddling in the ocean. Along the east shore you can see Bare Bluff, Montreal Falls, and Keweenaw Point in the distance. To the south, you look toward Point Isabelle. The rest is all Great Lake.
If the waves are too rough there, the next option is to explore the coves throughout the old Mendota Ship Canal that leads into Lac La Belle. These well-sheltered regions set you close to the vibrant flora of the land. Some areas in there are also known to hold good fishing.
Lac La Belle
Not ready for the Big Lake? Lac La Belle awaits at the base of Mount Bohemia. In warmer and usually calmer waters, you can explore this 1,100-acre "lake of beauty." Paddle along the shoreline, peacefully up the Little Gratiot River, or through the man-made canal leading to Lake Superior.
This lake is perfect for beginners, but advanced paddlers will enjoy it as well, as it offers a variety of water bodies to slink through.
You can take these excursions even if you don't have the gear. Bohemia Resort currently has fourteen Wilderness Systems kayaks available for you as a guest. These kayaks are extremely durable for launching and beaching. They are also stable in the water, and glide with ease through the sea. One of these 14 kayaks is a tandem, so you can paddle with a partner if you prefer. Plus, five other kayaks are set up to hold your fishing pole and bait if you want to catch what's swimming in the local waters (mainly walleye, bass, and pike). Fishing poles and lures are available on-site.
Once you've got your kayak on the rack, Bohemia will outfit you with everything else you need to be safe, comfortable, and productive in the water. You are welcome to use a wetsuit, a life vest, a spray skirt, and a paddle. Make sure to grab your own water bottle, sunglasses, and sunscreen if you burn easily–and don't forget a waterproof camera. Then, get ready for an adventure.
The staff will get you fitted in your kayak and make sure you are comfortable before you launch. They will also see that you are using your paddle properly, and show you the basic and advanced strokes you'll use to navigate efficiently.
One of the best parts is the fact that your guides are captivated by the area themselves, so they've already scoped out some of the coolest spots. And if you're friendly, they just might share their secrets with you.
Images by Amanda Wais