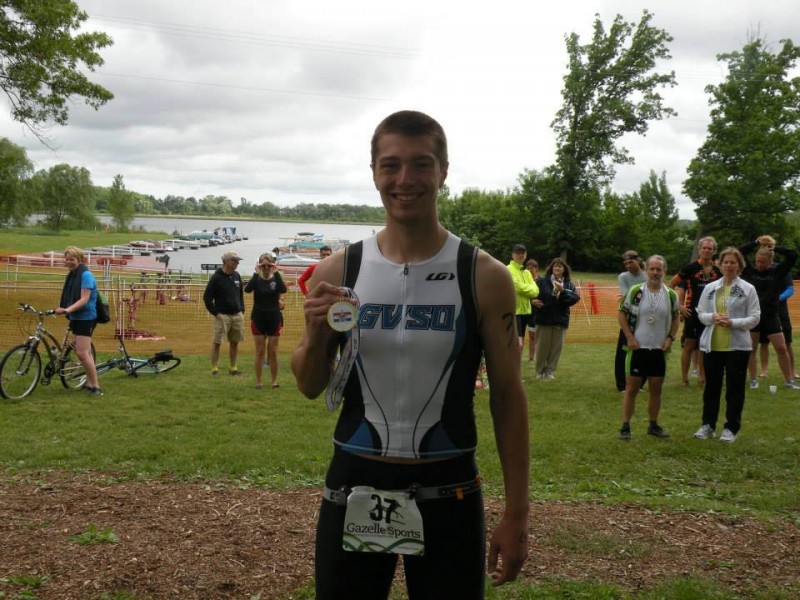 Ian Heinicke, a 20-year-old from Michigan, started running seven years ago but made the leap to intensive triathlons more recently. Since then, the exercise science major has completed more than 15 triathlons and said it's the exhilaration of finishing a race that keeps him coming back for more.
"My biggest role model is my mom who started running while I was in middle school, and since I've been running, we have had a lot of friendly competition," he said.
Heinicke has participated in four marathons so far – the 2011, 2012, and 2013 Kalamazoo Marathon in Michigan and the 2013 Martian Marathon held in Dearborn, Michigan. Where he truly focuses his time is on triathlons, including a 2012 half Ironman that was held in Benton Harbor, Michigan.
"Currently I am Training for a full Ironman (2.4-mile swim, 112-mile bike, 26.2-mile run) in Louisville Kentucky," he said. "I try and do seven to 10 workouts a week, with one day of rest. This requires occasionally doing two workouts a day. I'm normally not someone who watches what he eats but if I'm training for a big race, I find my diet improves naturally. I just prefer to eat healthier when I'm working out more."
Heinicke said improving his diet can be anything from eliminating pop and dessert to simply incorporating more vegetables.
"I actually started running because I was a little overweight going into high school and I wanted to be healthier. I found that making a goal to finish a race helped motivate me to run more often, so I started with 5Ks and quickly decided I wanted to do a half marathon," he said. "Eventually I was able to complete my first marathon during my senior year in high school and my mom did the same race for her first marathon. She ended up beating my time and qualified for the Boston marathon, so I knew I had to keep training."
Freshman year of college was when Heinicke joined a triathlon club on campus. Lacking extensive training in both swimming and biking, he was not a seasoned triathlete, but after hearing about the Ironman, he knew it was a challenge he wanted to attempt.
He said the people in the club were who really kept him going.
"Luckily I really liked the people in the triathlon club and found it really enjoyable to work out with all of them," he said. "And their experience in swimming and biking was incredibly helpful while learning the other disciplines. Swimming is now my best leg of the race with biking at a close second.
"The feeling of finishing a triathlon is exhilarating and allows you to enjoy the payoff that came from all of the training that led to that moment," he said. "I personally think of triathlons as a lifestyle, and I really enjoy how I feel when I'm training for them. I have more energy and am all around happier when I'm training for a race, so I plan on participating in them for many years to come."
Images courtesy of Ian Heinicke