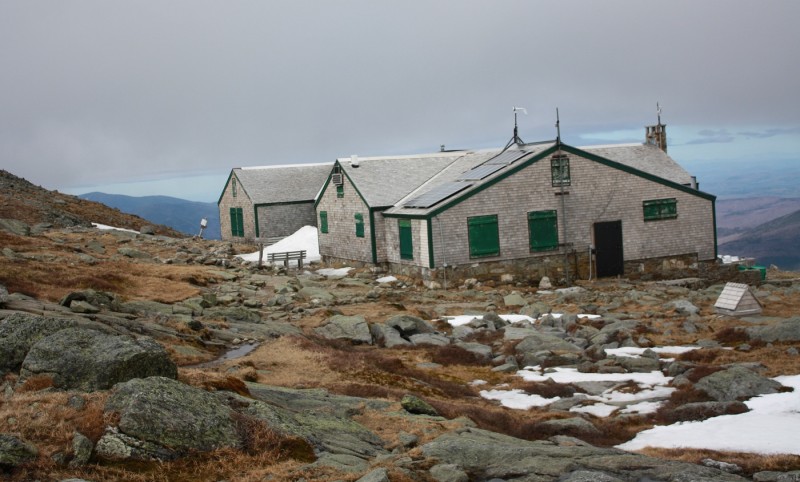 They are mountain way stations, proverbial shelters from nefarious storms. But they are also there for much-appreciated sustenance, insightful information often presented with a playful twist, bare-bones bunking, and embracing camaraderie with like-minded souls making an effort to surround themselves in some of New Hampshire's most wild, scenic, and dramatic lands.
What started 125 years ago has grown into a string of eight mountain huts stretching along the iconic Appalachian Trail through the rugged Presidential Range. They are worthy destinations unto themselves and alpine jumping-off places in a landscape most can only dream about visiting.
The Boston-based Appalachian Mountain Club's White Mountain Huts touch hikers in many ways. A surefire conversation starter in the trekking world, many a tramper can reminisce about time spent trying to get warm, dry,or rested in them. They can spin tales of epic hikes, plentiful meals, wildlife spotted along the way, and entertaining and enthusiastic informational skits about hut rules.
Hut hikers are as diverse as as the landscape the shelters are loacted in. There are those in them who are in essence mountain athletes, compiling impressive and insane feats from trail running to peak bagging. There are the Boy Scouts and others for whom just reaching a hut, and yet another, is a long-sought accomplishment.
Though welcoming shelters, they are not without their difficulties–like trying to sleep through the night with buzz-saw snorers or dealing with aromas reminiscent of wet dogs.
With more than a century of memories, the hut log books are loaded with notes, drawings, and whimsy shared by those who have been there. But stories live long in the heads and hearts of hikers, and I have mine too.
The Lakes of the Clouds Hut at over 5,000 feet up is perhaps the most dramatic of all the huts, sitting in a col on the side of monumental Mount Washington. For me, the best time I spent there was when it was shuttered in May, the barren landscape punctuated with pockets of snow, and I hiked there from the nearby Mount Washington Observatory with buddy and fellow Observatory volunteer Mitch Hanson. It was a fascinating few hours, an upside-down hike if you will, from the mountain's top, down, and then up again.
Handsome Mizpah Spring Hut on the side of Mount Pierce was a lofty landmark during a stunning hike of the southern Presidentials as my hiking honey Jan and I traversed Monroe, Eisenhower, Pierce, and Jackson in one glorious day.
Mount Lafayette's Greenleaf Hut is part of the spectacle of Franconia Ridge but it's also the hut where Jan and I learned more of croo culture because of a giant stuffed snake inside. Seems each hut has an annual item sought by their colleagues that can be taken during a raid.
The huts are stunning, but often cold in the winter. Of course, what happens in a hut stays in a hut. All I'm saying is that at Lonesome Lake with its stunning view of the jagged Franconia Range on a below-zero night, Jan and I were the only guests. And instead of staying in the bunks, we nestled ourselves on the floor in the main area in front of the wood stove. We also learned that hot water in a water bottle in a sleeping bag is a warming friend.
Zealand, on the edge of the Pemigewasset Wilderness with falls outside the front door and perhaps the most congenial trail to it (the last stretch has a pitch), can also be reached in winter via a long, glorious ski. Such was the plan with an old hiking buddy many years ago, but we got to the hut in early afternoon. The hut caretaker wouldn't fire up the wood stove until later so we opted to ski some more during which I broke my ski pole. Upon returning to the hut, the fire was going. The caretaker's girlfriend had arrived.
Carter Notch, with its tarns and dramatic rocks on the wide of Wildcat Mountain, is loaded with mountain memories for me. We snowshoed there following the ice storm of 1998, the trees bent from the wrath, making something of a tunnel with wind chimes.
Reaching Madison Spring Hut in a saddle between Mounts Madison and Adams is no easy task. But on a recent visit there couldn't believe the people we met, from a man who climbed Mount Monadnock every day for a year to another former Observatory intern. Nothing like the hiking fraternity.
Of course, Galehead's the hut with easy access to a four-thousand footer that can be climbed before breakfast. For Jan and I, it was the hut we stayed in before the long hike over the Bonds to finish our 4,000-foot quest some two years ago to climb the state's 48 official highest mountains.
Images by Marty Basch