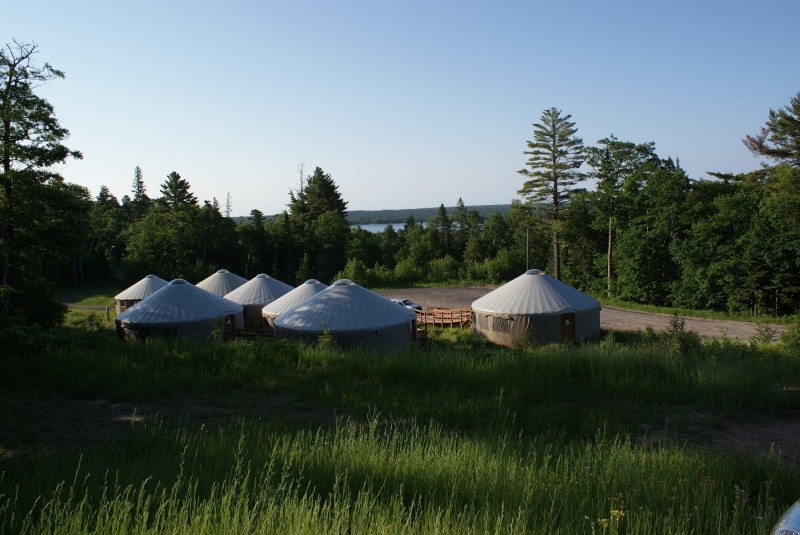 School is set to start in six weeks. What have you done with your summer vacation? Have you learned anything new? Done anything new? Gone anywhere new?
In a perfect world, what would "new" be?
Hiking? Biking? Kayaking? Paddleboarding? Fishing?
But who's got all that gear?
And where can you go to "do it all?"
Get real. Chances are if you don't have plans in the works by now, you're too thin on time to put together a gang-buster itinerary, let alone collect the toys and get the car packed. But don't stress, it doesn't mean you have to stay home and sweat out August on the couch. You just need easy, real easy. And, you need some help; someone and some place that not only has the gear and guides, but they've got the bunk and beer too.
That place is Mount Bohemia near the northernmost tip of Michigan in the Keweenaw Peninsula.
Mount Bohemia has been a winter favorite with skiers and snowboarders since 2000, but just this summer they opened their 1,100-acre playground as an all-inclusive warm-weather resort offering paddling, fishing, biking, and hiking.
"You play to your strengths," says resort owner Lonie Glieberman, "we've got water and wilderness."
He's not kidding. As Michigan's least-populated county–no stop light for 40 miles–it's easy to see why folks here say they have more trees than people. Probably more wild game, too.
The Keweenaw is also known for having more water than land. The entire county at the tip of Michigan's Upper Peninsula encompasses just shy of 6,000 square miles. Less than 10 percent of that area, 540.11 square miles, covers land and the remaining 5,426.08 is water. Not just any water either, this is Lake Superior and Lac La Belle, not to mention a web of trout streams that spill and wind around this "mountain in the Midwest" topography.
Spend a morning hiking Bohemia's 12 miles of trail and you'll know you've covered some serious elevation. Be sure to bring water and sturdy shoes. Grab a pair of ski poles from the equipment yurt–you'll be glad to have the extra support making your way down the steeper sections.
Front-suspension carbon mountain bikes and helmets are also available for exploring the trails, or to ride the blacktop around Lac La Belle and even head east (three miles) to Bete Grise or west (22 miles) to the Gay Bar. You can go by mountain bike to a few of the 10 lighthouses or hitch a ride on one of the two lighthouse tour boats. For a list, click here.
You can also use your bike to hunt blueberries or thimbleberries or visit a few of the 10 waterfalls in the Keweenaw, starting with 20-foot Haven Falls at the roadside park on the north side of Lac La Belle (get directions here). To see Montreal Falls, however, you'll have to trade pedals for paddles.
The 14-mile roundtrip to Montreal Falls can be taxing if you aren't used to kayaking, or if the weather on Superior gets gusty, but guides Steve, Ryan, Cameron, or Chris can clue you in on a route that will meet your fitness and time frame and maybe land you for lunch on a beach where you can relax out of the cockpit and hunt for agates. Spending even a half-day on the water will give you Facebook bragging rights. After all, there are five Great Lakes, but only one named Superior. No worry about the water temperature, Mount Bohemia's gear closet includes wetsuits.
If the weather forces you inland, no worries. You'll be rewarded, especially if you bring your waterproof camera. Lac La Belle, at 1,146 acres, ranks the second largest in the Keweenaw. Over a century ago a channel was dredged between Lac La Belle and Superior and it makes a perfect put-in whether you're planning to stand up paddleboard the bayous, kayak into the nature preserve, or fish.
Mount Bohemia's toy inventory includes all the gear to catch dinner and even specially-rigged kayaks for fishing. Lac La Belle is known for bass (smallmouth, largemouth, white, striped, spotted) as well as catfish, crappie, walleye, and lake trout. To get details on what's hitting, click here.
But even if you don't get a nibble or can't collect enough blueberries for pancakes, the beauty of staying at Mount Bohemia is that you can use all your energy to play and explore. They do the cooking and cleaning–the real value of an all-inclusive adventure destination.
Mount Bohemia has total lodging for 120, but first to fill are the six duplex cabins; each side sleeps four in single bunks with a table, two chairs, a refrigerator, sink, and separate toilet and shower. Close by is the commons area with fireplace, couches, tables, chairs, and even cooking facilities. But you won't need them.
Breakfast and dinner are served in the central yurt known as the North Pole Dining Room and Bar. Lunch is packed according to your sandwich order and usually enjoyed on the trail or beach.
So when it comes to easy, this is as good as it gets–and affordable, too. The $95 per person per day covers three meals, lodging, gear, and guides. Linens are provided but guests need to bring their own towels and toiletries. They even have a stash of headlamps you can borrow to make your way to the fire pit for nightly s'mores.
Bohemia will be open through the color season. As temperatures cool they may not be offering some of the water sports–particularly on Lake Superior–but fall makes for spectacular hiking and biking in this hardwood forest.
Ready to load your hard drive with memories? Ready for a loon call wake-up? Ready for a brilliant blue water day pushing your limits with a new sport or scoping out new territory? Then dial up 231-420-5405 or visit mtbohemia.com. Fill up a cabin with your buddies and finish the season circled around the card table watching the sun set and telling stories from your day learning euchre in "da yoop."
Images by Frida Waara