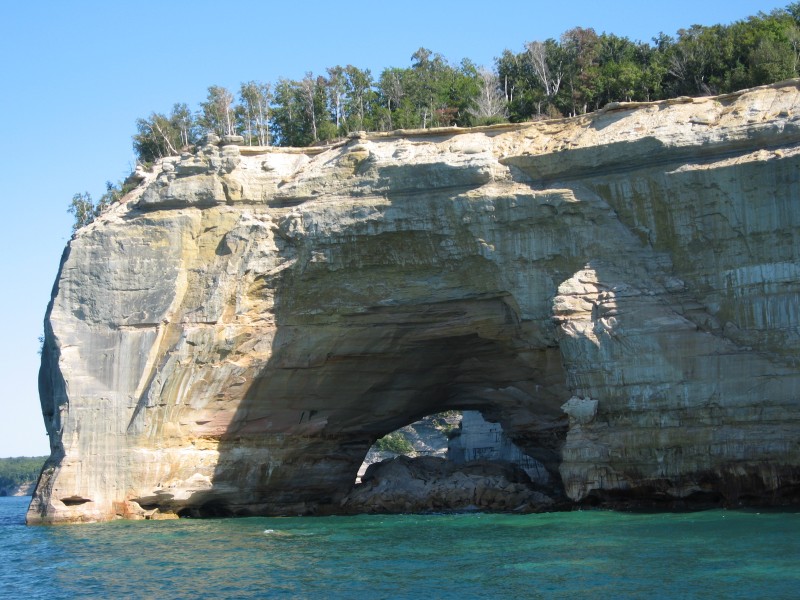 Whether you're a beginning kayaker or someone who is accustomed to longer trips on the water, there are plenty of locations the United States has to offer. Here's a few.
1. Pictured Rocks National Lakeshore, Michigan: Providing a great combination of calm paddling, intense rapids, and shoreline cave exploration, Pictured Rocks National Lakeshore is the perfect kayaking destination for those hoping to fit as many adventures as they can into a short amount of time. The sandstone cliffs are what draw in visitors, giving more than just perfect paddling conditions, but also beautiful scenery to take in while on the water. This shoreline spans more than 40 miles on Lake Superior, offering kayakers plenty of space to traverse.
2. Upper Iowa River, Iowa: While most of this state is characterized by flat lands, this area is defined by rapids and cliffs, making it a haven for thrill-seeking kayakers. The limestone cliffs stand more than 300 feet above the 156-mile-long river. National Geographic Adventure magazine called the Upper Iowa River one of America's best adventures. This tributary of the Mississippi River is part of the driftless area, which is a region that remained ice free during the last Ice Age. Because of this, steep cliffs were created that stand apart from the glaciation that pressed down much of the land surrounding it.
3. The Everglades, Florida: For kayakers looking for untouched areas of wilderness, the Everglades and its surroundings are some of the best options with miles of subtropical wetlands to delve into. With 10,000 small islands to visit along the way, there is no shortage of wildlife to see. When planning a trip, try to narrow in on dates in the winter or spring, as during the hot summer months mosquitoes plague the area, which can turn any lengthy kayaking trip into a nightmare.
4. Green River, Utah: This chief tributary of the Colorado River spans 730 miles and is a great option for a multiple-day kayaking trip. Starting in Wyoming's Wind River Mountains, the Green River flows through Utah and Colorado. Kayakers are able to stop at Dinosaur National Monument along the way, where the remains of the creatures are still visible. While this is more of a leisurely trip, there are Class III rapids in several sections of the river.
5. Kenai Peninsula, Alaska: This trip is another great option for those who are focused on seeing as much wildlife as possible. With more than 200 species of mammals, birds, and amphibians, there is no shortage. The Kenai Peninsula juts out from Alaska's southern coast, showing off the glacier-covered Kenai Mountains set in the southeast area, next to the coast of the Gulf of Alaska. The scenery is what attracts most kayakers, with the additional possibility of witnessing whales crest above the water's surface.
Image from Nakor on the Wikimedia Commons