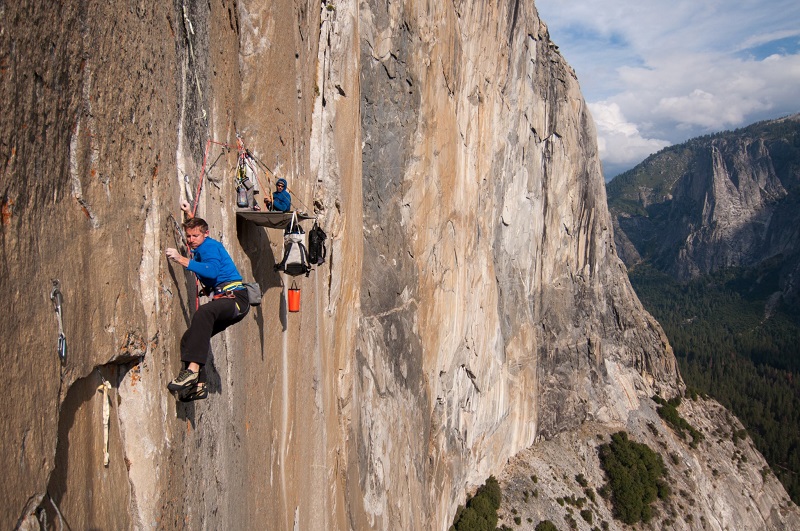 The Dawn Wall is a challenge that no climber has ever truly conquered. Considered possibly the most difficult climb in the world, the 900-meter route up the southeast side of El Capitan at Yellowstone National Park has stumped climbers for years. The completely vertical ascent boasts seven pitches rated 5.14, nearly the highest rating there is. Of those seven, three are 5.14+. Another 10 pitches have a 5.13 rating, making some climbers claim that getting to the top is an impossible task.
But for world-famous mountain climber Tommy Caldwell, it is the ultimate test: the last frontier.
Caldwell has been climbing since age three, but his first encounter with the 3,000-foot rock face was in 2007. Since then he has attempted to free-climb the Dawn Wall in 2009, 2010, 2011, and 2012. Though he has yet to make it to the summit, he has made measurable progress each season, and he has no intention of giving up.
"I've had to break through barriers and have created this life that is incredibly engaging and exciting and gets me psyched year-round to continue training," Tommy said. "I always have a goal that I'm working toward. I just love it. I'm going to keep going back."
As this project has progressed, Tommy has found a need to share the experience. Two years after his first attempt, he gained partner Kevin Jorgeson. Then, in 2012, they added Jonathan Siegrist to the team. As his journey has continued Tommy has also used social media to reach out to family, friends, and now fans, who follow the progress of the project eagerly. Tommy will, once again, attempt for the summit this year, Facebooking and Tweeting as he goes.
"This obsession is a curious thing," he says. "Sometimes I wonder about the merits of devoting so much of myself to a singular climbing objective. Much of the time it beats me down, leaves me hanging my head in despair. But then there are the moments that bring me to life. When excitement wells up inside my chest in a way that doesn't happen in every day life…It's a crazy roller coaster and I owe my family and partners a great deal for encouraging me through it all."
Follow his continued efforts and watch him conquer the Dawn Wall on Facebook.
Image and video courtesy Tommy Caldwell/Facebook