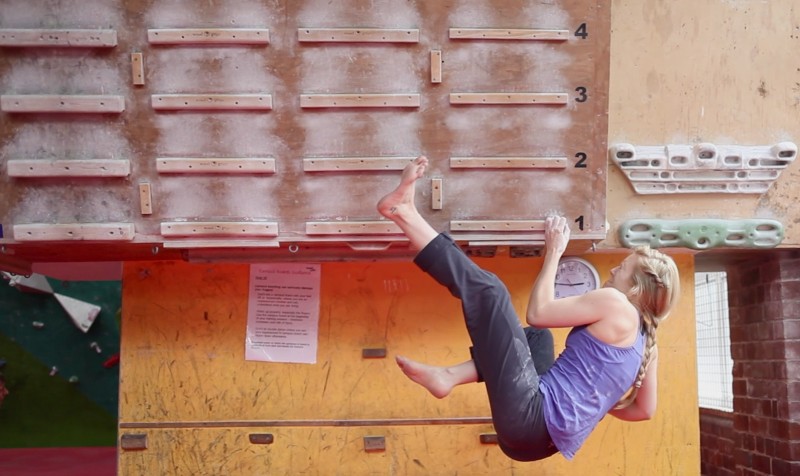 Jen Randall said she knew at a young age what sort of career she truly wanted. Her obsession with drawing pictures and writing stories translated into capturing photos and producing videos when she got older. In addition to discovering her talents, she also knew she didn't want to work for someone else. Growing up with parents who both ran their own businesses and worked freelance, she followed in their footsteps of being self-employed.
She said while her initial interest was in attending school for acting or writing, once she learned the details of what it took to be a director, she found her calling.
"I gave up a place at Glasgow University studying Theatre Studies and applied for art school instead," Randall said. "My application wasn't accepted at first but I knocked on the door and sort of wriggled my way in. From there I studied Time Based Art at Duncan of Jordanstone College of Art and Design in Dundee, where I learned a lot about what style of work I wanted to make and what sort of ideas I wanted to explore, but didn't feel I was technically very knowledgeable, so after that I went to Vancouver Film School for a year to study Film Production, which was the opposite to art school–very regimented and competitive, but it taught me a lot."
From there, she traveled a bit with her soon-to-be husband, then came home and tried to earn a living, first working in a cafe, then as a writer and editor for educational films.
"Then I branched out on my own and now primarily make short factual films, rock climbing films, and short dramas with youth groups," Randall said. "Although I set out to be a director, I quickly learned that it's better to be able to do more than one role on a production because there often isn't much money to go around. So while I love directing and editing the most, I also film most of the projects I work on too."
She started her company, Light Shed Pictures, about four years ago at the same time she began freelancing.
There was very little money in the business at first and Randall admits now that she had no idea what she was doing. She then moved on to become an assistant editor on adventure films with Posing Production, was a camera operator for the Adventure Show, and wrote occasional articles for Climber magazine. After that, she accepted her first full-time editing job that was on a nine-to-five schedule.
"It was fun in a lot of ways–getting to research things like the different layers of the ocean and make films about it, but I would look out the window and get that feeling I used to get at school, like I was missing out on everything going on out there," Randall said. "So without much of a plan, I quit after a year and decided to go for it with Light Shed Pictures, doing whatever work I could get and utilizing every skill I had: photography, writing, filmmaking, and working part-time to pay the bills.
"It was difficult and scary at first. Money was extremely tight and it's hard and time consuming establishing a name for yourself. But every time I got really down or worried, something would come up to make things okay. I learned that if I hung on in there, worked hard and did my best, things would work out."
Through a process of trial and error, Randall said Light Shed Pictures has grown immensely. She chooses to focus on three things–climbing films and photography, youth film workshops, and wedding photography–as well as one personal project every year.
"I love the variety," she said. "No two weeks are the same and you never know what's going to happen next."
Finding success in short films
Randall has made many short films, most recently with last year's release of her largest project to date, Push It. With this film she had the original idea to focus on female climbers, but felt gender should not be the basis for her story, and went searching for a more powerful angle.
"Then my friend Jackie and I decided to try and climb El Capitan in Yosemite, which had been a huge goal of mine for years, and I realized that could be a great central story to the film: two normal girls trying to do something really hard and intimidating for them," she said. "So it became a film about a personal journey with characters that large audiences could relate to, and along the way I visited other female climbers […] for inspiration."
Released in October 2012, Push It has played in festivals around the world now, gaining positive feedback along with winning the People's Choice Award in Edinburgh.
"I think Push It went down well because it was about people viewers can relate to, struggling to pursue a goal they really, really want to attain, without taking the whole thing too seriously," Randall said.
Starting work on Project Mina

Randall first met Mina Leslie-Wujastyk in August of last year when she was creating Push It. 
"[I] was due to meet with Shauna Coxsey in Switzerland to shoot a section of the film when she broke her leg just a few days before," she said. "Already aware of Mina's achievements, I got in touch with her on the off chance she was free to travel out there and film instead, and amazingly she was! So we spent three awesome days in Magic Wood filming her on various difficult boulder problems and luckily hit it off really quickly. It was an eye opener for me to see how much she put into every move on every single climb, how hard she tried and how much she obviously loves the sport.
"I'd never spent time with such a strong female climber before and to be honest, it blew me away and made me think about how little I put into climbing in comparison. Once Push It was finished, I started thinking about how interesting it would be to delve into what it takes to be a climber of that standard, mentally and physically, and as Mina sparked the whole idea off back in Switzerland, I was keen to work with her again."
Randall describes Mina's career as being in a perfect place for creating the film, as outdoors she is one of the best climbers in the world and is currently on the brink of breaking into the top six for the bouldering world cup, which would take her into the finals.
"It may have been more obvious to work with someone on the brink of winning a world cup, but for me the story of a person fighting and putting everything into breaking into that top bracket is a more interesting human story and something I find it easier to relate to," she said.
Work on Project Mina officially started in January 2013 when Randall filmed her at the British Team Trials in London. She plans to capture a year of Mina's life in her work.
"Saying that, as some one who has done a lot of work as an editor, I've been fairly selective with what we've decided to film–I try to think ahead to what we might need and avoid shooting […] footage that takes hours to go through then ends up on the cutting room floor," she said.
The film is a part-time project for Randall because she noted the bills also must be paid somehow. As far as finances go, this is the first film she has secured support for, from The Climbing Academy and The British Mountaineering Council. She said this allows her to spend more time on editing and getting people involved to collaborate.
"On Project Mina, I've been working with a filmmaker called Nick Brown who, as a close friend of Mina's, has been filming when I've been unable to be there," she said. "It's great because he already knows Mina and has made climbing films of his own. I really do believe collaborating is the best way to learn and develop, and make the best work."
Randall has met the climber in London to film a competition, accompanied her on her home training routine, and in Millau, France for one of the world cup competitions. Brown has also traveled to Innsbruck for another world cup filming. In several weeks Randall is meeting her in Rocklands, South Africa to film outdoor climbing.
"It was really interesting going along to a world cup and coming to appreciate the time, money, and pressure in a situation like that," Randall said. "I always imagined the British team would have coaches and physios and dietitians traveling with them, but in reality it's just the athletes out there on their own."
She said her favorite part of the process is learning what Leslie-Wujastyk does to make climbing her career.
"There are lots of films out there about top climbers achieving great things and traveling the world, but what I'm interested in here are the bits in between–what does Mina eat, how does she train, what does she worry about, how does she feel when all the work doesn't pay off the way she wanted it to?" Randall said. "Mina is fascinating in that she can't help but tackle elements of the sport she struggles with, such as competing. I mean, she could just quit the competition circuit and go and enjoy lots of success outdoors on rock, but she sticks with them both and I find that inspiring."
She said she plans to release the film in spring or summer of 2014.
Randall's future in filmmaking
She has worked alone on projects, especially in the beginning of her career, but Randall said she loves collaborating with other people.
"[I] have been lucky to do so with lots of talented folks–in the adventure film field well-established talents like Alastair Lee and Lukasz Warzecha have been wonderful to learn from, and I also have some talented friends who are at a similar stage in their careers to myself, so we all tend to collaborate here and there on different projects and each have different strengths," she said.
As for the editing aspect of filmmaking, she said she has learned the initial concept can change drastically when starting to piece together the story in the edit room. She said it inevitably takes her in directions she didn't anticipate.
"Whenever I make plans, something else comes up and life goes in a different direction," Randall said. "I'm about to finish a large-scale youth film project I've been running for the last 12 months, get married, and head off with my husband to Europe for Epic TV.

"It's been a long struggle but I'm so happy now that the outdoors and filmmaking have become the biggest parts of my life. In the future I want to keep exploring women in adventure sports and I want to keep having adventures myself. I also want to expand Light Shed Pictures and have more creative people on board, but one step at a time. I want to make sure I'm making work to be proud of and not rushing into a project I'm not ready for."
Images courtesy Jen Randall