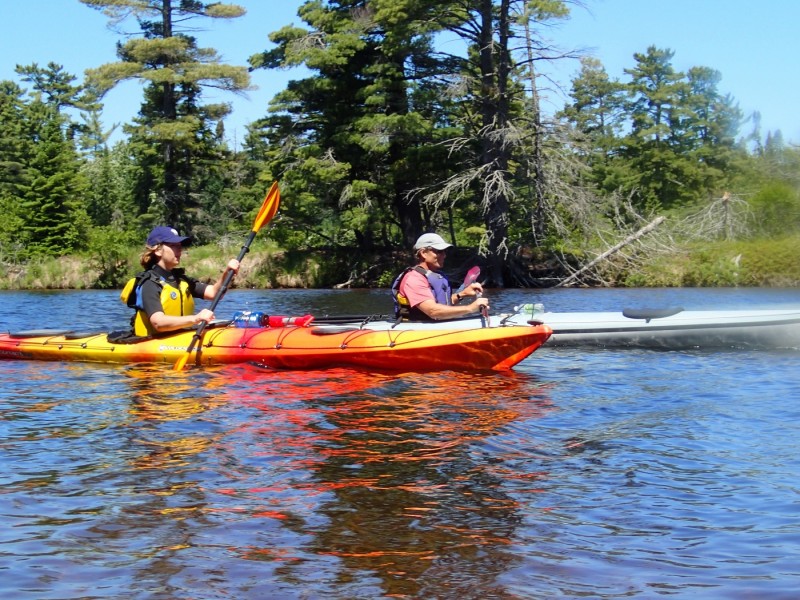 Lonie Glieberman thinks out of the box.
Back in December of 2000, he opened the only ski area in Michigan's northernmost Keweenaw County (where trees probably outnumber people 1,000 to one) on an arm of land that juts out into Lake Superior. Mount Bohemia is not only located in a county without a stoplight, it's a ski area without grooming, snowmaking, or even a beginner run. Needless to say, the odds were against him and so were the skeptics. They didn't give the 1,100-acre resort a chance. But now, 13 years later, Bohemia has not only proven the naysayers wrong and set the bar for extreme winter snow sports, it's also earning a deserved reputation as a stupendous summer playground.
Just being in Michigan's Upper Peninsula defines a place as wild well enough, but travel six hours beyond the mighty Mackinac Bridge and you've truly landed in an adrenaline oasis where mountain biking, kayaking, and fishing rev up the spirit to a fresh pulse rate. While some may think being located 600 miles–a full's day drive–north of Michigan's main population base could be a negative, Bohemia's backers know that what you deliver trumps distance.
"You play to your strengths," says Glieberman with a smile. "We've got water and wilderness."
Does he ever. The mountain itself rises 1,465 feet (skiers and snowboarders already know it as the Midwest's tallest with 900 vertical). At the base sits pristine Lac La Belle (French for "Beautiful Lake"). Back in the early mining days a canal was dredged between 1,146-acre Lac La Belle and Lake Superior, making travel between the two bodies of water portage-free. Access to the grandest of the Great Lakes also amps up the fishing opportunities. For paddlers the opportunity to venture on big water but with the safety of a relatively wind-and-wave-proof back door is also a benefit. All of these features convinced Glieberman and his wife Lindsay their winter resort could become more.
"We already have cabins and yurts, lodging for 120 people," says the 40-something Glieberman, but he admits, "they were only being used 100 days a year."
Operating a ski area just up the road from Houghton, the gateway city to this hard-pumping Copper Country and home to Michigan Technological University (MTU), they also learned a lot about what feeds the Midwest's year-round appetite for adventure: adrenaline.
"We're no golf resort," says Lonie, who recognizes Bohemia's five main summer wilderness systems: fishing, kayaking, hiking, biking, and stand up paddleboarding.
With overnight accommodations in place along with a kitchen for meals, and accustomed to renting ski gear, the pair hit on the concept of an all-inclusive summer resort.
"The idea is really popular in the Pocono Mountains of Pennsylvania," Glieberman explained. "And closer to home we visited White Birch Lodge on Elk Lake in downstate Elk Rapids." In business for over 50 years, White Birch specializes in water ski family vacations.
The Gliebermans want Mount Bohemia to attract families too.
"We're seeing a different crowd than our winter guests," says Lonie.
Heidi and Adam Eisenach can attest to that. This 30-something couple came from Montgomery, Texas, a suburb of Houston to cool off with their 15-month-old son Alder. Grandpa Rick, from Appleton, Wisconsin, came along too.
"I really appreciate the all-inclusiveness," Heidi states. "Adam and I like to be active and there's no way we could have flown with gear and all the baby's stuff too."
The resort has invested in a stocks of quality gear: carbon Scott front suspension mountain bikes, helmets, Wilderness system kayaks, wetsuits, PFDs, and Laird Hamilton Surf Tech stand up paddleboards and paddles, as well as tackle boxes of fishing gear and kayaks outfitted for fishing. The gear locker even has a stash of headlamps, although at this latitude the sun is slow to sink and it's not dark enough to roast s'mores around a campfire until after 10 p.m.
First to fill are the six duplex cabins. Each side sleeps four in bunk beds with a table, two chairs, a refrigerator, and a sink with separate toilet and shower. Linens are provided but guests must bring their own towels and toiletries. It's a good idea to pack a coffee mug, water bottle, sturdy hiking shoes, and bug spray.
A rate of $95 per person per day includes lodging, breakfast, lunch, and dinner as well as guided access to 12 miles of hiking/biking trails, bikes, kayaks, stand up paddleboards, and fishing kayaks and gear.
"It's so affordable," says Adam Eisenach. "Many places charge $95 a day just to rent a kayak, and we're getting access to the equipment plus the guide. This is a great deal."
Cameron Hopper and Ryan Leavitt work winters at Mount Bohemia so as guides they know the mountain. Leavitt also serves as the cook and Hopper, a pre-med student at MTU, leads hikes, pedals, and paddles, even out in the Wilderness Angler fishing kayak.
The Gliebermans are pleased with the summer so far. They plan to stay open right through color season. As temperatures cool they may not be offering some of the water sports, but fall makes for spectacular hiking and biking in this hardwood forest. Get there while you can.
For reservations and more information dial up Lonie or Lindsay at 231-420-5405 or visit mtbohemia.com.
Images by Frida Waara