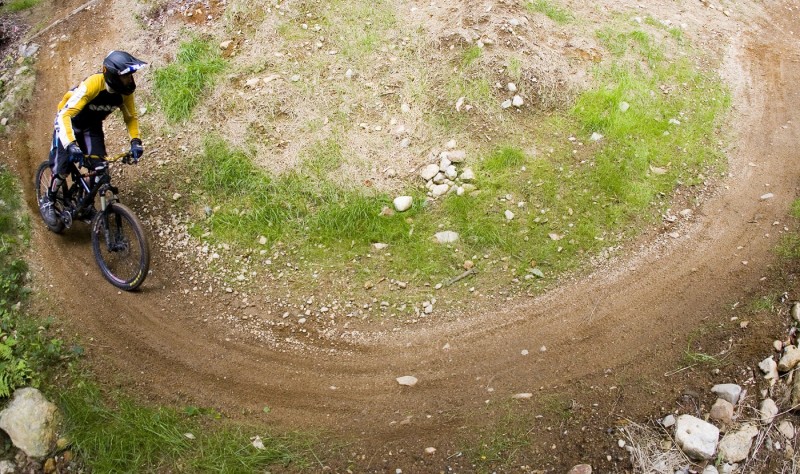 Lifts aren't just winter work dogs for skiers and snowboarders.
Downhill mountain biking has come of age at ski areas across North America and beyond.
From California origins in the mid-1970s when dedicated Marin County cyclists rode their old-school balloon-tired bikes with coaster brakes down fire roads to the 1984 Kamikaze Downhill at Mammoth heralded as the first lift-accessed downhill mountain bike race, the nerves of steel time trial discipline is both a World Cup event and a skill sought by technically gifted speed freaks.
Downhillers bust through the woods and down mountains on single-track maintenance roads, over rocks, through s-turns, over wooden bridges, through water, round tight corners, and more.
To work on their skills, there are slope side terrain parks just like those for skiers and snowboarders.
Downhill mountain bikers wear an assortment of protection that came from the motocross world making them look like dirt trail warriors. There are knee and shin guards as well as forearm and elbow guards. For the hands are full-fingered gloves, some with carbon fiber in the knuckles as a safeguard against scraping trees while taking a tight, lean line.
On the head is a full-face helmet straight out of motorcycling. Like a skier or snowboarder, downhillers also wear goggles as well as baggy shorts and flat platform shoes.
Dedicated downhill bikes are different than those used by traditional cross-country riding mountain bikers.
Among the characteristics are lower seats, wider tires—about 2.3 to 2.8 inches in width compared to traditional 2- to 2.3-inch wide tires— and dual crown forks. Downhill bikes have room for the shocks to work, and call that "travel." That allows mountain bikers to go over objects like rocks and roots instead of going around them. Typical travel is between seven and eight inches.
And like skiing and riding, there are lessons. Sunday River in Newry, Maine has a new mountain bike school.
"We have lots going on here in our Bike Park including a new pump track, cross-country loop, and mountain bike school," emailed Sunday River communications manager Darcy Morse. "We're also on the books for three Eastern States Cup races which indicates to us that the recent trail work we've put into the park is paying off in big ways."
Keystone in Colorado's Summit County has instructional packages that include the lesson, bike rental, protective gear, and transportation.
"Keystone's bike clinic program is now in its second season and we're seeing some great traction," emailed communications manager Laura Parquette. "Participants are really all over the board. We see some wives/girlfriends who want to be able to ride alongside their significant others, we see cross country and road riders who want to learn more about downhilling, families who are all about an exciting Colorado adventure, and definitely folks who just want to check it off the 'bucket list'."
Many ski resorts also host local summer race series where riders can compete for the whole season or chose which race to do. The 2013 Downhill Mountain Bike Series Village Championships at California's Mammoth in the eastern Sierras features seven races on late Friday afternoons in July and August.
In New Hampshire's White Mountains, a six-week July and August series called Pin the Trail features a single-run format on Wednesdays at Attitash in Bartlett.
Lake Tahoe area riders have the six races in the Northstar Downhill Mountain Bike Race Series that got a June start and goes until the end of September with its 20 divisions.
So head on up to get down.