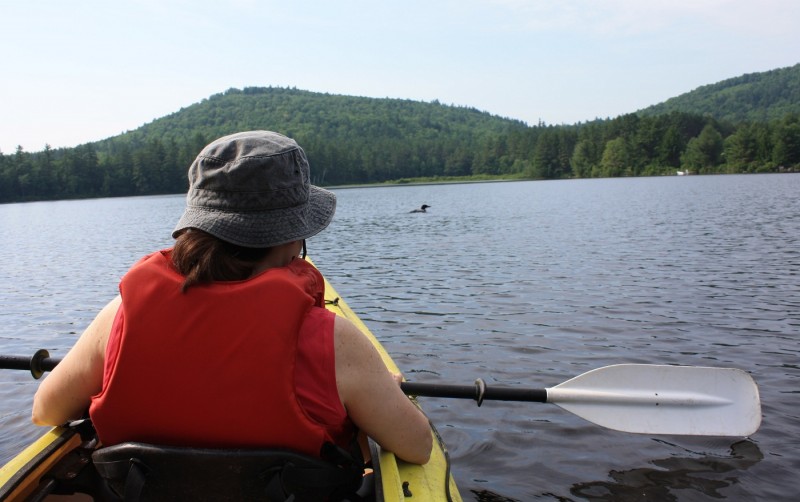 There is a great love affair among those who love the outdoors and the common loon, the symbol of wilderness and the great north woods.
In Canada, the loon graces the dollar coin affectionately called the Loonie.
Outdoorsmen and women of a certain age count the 1981 classic On Golden Pond with Henry Fonda and Katherine Hepburn among their favorites with such quotable lines as: "Hurry up. The loons! The loons! They're welcoming us back."
I hear the loons welcoming summer from my back deck on those wonderful nights as a 1,300-acre lake is less then a mile away.
And it's home to nesting loons, drawn to the many islands.
In the continental United States, Minnesota tops the list for the largest loon population with some 10,000 adults while Wisconsin figures in with about 4,000. Wisconsin's Upper Midwest Environmental Sciences Center also provides surveys estimating about 4,000 in Maine, nearly 1,000 in New York, and about half that in New Hampshire.
Perhaps it is their eerie tremolos that are behind the fascination, from their early morning calls to their emotive calls in darkness. Playing along with frogs, owls, crickets, and other creatures, they appear to be part of a natural summer symphony.
Whether from a lakeside dock, cabin porch, canoe, or kayak, listening to the cry of the loon is the ear candy of summer.
But that haunting song isn't always music to the loon. They're visual creatures and tend to sound off when there is something that concerns them. That could be other loons, but also shoreline predators, unfamiliar sounds, and aggressive birds. The singsong is also that they could be trying to locate their mates or letting other loons know they're in the house defending their territory so beat it.
I'll never forget one summer camping on a lake shoreline in northern Vermont and hearing the panicked cry of the loons protecting their chicks, nervously seeing a eagle circling above. The cries eventually stopped, and we did see the chicks later on.
On another Vermont lake we were fortunate enough to see a good half-dozen loons on that body of water, a wonderful sight.
Living near a New Hampshire lake with nesting loons means whenever we're out paddling we heed the signs by their seasonal island sanctuary alerting all boaters to stay a certain distance away from the site.
We always carry binoculars for a closer look.
But we're also frequently surprised when a fishing loon pops up that head with the red eyes and pointed beak far closer than we imagined, perhaps over time becoming accustomed to our floating yellow tandem kayak (or it's playing decoy to lure us away from the nesting site).
Loons are vulnerable when they're nesting, so a cry might signal that a paddler is too close. Another signal that it's not too pleased by a floating presence is when it rears up and seems to thrash about.
The birds tend to their eggs between late May and early July. Using binoculars, it's a joy to see a loon with an upright head chilling on a nest. But loons can also feel threatened. When that happens the bird puts it head down or forward. If that happens there's chance they'll leave the nest for good, leaving the eggs vulnerable to predators, heat or cold.
When the chicks hatch, they are a joy to behold through the glasses. It took us several years to time it just right to see a baby chick on the back of a paddling parent.
And when that happens, the cries and laughing aren't just coming from the loons, but from also from those who have named and watch them.
Images by Marty Basch