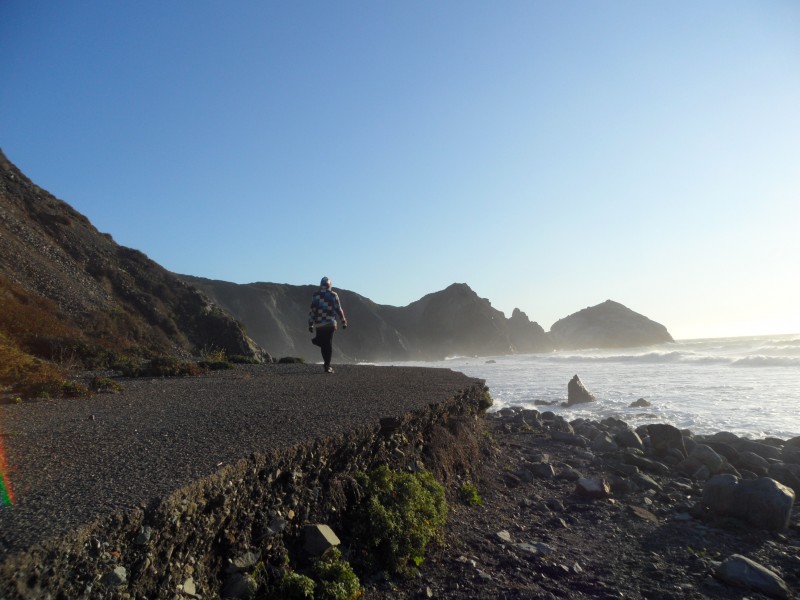 Heather Kucma has been an adventurer her whole life. As an avid hiker in her home state of Colorado, she wanted to take her passion to the pavement with a road trip out west to visit a number of historic locations.
She hit the road with her boyfriend Phil on May 15, who she had traveled with before, and her dog, Placer.
"We decided we wanted to do another road trip about two years ago right when we came home from our last one," she said. "We started saving for it and then started really planning what we wanted to do and the kinds of places we wanted to go about six months before we left."
She said their plan was somewhat vague, as they knew the general places they wanted to explore, but chose to not make detailed plans so as to avoid reservations dictating their partial tour of the country.
After arrangements were made with both of their places of work, one month was set aside for their vacation. The couple packed up a Chrysler Town & Country, what Kucma referred to as their "mommy van," filled the back with camping supplies, luggage, and Placer's bed, and were on their way.
"From our house (in Alma, Colorado) we drove through Utah, passed Vegas and ended up in Kingman, Arizona where Phil's mom and one of his sisters live," she said. "It took us two days to get there, with him driving the entire time, and we stayed for two days."
The next stop was Laguna Beach, California, where they had traveled to on their previous trip. Although she said the view was beautiful and the area is picturesque, the biggest downfall of their first stop in California was the limited area in which Placer was allowed to wander.
We found out that dogs aren't really allowed anywhere, Kucma said. Because of this, their stay did not last as long as it could have. From there, they started up the "mommy van" and traveled to Huntington Beach, where Phil had lived when he was young. Kucma said there was a nice, big pier to visit, and they were able to hang out at one of the most popular surf areas, giving Placer a chance to stretch his legs. As someone accustomed to mountain life, the beach views provided a needed change of scenery for the two.
"We realized we hated the sand, especially with a dog," she said, commenting on the mess that was made of the car. On their next beach stop, they opted for a day of tanning, reading, and playing with Placer at Salt Creek Beach Park in California, where grass was substituted for sand in certain areas. From there, Kucma and her boyfriend made a pit stop near Los Angeles to visit a street of houses called Carroll Avenue that was purchased by a couple for restorative purposes. The houses are all older Victorian homes that were transported to the block so they could be kept in better condition, some of which have been featured in the movie Grandma's Boy, the show Charmed, and Michael Jackson's "Thriller" music video. Carroll Avenue is in Angelino Heights–one of the oldest neighborhoods in Los Angeles.
The 17-mile-long Pismo State Beach was next on their route, and this destination offered the first and only camping experience for the couple.
"When it was all said and done, we only camped once," said Kucma, who planned to camp almost their entire trip. "We didn't realize we had left in the peak of camping season, so most places were booked or expensive when you added in the other costs, including wood."
Hotels ended up being the cheapest option for lodging. Although one night of camping was not what Kucma had in mind, she said their site had a sand trail that led them directly to the water's edge, adding beautiful scenery they otherwise would have missed out on. The next area they visited, which was between Pismo and Monterrey, had cliff camping that was unfortunately booked at the time of their trip,
"We ended up staying in Monterrey at a hotel on Memorial weekend," she said. "It was such a dog-friendly place. Not only did our dog get to come into restaurants with us, but some places even had menus for him."
Taking a break at Lake Tahoe, Kucma and her boyfriend went to visit his mother again, who purchased a cabin in the area where the family had previously lived. Here they visited Valhalla at Lake Tahoe, which is a series of historical tours of restored buildings, as well as spent time at the lake itself.
The Avenue of the Giants was next on their route, which is a highway in northern California they entered from the south near Garberville. The highway is characterized by towering coast redwood trees that shadow the floor of the woods, with several trees that even cars are able to fit through.
"The redwoods were some of my favorites," she said. "Those trees are just so impressive and amazing and I hadn't seen them since I was a little girl. You don't really appreciate those things when you're young."
After entering Oregon, Kucma said they checked into a hotel that was right on the beach, and she couldn't believe the amount of driftwood that was scattered across the sand. The beaches were literally covered, she said. While in the state, they traveled to the world's largest sea lion cave, which brought visitors down into the cave via an elevator where they were able to get a closer look at the marine animals, although still separated by a barrier. She said a number of other locations are losing sea lions and many believe they are migrating to this cave.
Mount Hood in Oregon was their next destination, and they stayed at the well-known Government Camp, which is south of Mount Hood and allows for easy access. She said she was surprised by the clear, blue skies that awaited them, because the area is typically characterized by rain and clouded cover. While visiting, Kucma and her boyfriend toured the famous Timberline Lodge that was used as the location in the 1980s horror movie The Shining. Guests are still able to stay at the hotel, which makes for a great tourist attraction.
"At this point we were only staying in each place for a night before moving on," she said. "We were hungry and didn't want to eat out, so we unloaded all of our camping gear. We were in the back corner of the hotel parking lot cooking pasta when this woman walked by, who must have thought we were living out of our car. I swear, she moved her car because she thought we were homeless."
Yellowstone was the next stop, but yet again this posed problems when it came to where Placer was allowed to be. Only designated areas of the park allowed dogs. They saw Old Faithful and meandered the boardwalks to view the hot springs, which Kucma described as being the most beautiful color of turquoise she had ever seen.
"We also saw a ton of buffalo, and I think they're really used to having people and cars around by now," she said. "I think as long as you don't go set your child on top of one of them, they don't give a damn."
The last stop on the month-long road trip was Jackson, Wyoming, where they stayed for about a week. After their visit that was carried out at a more relaxed pace, they made their way back to Colorado, stopping to see family along the way.
She said this is most likely the last road trip they will do, and now will focus on more destination trips.
"Phil and I get along really well," she said. "We definitely had a few moments where we had been in the car for so long that we just got irritated with each other, but we just talked it out. We would yell, 'I don't even know why I'm fighting with you!' Going on a road trip will really test your relationship. Forget living together, go on a road trip. See if you can handle it."
Images courtesy Heather Kucma