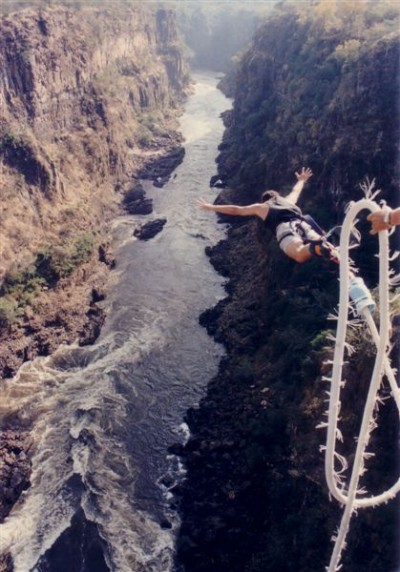 Bungee jumping off a bridge at break-neck speed to a river or valley below is not in the cards for everyone. If this extreme sport is of interest to you, check out our list of the top bungee jumping locations in the U.S.
Bridge to Nowhere (Azusa, California): Housed in the Angeles National Forest north of Los Angeles, this bridge looks down on the San Gabriel River and is nestled in the San Gabriel Mountains. This arch bridge was built in 1936, originally planned to comprise a portion of a road that would connect the San Gabriel Valley with Wrightwood, but was never completed. A flood washed out the East Fork Road in 1938 and construction was abandoned, leaving the bridge to sit alone in the wilderness. Since then, it has become a destination for bungee jumpers looking for a new thrill.
A private company provides bungee jumping services, with groups beginning the hike to the bridge in the morning, meeting at the Heaton Flats Campground parking lot, then hiking the East Fork Trail. Plan for an all-day adventure as the hike is rather long, with likely a large number of people waiting their turn to jump the adrenaline-filled dive.
Navajo Bridges (Page, Arizona): Looking down on Marble Canyon and the Colorado River, the original bridge sits at 467 feet high and the new bridge sits at 470. The first bridge was built in 1927 and opened to the public in 1929, with a second bridge that was built in 1995 because of increased traffic.
Most people bungee jump off the original bridge, which has been named both on the National Register of Historic Places and as a Historic Civil Engineering Landmark.
Perrine Bridge (Twin Falls, Idaho): Connecting Twin Falls to Jerome County and Interstate 84, this bridge sits 486 feet above the Snake River. With the original build running a cost of $650,000 in 1927, it was named the Twin Falls-Jerome Intercounty Bridge and ran as a toll bridge until 1940.
The new name comes from I.B. Perrine who started irrigation projects in the early 20th century and is known as the founder of Twin Falls. This is also near where Evel Knievel attempted to jump across the Snake River Canyon on Labor Day 1974 on a Skycycle X-2 steam-powered rocket. Although he failed and was launched into the canyon below, he managed to walk away without many injuries.
Royal Gorge Suspension Bridge (Canon City, Colorado): Sitting 955 feet above the Arkansas River, this bridge is part of the U.S. National Register of Historic Places and used to hold the title of highest bridge in the world until it was beat by China's Liuguanghe Bridge in 2001. It still holds the title of tallest bridge in the United States. The bridge is one of the most visited places in the state of Colorado.
Image from Spy007au on the Wikimedia Commons