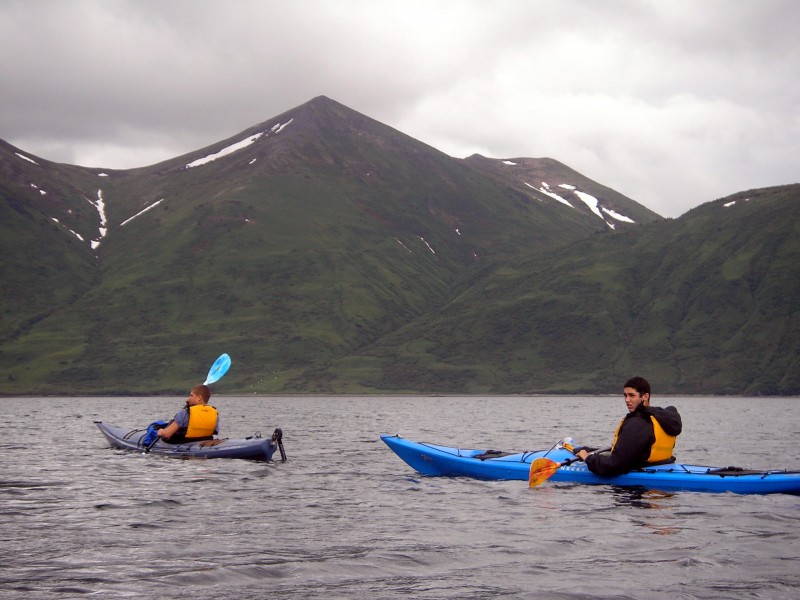 If you're bored with traditional kayaking and want to explore more unique designs, or simply are looking to invest is one that is more easily transported, check out the list below. From kayaks created specifically for stand-up fishing to those that can fold up to fit in a backpack, there are plenty of options to find one that works for your needs.
Advanced Elements AdvancedFrame Kayak ($499.99 on Amazon): Inflatable kayaks have gained popularity in recent years since the design has been improved and applied to many new models. These are a great option if you are not an avid kayaker, but still want to invest in your own. If your vehicle is not large enough to carry the kayak on its own, the cost of a roof rack that attaches to your car can be quite expensive. This kayak eliminates the need for a rack. Fitting easily in your car, the AdvancedFrame also looks the most like a typical kayak, but with easier portability.
There are three layers built in that make it extremely difficult to puncture. The only assembling step you will need to do each time is to inflate the kayak and attach the seat. While other inflatables can be purchased for as little as $100, this looks and functions the most like a hard-shell kayak and can take on more challenging waters.
Folbot Kayaks ($999-$2,399 on Folbot): This company has been producing folding kayaks since Jack Kissner founded Folbot 80 years ago in London, England. While there were several other similar European companies at the time, Kissner's models quickly became known as the best around with a reputation of producing sturdy and stable boats.
The company made its way to the U.S. in 1935, first headquartered in New York City before making a move to Charleston, South Carolina. Aluminum and other composite materials started being incorporated into the build in the early 80s, with aluminum longerons and polycarbonate cross frames used in the early 90s. Easily transportable, this is a similar option as the inflatable kayaks, both of which do not need a roof rack.
Freedom Twelve Stand Up Fishing Kayak ($1,094.99 on Bass Pro Shops): If you enjoy fishing, this is the kayak for you. The kayak's inline outrigger system offers great stability while standing, which gives anglers three position options. Transportation is very easy with this kayak, although it looks as if it would be bulky. When it's broken down, the entire thing weighs a mere 54 pounds and is nine feet long.
There is plenty of waterproof storage on the kayak, as well as tank well storage for added gear in the bow. Freedom Hawk offers a selection of other fishing kayaks, some of which have a similar design, and others that resemble traditional kayaks, so there are plenty to choose from.
Molokini Polycarbonate Clear Kayak ($2,837.65 on Clear Blue Hawaii): This two-passenger kayak is a must-have item when exploring tropical waters. Its completely clear body allows people to have a view into the water that is otherwise only available through snorkeling. If venturing into the water filled with marine life is not your style, this is a fantastic alternative that still offers a view. Choosing a day characterized by calm waters to head out on the water is your best bet for seeing the sea life.
Purchasing this kayak is not for everyone, unless you're lucky enough to live in paradise year round. If you're planning a vacation, call ahead to the local surf shops to see if any Molokini kayaks are available to rent.
Image from Nancy Heise on the Wikimedia Commons