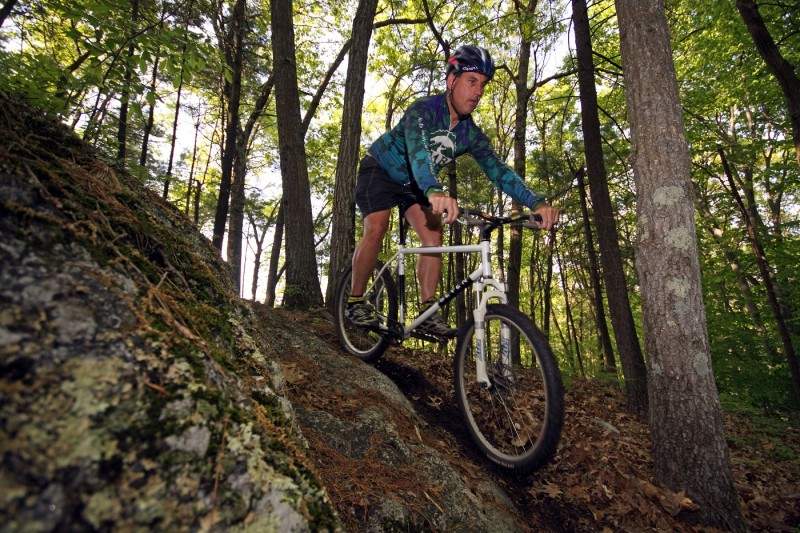 Philip Keyes has some basic advice for all trail users, not just the mountain bikers he represents, but everyone who uses the woods.
It is this: play nice with others.
"Conflict is based on relationships and all trail users when they meet in the woods should be friendly," he said. "Say hi. That goes a long way."
Keyes, from Acton, Massachusetts, is a familiar fixture to thousands of New England mountain bikers. As executive director of the 5,000-member non-profit New England Mountain Bike Association (NEMBA), he oversees the advocacy organization's mission to take care of the trails they ride, preserve open space, and educate the mountain bike community about being good stewards.
Founded in 1988 and now with 23 chapters across the region, bikers are involved in a myriad of activities from weekly group rides to trail building workshops.
The group is volunteer-centric, which is how Keyes initially became involved. In the 1990s Keyes was working on his PhD dissertation in anthropology, doing research on a Fulbright scholarship in Bolivia. Upon returning, mountain biking was taking off. He soon was writing an access column for Dirt Rag magazine, where he learned of NEMBA and got hooked as a volunteer when the group had about 200 Boston area members.
As the organization grew, he moved up and became executive director in 1996.
"Historically, mountain bikers were the new kids on the block," said Keyes, 54. "We were always on defense. People questioned our legitimacy of being on the trails. We had to show we had the right to be here."
So NEMBA put in sweat equity. They gave back. They forged relationships with various land management agencies and owners. They undertook trail building and maintenance. Keyes background in grad school aided him in tasks like grant writing and argumentation.
Now mountain biking in New England is more accepted and mainstream.
"Many organizations and towns need and want our expertise to work with them," he said.
Keyes, owner of about a dozen bikes, maintains mountain biking is a crucial component in recreation-based economies found throughout the region.
"The four-season thing is so critical because of global warming," he says. "You can't bank on good winters every year. Mountain biking is one of the keys to the mix."
Maine, he says, is on fire, with the Carabassett Valley chapter leading the way by working to expand mountain biking with the growing Maine Huts and Trails system. In New Hampshire, he lauded work on a Franklin area project with a goal of being the largest interconnected singletrack system in New England.
"There are four or five riding areas and the goal is to connect them and feed them into the town of Franklin with its river and watersports," said Keyes, inducted into the Mountain Bike Hall of Fame in 2008. "I think we are going to see a lot of development there."
Keyes also pointed out the White Mountains chapter, which rides trails in the White Mountain National Forest.
"They have a really good relationship with the Forest Service and working with the feds," he said. "What they have done is stellar. There's lots of great potential there."
NEMBA also is a hub of events with its NEMBAfest at Kingdom Trails in East Burke, Vermont set for June 21-23.
Throughout the season, there are group rides for all abilities, special epic rides, skills clinics, and trail building workshops.
Some 1,000 NEMBA group rides are held across the region.
"A lot of people buy a mountain bike and want to go for a ride," he says. "We hold group rides which is a great way to educate riders while making them aware of stewarding and taking care of the trails, of showing them the link between conservation and recreation."
As far as the big picture goes, Keyes knows that a charitable group like NEMBA isn't as visible as an organization fighting global hunger. But he argues that biking does a world of good.
"This is about staying fit," he says. "Developing an appreciation for and experiencing the natural world is a glorious thing."
Keyes maintains bicycle riding plays a key role in people's health, both body and mind.
"Bicycling is one of the panaceas," he says. "The more people involved who want to protect the trails and open spaces, the healthier we will be. Help the planet by riding a bike."
Images courtesy New England Mountain Bike Association