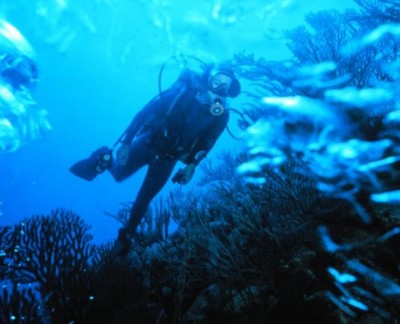 Once you've acquired some basic water sport skills from snorkeling and acquired your SCUBA certification, it's time to get serious about finding great places to get underwater. Here's five of my top picks.
Australia: Home to the Great Barrier Reef, this is one of the top locations to visit for SCUBA divers because of its varied environment. Spanning more than 1,400 miles, there are approximately 1,500 different species in the number of reefs that comprise its whole. Blow Hole, Cathedral, and Osprey Reef are some of the best diving locations, but it's not possible to explore everything the reef has to offer within a few short days. In addition to the beauty provided by the reef itself and its species, there are more than 1,500 shipwrecks to examine. June through August is the best time to visit as far as visibility of the reef goes, and it's a perfect time to avoid jellyfish.
Belize: Because its barrier reef is the second largest in the world and the biggest in the Caribbean, many divers are attracted to this location. Also known for the 400-foot deep Blue Hole, this underwater sinkhole is a famous place to explore. It was first explored in 1970 by Jacques Cousteau and resembles a mine shaft, approximately 1,000 feet wide at its surface. Late spring and early summer offers warm, calm waters, perfect for people who are beginners in the sport. Because of the reef's large expanse, an array of sea life calls it home, including manatees and sharks. Divers will find the water to be extremely warm, typically in the high 70s to low 80s.
Hawaii: Because of its remote location, Hawaii is another place where SCUBA diving options are extensive, including the opportunity to view species not seen in the rest of the world. Each island has something different to provide, with boat diving the most popular form. Shore-based diving is less common, as the tides are often too large to get past just by swimming and can be dangerous. Night diving with manta rays on the Big Island is available, as well as visiting the underwater caverns of Lanai. Summer is the best to visit if you are looking for calm waters, but whale season is in the winter and spring, so make sure to plan your trip accordingly. If diving during this time, keep your ear out for the humpback whales. Lava formations are some of the most unique underwater attractions the islands have to offer, along with colorful fish.
Thailand: This location is known as one of the best places to SCUBA dive in the world, and there is no lack of options when it comes to planning. The Similan Islands are the hot spot, with many dive boat companies to choose from. The water is crystal clear, making the underwater visibility an amazing means by which to view the wide variety of marine life. Some of the most popular dive sites are North Point, Elephant Head Rock, Koh Bon, and Richelieu Rock, which is one of the best places to swim with whale sharks. Hin Daeng, Koh Phi Phi, and the Surin Islands are also great options that offer plenty of dive sites, where manta rays, seahorses, ribbon eels, and bumphead parrotfish are common sightings. While the diving season lasts year-round, dive boats on the Andaman Sea where you live aboard are available from November to April. This is when the water is calm and the most life can be viewed.
Turks and Caicos: This Caribbean destination is perfect for beginning SCUBA divers, as the islands are characterized by relatively calm waters. Unlike many Caribbean islands, many of the dive spots are near uninhabited islands, so you are able to get away from the groups of people that normally surround these locales. Some of the best dive havens are Salt Cay, Grand Turk, Grace Bay, and West Caicos. Grand Turk has 7,000-foot deep coral walls that give people plenty to explore, with many specific places to dive in each location. While arranging a trip anytime during the year is doable, humpback whales may be seen from December through March.
Image from Scott Sanchez on the Wikimedia Commons