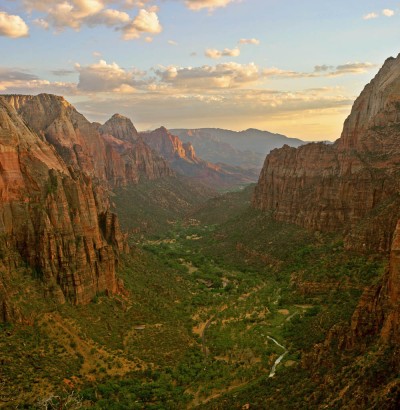 Compared to traditional camping or canoe trips, RV traveling is one of the most popular summer vacations for families. If roughing it in the wilderness is not quite your bag, touring the country RV-style provides most of the amenities people are accustomed to on a daily basis. This allows for a great compromise between those in your family who wish to be closer to civilization and the ones who are ready to explore the outdoors full force, as day trips are made possible while parked for longer periods of time. When embarking on a cross-country trip, most people plan with set destinations and calculate approximate travel time. During the planning process, check out our recommendations for eight great RV parks in the U.S. to see if any are located on your route.
1. Yosemite National Park, California: If your group is looking for the most outdoor experience via RV travel, Yosemite National Park offers 10 designated campsites to choose from. The park's website states that most reservations are filled from April-September, so planning early is essential. However, RV camping without a reservation is possible in the following locations: Bridalveil Creek, White Wolf, Porcupine Flat, and Tuolumne Meadows. There are specific limitations on RV size that vary among sites, so make sure to call ahead. If planning to set up camp without a reservation, it is advised to arrive before noon on weekdays and mid-morning on weekends, as crowds tend to arrive later in the day. The downside of RV camping in Yosemite is there are no water, sewer or electrical hookups. However, there are dump stations with fresh water at several of the campsites. The use of generators is limited to several hours per day, with scheduled times in the morning, afternoon, and evening. While the RV will provide many of the comforts of home, those who want to stay closer to civilization should skip out on Yosemite National Park.
2. Yosemite Pines RV Resort & Family Lodging, California: If Yosemite is still your destination of choice but you're not quite prepared to leave amenities such as water and electricity behind, Yosemite Pines in Groveland, California is a great alternative. Located about 20 miles away from Yosemite National Park, this stopping-place is complete with full RV hookups, a swimming pool, convenience store, petting farm, playground, BBQ pavilion, laundry room, and hiking trails. Selecting this park is a great decision for families with small children, as there are many activities to keep them entertained. RV camping is open year round and the park still provides great scenic views because of its close location to Yosemite National Park's west entrance.
3. Boyd's Key West Campground, Florida: If oceanfront views are more your style, one of the most popular Florida campgrounds is Boyd's. Complete with full RV hookups, a convenience store, docks, a heated pool, bath houses, laundry room, wireless internet, 24-hour security, a dump station and pump-out service, BBQ pavilion, dish wash stations, and an ATM, this campground truly comes with all the amenities one could think of. Boyd's is focused on providing as many activities for campers as possible, with sporting championships, heritage celebrations, music festivals and a variety of contests open to the public such as conch-blowing. In-season and off-season specials are listed on the website, so make sure to mention the discount while making a reservation.
4. Zion River Resort, Utah: Located near the Zion National Park, this campground offers full RV hookups and parking spots for an array of vehicle sizes along with great views of the surrounding sandstone cliffs. The campsite sits beside the Virgin River and the website boasts that it is a great base for day trips to the Grand Canyon North Rim, Bryce Canyon National Park, the Cedar Banks National Monument and, of course, inside Zion National Park. There are a number of historic sites and buildings to visit near the campground, as well as museums, concerts and outdoor activities like river tubing and visiting ghost towns.
5. Mt. Desert Narrows and Narrows Too, Maine: If the East Coast is the focus of your summer RV expeditions, visit these two campgrounds near the ocean. Located in Bar Harbor, these sites are close to Acadia National Park and offer travelers activities such as boating, swimming, and whale watching in addition to the many hiking trails that are available. You can reserve RV sites right on the water or choose something a little more secluded in one of the many wooded sites. Open from May to October, the Narrows Too campsite is able to accommodate 200 RVs will complete hookups. Also offering oceanfront views, this site is recently renovated and has a heated pool, laundry, a bath house, and wireless internet. There is a new entertainment center and plenty of spaces for group campfires.
6. Horse Thief Campground & RV Resort: Located in the Black Hills of Hill City, South Dakota, this RV campground is family-owned and operated and provides easy access to Custer State Park, Mount Rushmore, Sylvan Lake and Crazy Horse Monument. Part of the movie National Treasure 2: Book of Secrets was filmed several miles away at Sylvan Lake. Some of the amenities include large sites, fire rings, a heated swimming pool, playground, laundry room and a store. The campground's perimeter is comprised of the Black Elk Wilderness, Black Hills National Forest, and Norbeck Wildlife Preserve along with Custer State Park. Activities available near Horse Thief are rock climbing, hiking, biking, swimming, boating, fishing, visiting ghost towns, and also serves as a haven for photographers. Rates are on the affordable side for RV sites, but reserving a spot in advance is encouraged.
7. Mammoth Cave National Park, Kentucky: Park your RV at this campground complete with 102 sites, where the cave system is the biggest draw for visitors. After descending into the cave that has had more than 390 miles of it explored so far, test your skills at spelunking during a lesson or get an introduction to the environment by taking a cave tour. Making reservations is highly encouraged and you cannot sign up for a tour and reservation on the same day, so it's important to plan ahead if you want to experience Mammoth Cave fully. There are no full RV hookups, but there are dump sites, laundry, showers, grills, and a store.
8. Rocky Mountain National Park, Colorado: The park located in Estes Park, Colorado has an array of options with the campgrounds of Aspenglen, Glacier Basin, Moraine Park, and Timber Creek that are all RV-friendly. Aspenglen has 54 campsites at its elevation of 8,200 feet with a maximum RV length of 30 feet. Glacier Basin has 150 sites at its elevation of 8,500 feet with a maximum RV length of 35 feet. Moraine Park has 254 sites at its elevation of 8,160 feet with a maximum RV length of 40 feet. Lastly, Timber Creek has 98 sites at its elevation of 8,900 feet with a maximum RV length of 30 feet. Reservations can only be taken for the first three campgrounds. There is more than 350 miles of hiking trails and the terrain is great for mountain biking and fishing as well, all of which can be experienced with the help of a tour guide.
Before you embark on your RV trip, be sure to read through our Packing for an RV Trip checklist.
Image from Diliff on the Wikimedia Commons