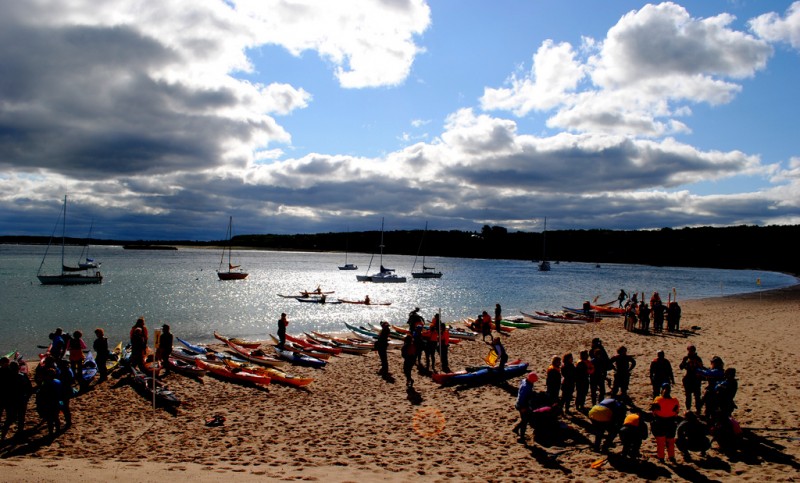 Living on the south shore of Lake Superior in Marquette, Michigan saves me money–in more ways than one. Top on the list is that Big Blue has become my therapist. No more trips to the psychiatrist's couch when I can slip into the cockpit of my sea kayak and go paddle my problems away.
I've also found my "water therapy" philosophy is contagious. I have a gang of girlfriends who feel pretty much the same way. And for ten years the sisterhood has been growing, thanks to Jo Foley and Bill Thompson.
If you've shopped at Down Wind Sports on North Third Street in Marquette, chances are you've met Bill. Don't be fooled by his constant grin, this guy's a champion risk-taker. Then again, anyone who climbs rocks and ice can fall into that category. But those who know Bill, and catch his infectious spirit for adventure, know he also has a gift for masterminding. After all, his passion for silent sports has helped shape three legendary weekend long events in the Upper Peninsula: Telefest at Porcupine Mountains State Park in January, Ice Fest at Pictured Rocks National Lakeshore in February, and coming up August 15-18, the tenth annual Ladies of the Lake (LOL) Sea Kayak Symposium at Drummond Island.
It may seem odd that a man launched the first and only all women's sea kayak symposium in the country, but then again, Bill has learned from experience that, "the way to grow a sport is to get women involved, and," he adds, "have a party."
"It was July 2003," he remembers. "I was hot, and stuck minding the store in the barn of the Grand Marais Rec Center during the Great Lake Sea Kayak Symposium when I picked up a copy of Paddler magazine and started reading. It happened to be a special 'women's edition' and that's what started me thinking about a 'women's only' sea kayak symposium."
For great ideas to get a grip, they need to be shared. So right there in Grand Marais Bill talked to long-time paddler Jo Foley. A physician assistant in Marquette, Jo had already been paddling and instructing for over a decade and without hesitation she went to work helping recruit other female instructors. The date was set for August 2004.
Basic to Bill and Jo was finding female instructors who could relate to the fears and barriers that often hold back women.
"For some beginners," says Bill, "that means simply relaxing in a boat and feeling at ease on the water."
This anniversary all of the guest coaches are coming back. Shawna Franklin from Body Boat Blade on Washington's Orcas Island–LOL's inaugural guest instructor and speaker–heads the list. She's joined by Ginni Callahan, Gail Green, Marsha Hansen, Suzzanne Hutchinson, Jen Kleck, Adriane Lefkneckt, Cherri Perry, Mel Rice, and Cindy Scherrer. A team of midwest coaches will also be on hand to complete the teaching staff.
"This reunion includes some of kayaking's best," says Bill. "Without question, it'll be the largest gathering of female British Canoe Union (BCU) four- and five-star instructors in the U.S."
In tandem with a coaching staff, Bill and Jo also knew they needed sponsors. One of the first to hear and get hooked on the idea that hot July weekend in Grand Marais was Danny Mongno. Now, working as Werner's Regional Sales Manager and Field Marketing Coordinator, Danny zips from coast to coast hitting every symposium in the country. Without hesitation he states, "Ladies of the Lake has the best energy of any symposium I go to." He adds with a grin, "And I'm not saying that just trying to get a date. I mean it."
Unlike most other Great Lakes kayak events, LOL travels. They've been hosted from Eagle Harbor in the Keweenaw to St. Ignace at the Straits of Mackinac. Bill wants it that way and contends, "Part of the fun of kayaking is exploring new shorelines."
For this tenth anniversary, the gathering returns to the August warm and sheltered waters of Lake Huron's Drummond Island where paddlers can explore 140 miles of shoreline. And to keep the laughter fueling the learning, Bill and Danny are expecting a pirate takeover at this year's Saturday night theme party.
For more Ladies of the Lake information, key in www.ladiesofthelakeseakayaksymposium.com or call Down Wind Sports at 906-482-2500.
First image by Bill Thompson, second image by Frida Waara